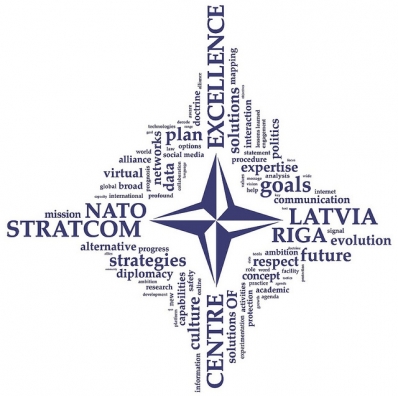 From NATO Strategic Communications Center of Excellence: On 1 July, at the Supreme Allied Command Transformation HQ in Norfolk (U.S.), Latvia alongside with Estonia, Germany, Italy Lithuania, Poland, and the UK signed the Memorandums of Understanding for the establishment of the NATO StratCom Centre of Excellence in Riga as an international organisation.
The Memorandums were prepared and agreed by the Allies at the 2nd Establishment Conference of the Centre which took place on 8-10 April in Riga.
The signing ceremony was attended by the Latvian Minister of Defence Mr. Raimonds Vejonis and the Director of the NATO StratCom Centre of Excellence Amb. Janis Karklins.
From Latvian Ministry of Defense: "Nowadays, strategic communication plays a significant role in attaining NATO's political and military goals," said Latvian Minister of Defence Raimonds Vejonis, who is in Norfolk on a working visit. "The conflict between Russia and Ukraine clearly shows how important an information campaign can be in gaining the upper hand in a military conflict. Strategic communication is also becoming increasingly important in the context of NATO-led operations. For that reason, Latvia's initiative to create an international center of excellence will help the alliance enhance its strategic communication capabilities," the Latvian minister said.
From AFP: The center will focus on providing an alternative to the official Russian narrative on the crisis and should receive full NATO accreditation "by the end of the summer," the Latvian defense ministry told AFP. . . .
Prime Minister Laimdota Straujuma on Thursday said Russia was waging an "information war" in Latvia, which joined NATO and the European Union in 2004.
"The Latvian government cannot allow foreign countries to meddle internally, undermining the state," Straujuma told parliament.