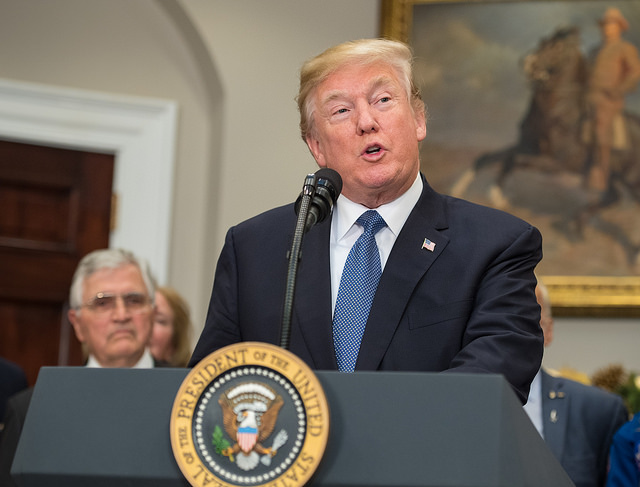 In Afghanistan, our troops are no longer undermined by artificial timelines, and we no longer tell our enemies of our plans. We are beginning to see results on the battlefield. And we have made clear to Pakistan that while we desire continued partnership, we must see decisive action against terrorist groups operating on their territory. And we make massive payments every year to Pakistan. They have to help.
Our efforts to strengthen the NATO Alliance set the stage for significant increases in member contributions, with tens of billions of dollars more pouring in because I would not allow member states to be delinquent in the payment while we guarantee their safety and are willing to fight wars for them. We have made clear that countries that are immensely wealthy should reimburse the United States for the cost of defending them. This is a major departure from the past, but a fair and necessary one — necessary for our country, necessary for our taxpayer, necessary for our own thought process….
[O]ur strategy emphasizes strengthening alliances to cope with these threats. It recognizes that our strength is magnified by allies who share principles — and our principles — and shoulder their fair share of responsibility for our common security….
America will lead again. We do not seek to impose our way of life on anyone, but we will champion the values without apology. We want strong alliances and partnerships based on cooperation and reciprocity. We will make new partnerships with those who share our goals, and make common interests into a common cause. We will not allow inflexible ideology to become an obsolete and obstacle to peace….
Excerpts from remarks by President Donald Trump Nnouncing the Administration's National Security Strategy.