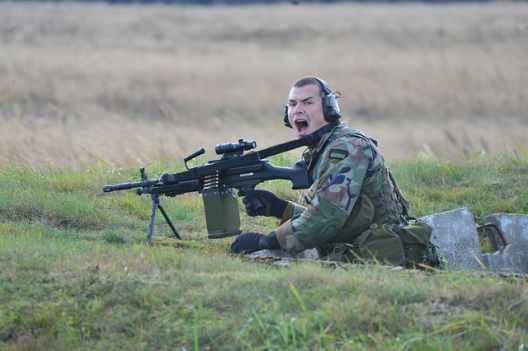 According to information SPIEGEL obtained by SPIEGEL, a draft version of a comprehensive, restricted internal NATO assessment of the situation reads: "Russia's ability to undertake significant military action with little warning presents a wider threat to the maintenance of security and stability in the Euro-Atlantic area. Russia can pose a local or regional military threat at short notice at a place of its choosing. This is both destabilizing and threatening for those allies bordering or in close proximity to Russia. . . ."
Military and political officials at NATO are currently drafting various documents, some of the reportedly classified as top secret, sources say. The reports will be submitted to the NATO political leadership in Brussels early this week, and the alliance defense ministers will meet on June 3 and 4, followed by a meeting of NATO foreign ministers. Even though the documents will likely be softened and couched in more diplomatic terms, they remain as sobering as they are alarming. They presumably represent the first stage of a lengthy debate over NATO's capacity to take action, its strategic orientation and the levels of national defense budgets.
Underlying the debate is an assessment of the situation on which NATO and government officials generally agree, namely that the alliance currently feels incapable of defending the Baltic countries with conventional means, that is, with tanks, aircraft and ground troops. When asked about the situation, a NATO spokeswoman said: "We are reviewing and updating our defense plans and considering other longer-term measures. . . ."
Elmar Brok, a member of Germany's center-right Christian Democratic Union (CDU) and a longstanding expert on European Union foreign policy, puts it more directly: "When the Baltic countries were accepted into NATO, Russia did not pose a military threat. The alliance complied with the agreement with Russia and did not station any troops east of the Elbe River. But now that Putin's policy seems to be changing, NATO must come up with a response. At present, the alliance could not protect the Baltic countries with conventional military means."
That is the most important sentence, and officials at the German defense and foreign ministries in Berlin agree. It would take about half a year before the members of the alliance would be capable of mustering a suitable response, if at all. "We wouldn't even show up in time for the Russians' victory celebration," says a government expert, who points out that the existing, vague deployment plans are "all outdated." The German military's joint operations command is now in close contact with NATO, with the aim of developing an emergency plan as quickly as possible.
On the political side, however, the German government dreads a discussion of new Western military plans. Both the chancellor and the foreign minister prefer a more cautious approach to diplomacy in the conflict with Russia. Officials in Berlin say that actions that Russia could interpret as the West flexing its muscle would lead "directly to disaster." In addition, German public opinion is extremely opposed to upgrading NATO under the premise that the West must arm itself for a military conflict with Russia. Chancellor Angela Merkel is unwilling to consider an increase in defense spending, and she is certainly not interested in setting off an uncontrollable German debate over the notion of German soldiers potentially risking their lives for the Baltic countries. . . .
Speaking off the record, NATO military officials are even more direct, saying that there are weaknesses in the armored corps and the infantry, fighting mines and submarines has been as neglected as air defense with flak and Patriot missiles, and pilots hardly train for aerial combat anymore. In fact, the armed forces of the NATO countries no longer conduct exercises with large troop formations, instead focusing on urban warfare with small units. In short, NATO has dangerously forfeited its ability to conduct a ground war with large troop formations in Europe.