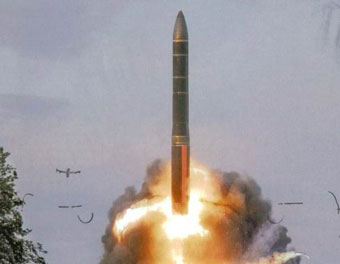 The Kremlin cheated on a nuclear pact it signed with the United States, the U.S. government believes—and Secretary Kerry was briefed on the violations almost a year ago.
Congressional leaders are acting to force the Obama administration to confront Russia on its violations of a nuclear treaty that U.S. officials have acknowledged since 2012.
On November 27 of that year, two top Obama administration officials held a closed-door hearing with the Senate Foreign Relations Committee, chaired by Sen. John Kerry, who only months later would become President Obama's secretary of state. Inside the top-secret hearing, acting Undersecretary of State for Arms Control and International Security Rose Gottemoeller and Assistant Secretary of Defense for Global Strategic Affairs Madelyn Creedon told lawmakers that Russia had violated the 1987 Intermediate-Range Nuclear Forces Treaty (INF), according to two U.S. officials who attended the classified meeting.
Inside the meeting, Kerry expressed anger and frustration about the Russian cheating and warned that if the violations became widely known, future efforts to convince the Senate to ratify arms control treaties would be harmed.
"If we're going to have treaties with people, we've got to adhere to them," Kerry said, according to two U.S. officials who read the classified transcript of the hearing. "We're not going to pass another treaty in the U.S. Senate if our colleagues are sitting up here knowing somebody is cheating. . . ."
The exact manner of the Russian cheating remains unclear and highly classified, although there have been several reports that Russia has tested and plans to continue testing two missiles in ways that could violate the terms of the treaty: the SS-25 road mobile intercontinental ballistic missile and the newer RS-26 ICBM, which Russian Deputy Prime Minister Dmitry Rogozin has called "the missile defense killer," a reference to U.S. plans to expand ballistic missile defense in Europe. . . .
[C]ongressional aides said the Obama administration has briefed certain European allies about the Russian treaty violations but has not informed the entire North Atlantic Council, the political branch of the 27-member North Atlantic Treaty Organization (NATO).
"The INF Treaty is the backbone of protecting Europe from nuclear threats," said a senior GOP Senate aide. "The fact that the administration will not brief NATO on this issue is a clear indication they place a higher priority on their relationship with Russia than with actual allies in Europe."
Not all experts agree that the violations are of grave importance. Joe Cirincione, president of the Ploughshares Fund, said treaty violations can be dealt with on a bilateral basis.
"There are real concerns about developments in Russian nuclear strategy," he said. "But issues of compliance by both nations with arms control treaties are common, and we have reliable methods for resolving these issues. We have to make sure that a compliance problem is not used as an excuse to blow up a threat reduction mechanism that provides real security benefits for the United States."
But 10 Republican senators disagree and have proposed an amendment to the National Defense Authorization Act (NDAA), obtained by The Daily Beast, that would force the administration to send Congress "a report on information and intelligence sharing with North Atlantic Treaty Organization (NATO) and NATO countries on compliance issues related to the INF Treaty."