Last week, the TikTok chief executive officer, Shou Zi Chew, appeared before the US House of Representatives Energy and Commerce Committee. The media and political perception within the Washington Beltway is that it did not go well, and it didn't. Chew's answers were unconvincing and at times disingenuous, including when he downplayed accusations that the company had spied on journalists critical of the company. On social media, including on TikTok, the perception of the hearing by users was equally decisive, but not in Congress's favor.
There are 150 million US users of TikTok, and the contrast between the creative and often viral nature of clips produced on the platform—including those defending Chew—and the stodgy nature of C-SPAN's fixed camera positions, pre-planned talking points, and members demanding "yes" or "no" answers to their questions, made for an unfavorable contrast for committee members. US policymakers considering a ban on TikTok need to think about the very serious ramifications to people and small businesses whose livelihoods do, at least in part, rely on the app. Those Americans who use the app for professional and business purposes should have their legitimate concerns addressed by policymakers in a meaningful manner alongside any sort of ban.
But TikTok users' usage of the social media app, even if only to generate business, does not mitigate the potential threats to US national security associated with it. In December, Director of National Intelligence Avril Haines warned about the potential uses of TikTok by Beijing stemming from the data the app collects and the possibility of using it to influence public opinion. TikTok's algorithm, for example—which experts view as more advanced than that of Facebook parent company Meta—could be used by China to create propaganda that seeks to influence or manipulate elections and the broader information environment.
TikTok's connections to China's government stem from it being a wholly owned subsidiary of the Beijing-based company ByteDance. Chew testified that "ByteDance is not owned or controlled by the Chinese government." However, Article VII of China's National Intelligence Law of 2017 makes clear the mandated responsibility for private sector companies (and any Chinese organization) to "support, assist, and cooperate" with China's intelligence community. ByteDance, therefore, has an absolute obligation to turn over to China's intelligence apparatus any data it requests.
There are significant reasons to be skeptical of Chew's claims that "Project Texas"—TikTok's effort to wall off US user data from Chinese authorities by solely storing it in the United States—will prevent China from having access to US user data in the future. Worse, even if one takes Chew at his word that "Project Texas" will accomplish this feat, it defies logic to believe that ByteDance would not—independently or compelled by China's intelligence agencies—retain a copy of all 150 million current US users' data.
At the same time, TikTok is just a symptom of a much bigger problem. The United States and its allies have a more fundamental issue when it comes to their citizens using China-based apps, programs, or any technology that collects their data. All China-based companies have the same obligations to provide data information to China's intelligence services whenever requested.
What the US government can do
TikTok's ban would mitigate the immediate threat posed by the ByteDance subsidiary, but there's far more work that needs to be done. The Committee on Foreign Investment in the United States (CFIUS) has, up until now, been the most prominent tool used to prevent foreign governments, or individuals associated with them, from making investments in the United States that could be used to ultimately undermine US national security. CFIUS has a specific and meaningful role focused on investments, but nowadays it has too often become the default instrument for reconciling an increasingly broad swath of national security challenges. This is in part because it has a track record of success, but also because it's one of the only meaningful tools available to policymakers. But it is not an ideal tool for every situation, something best demonstrated by CFIUS's challenge in resolving TikTok's ongoing review that has stretched on for more than two years now.
The bipartisan RESTRICT Act—which would give the Department of Commerce the right to review foreign technologies and ban them in the United States or force their sale—is a thoughtful place from which to begin discussions about additional ways to mitigate the US national security challenges related to information and communications platforms available for mass use. But that act alone would not solve the broader data challenges as they exist today.
The lack of federal regulation related to commercial data brokers, which today can and do legally collect and resell the data of millions of Americans, is a glaring gap that needs to be filled immediately. A ban on TikTok, for example, would do nothing to prevent data brokers from aggregating the same consumer data from other apps and re-selling it to commercial entities, including those in China.
The threat posed by China to US national security, and to Americans' individual data, is acute. The good news is the United States can deal with these challenges, but it will take more than just banning TikTok.
---
Jonathan Panikoff is a senior fellow in the Atlantic Council's GeoEconomics Center and the former director of the Investment Security Group, overseeing the intelligence community's CFIUS efforts, at the Office of the Director of National Intelligence.
The views expressed in this publication are the author's and do not imply endorsement by the Office of the Director of National Intelligence, the intelligence community, or any other US government agency.
Further reading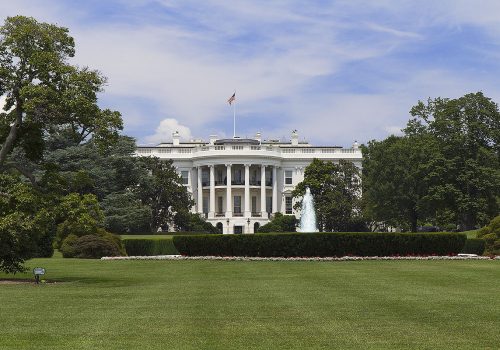 Thu, Mar 16, 2023
Tech at the Leading Edge By the Cyber Statecraft Initiative
The 2023 National Cybersecurity Strategy, released on March 3, represents the ambitions of the Biden Administration to chart a course within and through the cyber domain, staking out a critical set of questions and themes. These ambitions are reflected within the strategy's pillars and titled sections, but also key words and phrases scattered throughout the […]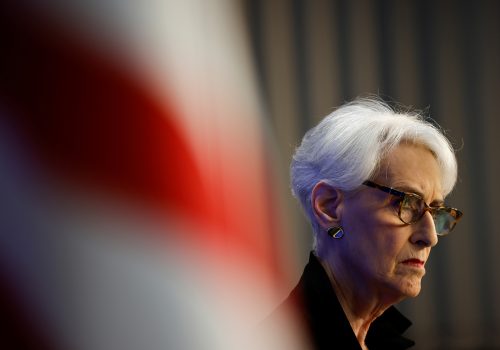 Tue, Mar 28, 2023
Transcript By Atlantic Council
US Deputy Secretary of State Wendy Sherman outlined the priorities for the world's democratic tech alliance, from protecting fundamental freedoms online to building resilience against digital authoritarianism.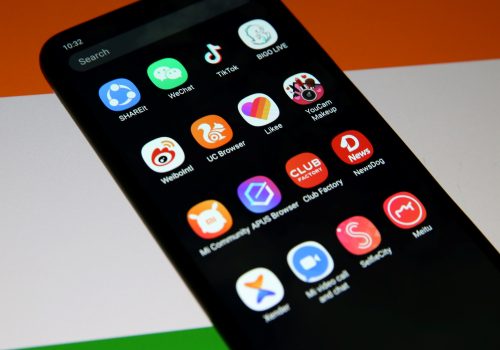 Mon, Mar 27, 2023
SouthAsiaSource By Justin Sherman
The Indian government needs to build a comprehensive, transparent, and accountable means of addressing data privacy and security risks.