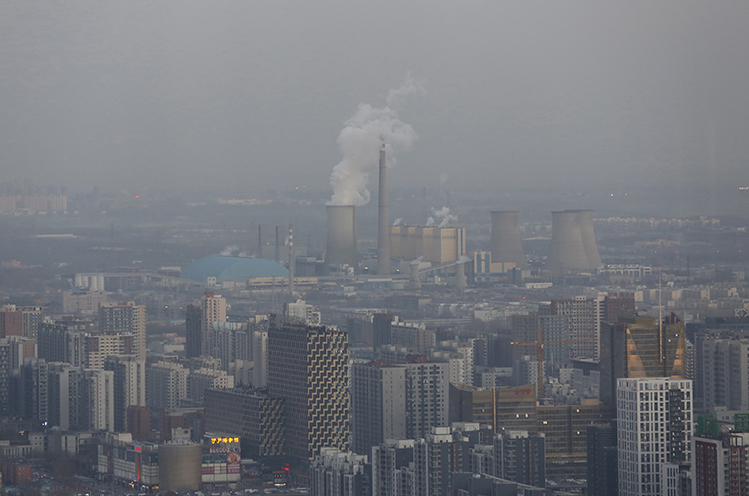 China may hold the key to alleviating some of the pressure from climate change and population growth at the nexus of the relationship between the energy and water sectors.
The challenges associated with energy production and water management vary significantly from region to region. A recent report from the World Resources Institute and General Electric highlights the distinct water-energy challenges in three parts of the world: the United States, the Middle East, and China.

In the United States, unconventional oil and gas production is water intensive and some estimates indicate that 60 percent of US shale plays will be in regions with significant water scarcity by 2020.
In the Middle East, the dependency on energy-intensive desalination to provide clean water for one of the most water-scarce regions in the world is draining the region's energy supplies and budgets. In the United Arab Emirates, for example, 25 percent of total primary energy consumption goes to costly desalination projects, and in Kuwait energy used for desalination cogeneration is on track to match the country's current fuel oil production by 2035.
China, however, offers an interesting example of a country that adds to the pressure on the water-energy nexus and has a comprehensive strategy to address it. As the home of the most thermoelectric power plants (mostly coal-fired) in the world, China faces major tradeoffs between the energy these plants produce and the freshwater they use for cooling and steam-driven turbines. As of 2014, 90 percent of China's electricity comes from water-intensive thermoelectric and hydroelectric power plants.
The troubling fact is that nearly 60 percent of China's coal-fired power plants are in regions that the World Resources Institute identifies as exhibiting high or extremely high water stress. The increasing demand for more thermoelectric and hydroelectric power generation (an expected 80 percent growth from 2012 levels by 2030) and the resulting stress on water resources will be intensified by climate change. If these trends continue unabated, many Chinese communities would be forced to confront a lamentable choice between electricity access and water supply.
Recognizing this threat, China's government has already begun enacting policies to mitigate its water and energy interdependency issues. As early as 2004, China began supporting policies that would bring water efficiency to the electric power sector when it began encouraging new power plants to deploy dry-cooling technologies (which can use 70-80 percent less water) and semidry flue gas desulfurization systems. More recently, China's government has revamped this effort.
In 2013 and 2014, Beijing announced a series of initiatives designed to reduce water usage in China's coal sector. The Water Allocation Plan for the Development of Coal Bases, for example, intends to implement water-use efficiency and discharge requirements for China's coal bases, the massive compounds devoted to coal power plants and synthesis gas production dotted across China's countryside. This plan also sets provincial quotas for water use in the coal sector and encourages the expanded application of water-efficient technologies, such as dry-cooling. To augment this effort, China has also pledged to upgrade older and smaller coal-fired power plants, eventually phasing out the most inefficient ones (which are often also the most water-intensive).
In April of last year, China announced its Action Plan for Water Pollution Prevention and Control, a list of measures intended to significantly improve the quality of China's water environment by 2030. The goals of this plan dictate that by 2020 the percentage of severely polluted bodies of water will be greatly reduced, groundwater overdraft will be limited, and the quality of over 70 percent of water in seven key river basins will reach Level III or better (China grades its water quality in six levels, Level I being the least polluted and Level VI being the most). These targets will largely be accomplished by cutting back on the discharge of pollutants and by implementing a strict management system of water resources to improve water-use efficiency. Perhaps most consequentially for the water-energy nexus, this plan also encourages all thermoelectric power plants in coastal regions to use seawater instead of freshwater for cooling.
The most important measure to address this problem, however, is probably China's Intended Nationally Determined Contributions—pledges from countries on what they plan to do about climate change—and its promise to expand use of alternative energy sources to 20 percent of primary energy consumption by 2030. Clean energy technologies, namely wind and solar, offer a distinct win-win for China's government and electric power providers by reducing exposure to water risks, improving air quality, and reducing greenhouse gas emissions. Even if these goals for renewable energy generation are met, however, China's thermoelectric power sector will remain expansive. For this reason, strategies to improve water efficiency in China's electric power industry will need to remain a priority. Specifically, improved cooling technologies such as dry-cooling, the use of brackish water and seawater for cooling, and other power plant efficiencies will be vital if China is to maintain its water resources while generating a consistent and reliable supply of electricity.
It may be too early to determine whether China's policies will prove to be successful, but the steps being taken are reassuring. Importantly, China's efforts have so far shown a commitment to managing the risks at the water-energy nexus from the demand side, as it prioritizes efficiencies rather than further extraction of vital resources. While many countries such as China may be forced to expand their supply of freshwater and fossil fuels in order to keep up with the demands of larger and wealthier consumer bases, it is essential that they also find opportunities to improve efficiencies in water-energy production and consumption. As governments and companies around the world face distinct challenges in water and energy management, it will be crucial that they take similar approaches that prioritize the mitigation of interdependency issues by identifying and addressing inefficiencies.
Jack Schnettler is an intern at the Atlantic Council's Global Energy Center.