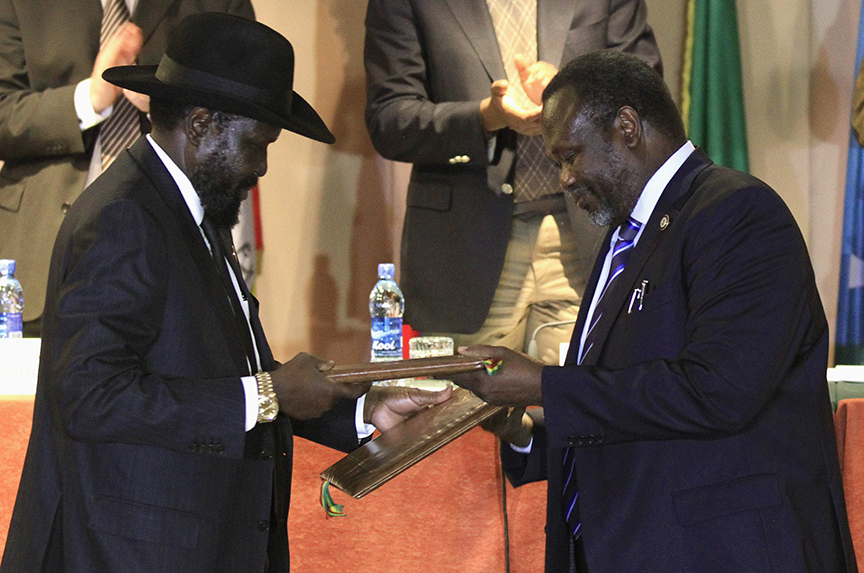 Nikki Haley, the US ambassador to the United Nations, delivered a stern message to South Sudanese President Salva Kiir in their meeting in Juba on October 24: the United States is "disappointed" in Kiir's leadership and he must not take US assistance for granted. In a stark reminder of the perilous situation in the six-year-old nation, Haley was later forced to hastily evacuate South Sudan after a group of anti-Kiir protesters turned violent.
Haley's tough rhetoric raises the question: what, if anything, can the United States do to prevent the world's youngest nation—one that it helped foster—from unraveling under the pressures of a protracted war, corrupt leaders, acute famine, and the displacement of its people?
Brian Adeba, deputy director of policy at the Enough Project, said the United States' South Sudan policy is missing one key element: leverage.
"The challenge for the United States is how to create the necessary leverage to stop the conflict and get the country back on a peaceful track," said Adeba.

Cameron Hudson, who served as chief of staff to former US President Barack Obama's special envoy for Sudan from 2009 to 2011, said the biggest leverage that US President Donald J. Trump's administration has with South Sudan is the absence of the baggage of history.
Under former US Presidents George W. Bush and Obama, the South Sudanese relied on deep ties to officials in both those administrations. "Here you have someone like Nikki Haley who comes in completely fresh to the portfolio and [the Trump] administration that does not view the government of South Sudan as its responsibility—that is a wakeup call to [South Sudan's] leaders that this relationship that they have taken for granted for so long could be lost," Hudson said.
Hudson suggested that the United States could build leverage by imposing sanctions on South Sudanese officials, including Kiir, and seeking justice and accountability for crimes committed in the conflict. "If the US government decided it wanted to support those initiatives, I think the South Sudanese government would be more responsive to the idea of pressure," he said.
Pressure on Kiir's government in the form of coordinated sanctions, a review of humanitarian aid, and Kiir's political isolation may be necessary to evoke real change. According to J. Peter Pham, vice president for research and regional initiatives and director of the Atlantic Council's Africa Center, "there is no way you can have a political dialogue in the current context."
Getting tough with Kiir
Even before Trump came to office, his predecessor, Obama, had started taking a hard line on South Sudan. However, it took a while for the Obama administration to come around to that position.
The Obama administration had a sense of personal responsibility toward South Sudan, said Hudson. "We were the midwife of the country's birth. We advocated for its creation," he said. "There was a lot of pride in ownership of the South Sudanese state and a lot of responsibility for trying to keep it together. That might have colored some of the early analysis."
While certain Obama-era officials "saw through the fog of war," and very early on began raising the alarm, the Obama administration as a whole only belatedly toughened its stance toward Kiir, said Pham. "The Trump administration is taking a tough line because [the problem] is quite evident," he added.
Hudson recalled that what the Obama administration was trying to do with South Sudan was essentially to "keep Humpty Dumpty together."
Meanwhile, "the country was coming apart at the seams," he said, while noting that the Obama administration undertook a high-level effort in 2013 to mediate peace. To do so, Washington backed a power-sharing agreement between Kiir and his rival, Riek Machar, that essentially kept in place the old power structure.
Hudson acknowledged that the Obama administration was criticized for remaining wedded to that peace deal longer than it should have and for not using sufficient sticks—individual sanctions or an arms embargo—as that deal collapsed. By the time the Obama administration eventually decided to pursue an arms embargo against South Sudan in 2016, it no longer had the support in the United Nations Security Council.
The crisis in South Sudan
South Sudan gained independence from Sudan in 2011 following a decades-long civil war that claimed more than two million lives. Today, the country is back on the brink of civil war.
The current crisis is rooted in the tribal and personal rivalry between Kiir and Machar, his former vice president. Kiir, a member of the Dinka tribe, fired Machar, a Nuer, in July of 2016, accusing him of plotting a coup. The Obama administration, among others, found those accusations to be without merit.
Machar fled the country in 2016 after clashes between his forces and those loyal to Kiir left hundreds dead in Juba. The former vice president now lives in exile in South Africa—a move backed by the Obama administration which, Hudson said, viewed Machar as a "disruptive force."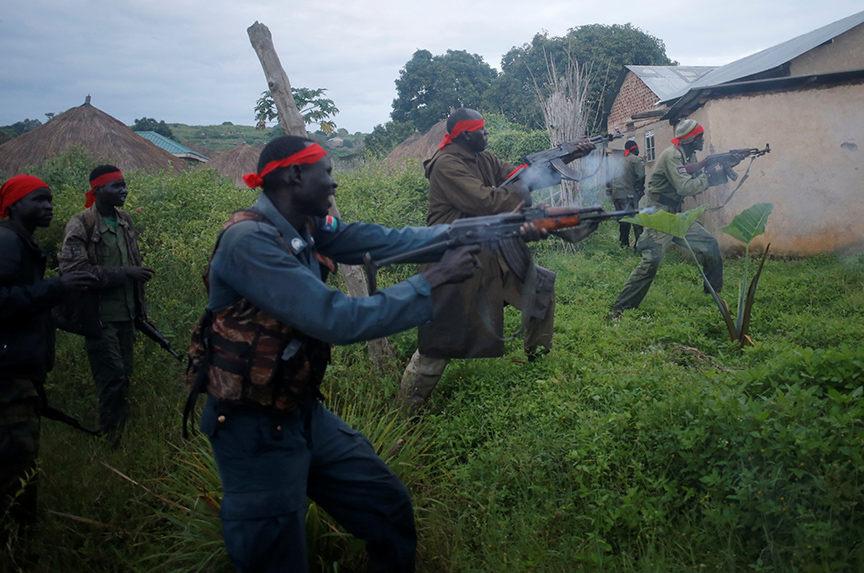 Sudan People's Liberation Army-In Opposition (SPLA-IO) rebels fired weapons during an assault on government SPLA soldiers in the town of Kaya on the border with Uganda on August 26, 2017. (Reuters/Goran Tomasevic)
Noting the fact that Machar has been marginalized by the international community, Pham said Kiir needs to be similarly sidelined so that the people of South Sudan can get a shot at a "fresh start."
Speaking of Kiir, Pham said: "You have a leader in place who, because he has pushed his opponent out of the country, believes he has largely won the battle on the ground and can do or say anything."
Princeton Lyman, who served as US special envoy for Sudan and South Sudan from 2011 to 2013, said it is not feasible to marginalize Kiir without ending the war. "Once you get a peace process, which brings in all the different actors; it is no longer just Kiir versus Riek Machar; there are many other opposition groups and you develop a transition process, I think it would be ideal to move forward with the agreement that eventually neither President Kiir nor Riek Machar play a leadership role in the country," he said.
Failed peace
Multiple attempts at peacemaking have failed in South Sudan.
"Nothing is working," said Adeba.
When Machar left South Sudan, the war in the country escalated and more and more people were displaced. "The conflict expanded dramatically, not only in geographical scope but also in the number of actors," said Adeba. "It is no longer a binary duel between the government and Riek Machar."
Having Machar out of the picture is actually counterproductive, said Adeba. "If you want to talk peace, you have got to include him in that process."
The Intergovernmental Authority on Development (IGAD), an eight-nation East African regional group, is attempting to revive the 2015 power-sharing agreement. However, Kiir's government has had a "lukewarm response," according to Jean-Pierre Lacroix, the United Nations peacekeeping chief.
Pham said Kiir is trying to stall peace talks while calling for elections in the hope that, in the absence of a legitimate political rival and in "a climate that is hardly conducive to anything resembling a 'free and fair' electoral process," he can win "a mandate for misrule for a longer period of time."
The United States' options
As special envoy, Lyman dealt closely with Kiir. He said the Trump administration should keep in mind that the South Sudanese president "will tend to promise things that he won't deliver and he often pretends not to be responsible for many of the things for which he is responsible."
Kiir's government, for example, has denied responsibility for atrocities committed during the ongoing war.
In 2015, an African Union (AU) commission led by former Nigerian President Olusegun Obasanjo found evidence that both sides in the conflict had been involved in murder, torture, looting, and sexual violence. International governmental and nongovernmental actors alike have also extensively documented similar incidents; evidence of ethnic cleansing was also found.
South Sudan is beset by one of the largest, if not the largest, humanitarian crises in the world. "It is costing the United States alone, between the humanitarian program in South Sudan and the refugee program outside, about a billion dollars a year, plus the cost of peacekeeping," said Lyman. "And, it is upsetting the stability of the Horn of Africa."
Pham said that the Trump administration should review humanitarian aid to Kiir's government, something Haley alluded to in her remarks in Juba. "The American people are willing to be generous and help with humanitarian aid, but we also need to make sure that humanitarian aid is not reinforcing the very thing that causes the crisis in the first place," Pham said.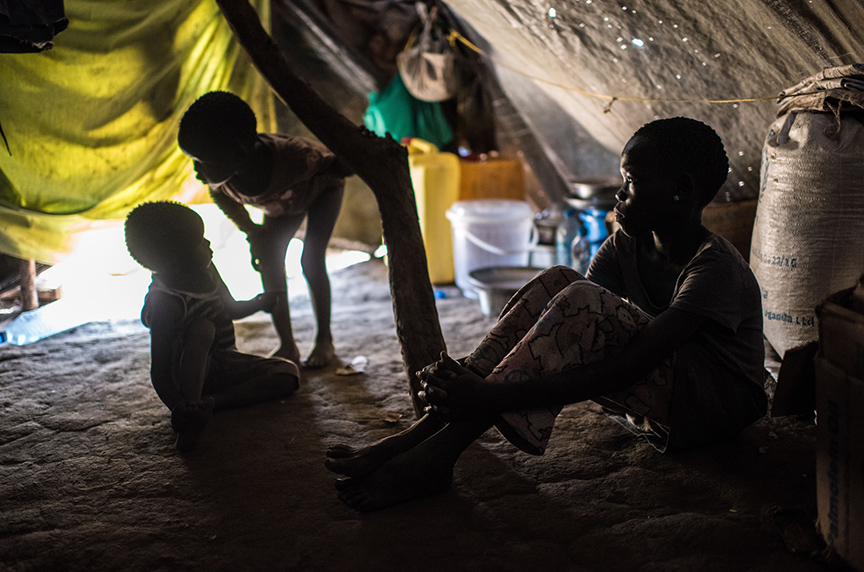 A family that fled their home as a result of the conflict in South Sudan rested in their tent at the Bidi Bidi refugee camp in Uganda. Nearly two million people have fled South Sudan as a result of the war and famine. (https://www.flickr.com/photos/trocaire/)
Hudson, who served as director of African affairs at the National Security Council from 2005 to 2009, is skeptical about the wisdom of threatening to scale back humanitarian assistance.
Noting that the United States feeds, educates, and provides medical care to more South Sudanese than the government of South Sudan, Hudson said that the threat of revoking humanitarian aid "is only leverage if the government of South Sudan cares about its people."
"From everything we have seen from President Kiir, he doesn't really care about the welfare of his people. We can't really care about the welfare of South Sudanese more than their own government," he added.
This is why Pham said it is crucial that the Trump administration determine whether the South Sudanese government is allowing unfettered access for foreign aid to enter all parts of the country without preferential treatment being given to some regions.
Lyman recommended that humanitarian assistance be restructured to get around the obstacles that both the government and the opposition put in the way of this aid.
Moreover, Pham said, more robust sanctions were needed to target key members of the South Sudanese regime responsible for the ongoing conflict, noting that "a lot of good work has been done over the course of the last year identifying individuals and the specific assets they have squirreled away."
An illegitimate leader?
Pham argued that the Trump administration should also take a hard look at the legitimacy of the Kiir government. "Salva Kiir was never elected president of an independent South Sudan. He slipped into the job…with a promise that elections would be held in 2015," Pham said.
Those elections were never held. As a result, South Sudan has neither a properly-elected parliament nor freely-elected state and local officials to serve as a check on presidential authority. "At some point, one has to ask whether this government is responsible for the humanitarian tragedy and since it was never elected, do we continue to confer the benefits of legitimacy on it," said Pham, who added that the protest against Kiir that took place during Haley's visit to camp for displaced persons underscored what "ordinary South Sudanese think about the matter."
"If a regime is not only predatory towards its own people, but allows its disorder to now also threaten the security and stability of its neighbors, why should we continue to pretend it has a 'normal' place in the community of civilized nations," Pham asked.
Rampant corruption
Corruption at the highest levels of government is a significant element of the crisis in South Sudan. An investigation by the Sentry, an investigative initiative of the Enough Project, found evidence of corruption on the part of Kiir and Machar as well.
"We are of the opinion that what you have in South Sudan is a government that has hijacked all institutions of governance, there are no checks and balances, it's a free-for-all looting spree," said Adeba.
In September, the US Treasury Department, citing rampant corruption, imposed sanctions on three of Kiir's close associates. Adeba said more such action that targets not just individuals, but also the networks that serve them, needs to be taken.
Another point of leverage, Lyman said, is to work with South Sudan's neighbors and use sanctions to cut off some of the financial advantages that people in the neighboring countries are reaping from the war in South Sudan. "The neighboring countries really have to come together strongly in support of a peace process, which they haven't really quite done yet," said Lyman.
What's at stake?
For the people of South Sudan, the dream of a peaceful homeland following decades of civil war quickly evaporated. As a result of a combination of war and bad governance, South Sudan is being ravaged by famine, its economy has tanked, its currency greatly diminished in value, and inflation is skyrocketing. South Sudan's neighbors, especially Uganda, Ethiopia, and Sudan, have seen an influx of refugees—almost two million people—from South Sudan.
"South Sudan is at the risk of disintegrating," warned Adeba. "To have a region in [the United States'] sphere of influence disintegrate is a dent to its credibility and international standing."
The big question now is how South Sudan moves forward, said Hudson. "The stakes for South Sudan are incredibly high because it is really about having a conversation about what kind of country is this going to be. Is this going to be essentially a failed state like Somalia that we are going to have to isolate and contain?"
"Or is it going to be the kind of country that turns toward a more democratic inclination, that tries to bring in a new generation of leaders that moves away from the tribalism that has defined politics in the last five years," he added.
Ashish Kumar Sen is deputy director of communications at the Atlantic Council. Follow him on Twitter @AshishSen.