The London ambassadors from European Union (EU) member states are decamping this weekend to the south coast of England to think through the EU's post-Brexit relationship with the United Kingdom. The meeting is a welcome sign of warming relations but can only be the start. As ambassadors swap their oxfords for Wellingtons, they must consider bold approaches to rebuild the EU-UK relationship.
Take two
February's Windsor Framework breakthrough to reform customs arrangements for Northern Ireland has created an opening to put the EU-UK relationship on a much-improved footing. With fresh seriousness from Prime Minister Rishi Sunak and a willingness from EU negotiators to agree to significant concessions, rhetorical mudpies slung across the Channel were replaced by beaming photo ops and tea with the king when European Commission President Ursula von der Leyen visited London to finalize the framework and mark a new chapter in UK-EU relations.
The agreement has already led to progress in the relationship. In March, London and Brussels restarted talks on the United Kingdom's reentry into the Horizon Europe program, which dishes out billions for research and innovation projects (although difficulties in negotiations remain).
Even before the Windsor Framework was finalized, there were hints of what a productive relationship could look like. The EU granted the United Kingdom access to the Permanent Structured Cooperation project on military mobility in November, and Britain was represented at the first meeting of the still ambiguously defined European Political Community (EPC) in October. (The United Kingdom's refreshed Integrated Review of national security and international policy in March also endorsed the EPC and pledged that the country will host an EPC meeting next year.) The United Kingdom also strengthened ties to EU members such as Poland and the Baltic states through security assistance and announced a partnership with Italy (and Japan) on a fighter jet project. Most notably, Sunak and French President Emmanuel Macron found bonhomie and agreed to cooperate on migration in the English Channel. Now with Brexit on the road to resolution, the focus should be turning this collaboration into a real partnership.
Friendship by necessity
The United Kingdom may no longer be a member of the EU, but it is still a part of Europe. And the urgency is great. Policymakers in Brussels should see in London a partner that largely shares its outlook and embrace the United Kingdom's role in Europe's security. Strategists in London should see their EU neighbor not just as a powerful trading bloc but an actor growing its geopolitical stature.
Put simply, London and Brussels need each other. By the House of Commons' estimate, 42 percent of total UK exports went to the EU and 48 percent of imports came from the EU in 2022. For the EU, the United Kingdom is still one of the largest economies in Europe and a financial hub with deep access to capital markets despite its deep crisis in confidence. On defense, the United Kingdom is Ukraine's single largest military supporter in Europe, second only to the United States worldwide. London has also promised increased defense spending in contrast to improving but struggling defense efforts elsewhere in Europe.
Beyond Ukraine lies China. Both London and Brussels are focused on the Indo-Pacific and working on how to manage the relationship with Beijing as competition moves closer to confrontation—especially between Washington and Beijing. The United Kingdom has the lead with its Indo-Pacific tilt, and Europe is grappling with—but inching forward on—a new strategy and approach toward China and Taiwan.
Russia's war in Ukraine, growing confrontation with China, and a rewiring of the global economy all serve as important reminders that the United Kingdom's relation to the EU almost seems like a footnote when you take a step back. The affronts, challenges, and challengers to the world system do not seem to differentiate much between the two. A stasis of skepticism—or, at worst, estrangement—carries costly penalties for both sides of the Channel. As neighbors, global powers, and proponents of liberal governance in an increasingly geopolitical world, a productive relationship between London and Brussels becomes a necessity, not a luxury.
Areas of partnership
This is not to suggest that UK-EU policies will immediately fully align. There remain very real policy differences, and a reentry into the EU Single Market or Customs Union, let alone the bloc itself, is not in the cards. That should not stop policymakers from aspiring to a relationship based on shared interests. In practice, that means identifying areas of cooperation that are ambitious yet realistic across two priority areas: Defense and economics.
The EU has been bootstrapping its defense and security policies since the Russian invasion of Ukraine but is woefully underprepared for the geopolitical climate in which it finds itself. The United Kingdom can help. Options include:
Joint patrols in the Indo-Pacific: Building on EU foreign policy chief Josep Borrell's call for European fleets to patrol the Taiwan Strait, policymakers could coordinate or launch joint patrols in the Indo-Pacific. Borrell's goal is to show Europe's seriousness, yet there are only a handful of EU members equipped to do what Borrell proposes. Coordinating with the United Kingdom would show that Britain and the EU remain united in their resolve. Such a move would build on the United Kingdom's leadership on the Indo-Pacific, provide greater credibility to Europe's own Indo-Pacific plans, and show that European unity indeed extends beyond the continent.
Britain in defense projects: If European sovereignty purists can hold their noses, the United Kingdom would be an asset in European defense projects starting with the EU's recent ammunition procurement project. It would make practical sense as the EU struggles to build homegrown ammunition supplies and as the United Kingdom is one of the world's largest arms exporters. The United Kingdom's participation would be difficult politically as the current negotiations hinge specifically on the role of non-EU countries' inclusion, but it would be a win for all sides: The United Kingdom would get access to lucrative contracts, the EU would get a secure source of ammunition and build out its credibility on defense initiatives, and Ukraine would receive much-needed ammunition.
British observer status at EU foreign ministers' meetings: Immediately after the Russian invasion, then UK foreign secretary Liz Truss joined a Foreign Affairs Council (FAC) meeting of EU foreign ministers as a statement of unity, alongside the US secretary of state, Canadian foreign minister, and NATO secretary general. The FAC could go farther by welcoming a British representative at meetings where common security, sanctions, support to Ukraine, and other issues of joint concern are discussed. It would be a symbolic move to show that EU and British leaders can work together. This could, if ties improve, be turned into a standing invitation to all FAC meetings.
On economics, the US Inflation Reduction Act and the EU Green Deal Industrial Plan are rewiring how traditional free traders do business. While slow in response, the United Kingdom still has a role to play. Policymakers could consider:
Industrial policy coordination: The United Kingdom has so far signaled that it will not challenge Washington's or Brussels' spending sprees, but London risks being caught in the middle. To avoid clashes or subsidy races, the EU and United Kingdom could open a dialogue similar to the US-EU Clean Energy Incentives Dialogue announced at the meeting between US President Joe Biden and von der Leyen.
British membership in the critical raw materials club: Von der Leyen has called for a critical raw materials club in the scramble for the materials that power the economy. The UK strategy for critical minerals draws much of the same conclusions that led to the EU's Critical Raw Materials Act, namely the threat that dependencies on countries such as China pose to supply chains. Britain is already exploring collaboration with the United States, Canada, South Africa, and Australia and is looking into its own extraction efforts. Both London and Brussels stand to gain from efforts to deconflict and coordinate on the search for secure supplies of minerals.
UK-EU tech dialogue: The EU is a leader on digital policy, but Britain has been active on its own digital and tech policies. The United Kingdom itself is a leader on research and development for semiconductors and on artificial intelligence (AI), for example. The EU and United Kingdom would benefit from greater alignment on tech following the model of the US-EU Trade and Technology Council. Greater dialogue on issues such as semiconductors, AI, cybersecurity standards, and more could help standardize digital policy not just across the Channel but across the Atlantic. Recognizing the strategic imperative of digital and tech policy for both the United Kingdom and EU, negotiators should also accelerate negotiations on Britain's reentry into Horizon Europe.
A bucolic weekend getaway on the coast won't bridge the cross-Channel divide. Real change will require buy-in from leadership at the highest levels in Brussels, capitals across Europe, and of course London. But the meeting does show that the European Union is thinking about its post-Brexit relationship with the United Kingdom. That is a start.
---
Jörn Fleck is the senior director of the Atlantic Council's Europe Center.
Ben Judah is the director of the Transform Europe Initiative in the Europe Center.
Further reading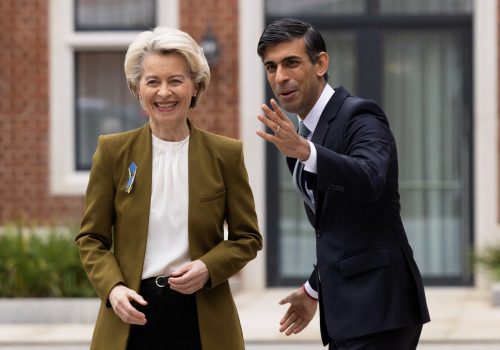 Mon, Feb 27, 2023
Experts react By Atlantic Council experts
What would the deal mean for regional trade and diplomacy? What does it say about Sunak's approach to foreign policy? Our experts ship off their answers.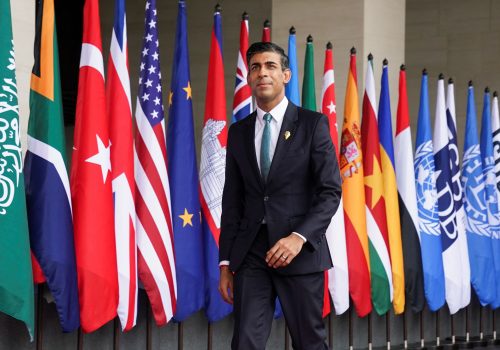 Thu, Dec 22, 2022
New Atlanticist By James Batchik
With Russia's upending of Europe's security and the geopolitical shift toward the Indo-Pacific, the UK prime minister needs to offer more if Britain is to be a partner of first resort.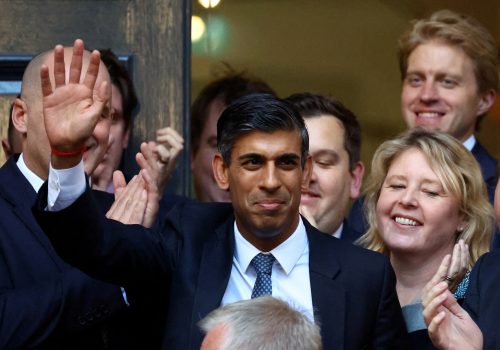 Mon, Oct 24, 2022
Fast Thinking By Atlantic Council
Can Sunak steady the markets, the country, and the Conservative Party? How will minority communities in Britain view a history-making prime minister of Indian descent?