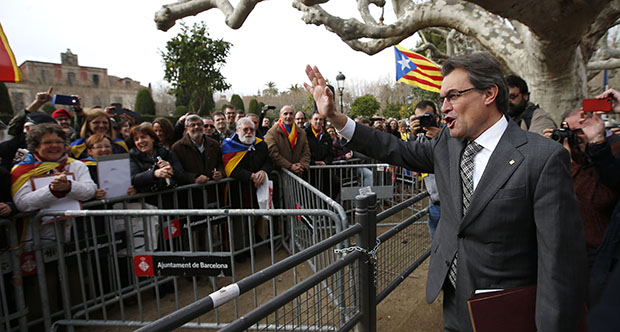 Today's vote by the legislature of the Spanish region of Catalonia to formally petition Spain's government to authorize a referendum on Catalonian independence is a reminder that Europe will face a challenge this year for which it seems unready. Even though Spain has firmly opposed the referendum, the Catalonians are sure to press ahead. This fall, both Catalonia and Scotland are likely to hold referenda on whether to become independent states. Europe is treating the issue of independence as an internal matter for Spain and the United Kingdom – a mistake that risks cracking the continent's delicate unity.

Scotland will hold its vote with the consent of the United Kingdom. The two governments are negotiating over how to manage the political and economic uncertainty and strain resulting from the referendum itself, and the possibility of an independent Scotland.
Catalonia's regional administration last month announced a November date for its referendum, which the Spanish government of Prime Minister Mariano Rajoy immediately vowed to block. Yet Catalonia continues to move toward a unilateral declaration of independence. The separatist movement has sustained its momentum since it organized a massive demonstration in Barcelona in 2012 that led the region's parliament, days later, to approve a resolution affirming Catalonia's right to declare independence.
It will be Europe, in the end, that decides whether Catalonia will be an independent state. The continent's phobia of self-determination and its lack of any coherent approach to newly independent states leaves it ill-prepared to make this decision, which will strain the very foundation of Europe.
Spain and Catalonia are locked in a legal debate over Catalonia's right to hold a referendum and declare independence. While Catalonian regional premier Athur Mas has listed legal arguments that permit a referendum, Prime Minister Rajoy vows to use the Spanish courts to block what he considers an unconstitutional vote. For Europe, this domestic legal debate is largely irrelevant. If Catalonians choose independence, they will seek international recognition as an independent state based on the will of the people, not on provisions of the Spanish constitution.
International law neither permits nor prohibits the holding of referenda by aspiring states. Under international law, a state must have a territory with a population subject to the control of a government – criteria that Catalonia will meet. It also must be sovereign, meaning that other states must recognize it as independent. This is how the Catalonian issue will be owned by the other European states.
For two decades, Europe has avoided developing a common, or even coherent, policy on recognition. Many in Europe still believe Germany ignited the war in Yugoslavia by its premature recognition of Croatia in January 1991. The European Union's failure to deal with Northern Cyprus has created a half-member EU state where all Cypriots are EU citizens, but only half the country is governed by EU laws and regulations. Kosovo is in international limbo. It is recognized by 103 countries, excluding five EU member states, and maintains stabilization and integration agreements with the EU. It is a member of the World Bank and IMF, but not the United Nations.
When Catalonia asks for recognition, Europe will be ill-prepared to answer. This is dangerous.
Europe as a whole is unlikely to deny recognition to Catalonia. That would create a frozen conflict in the core of Europe that will drain political capital and economic resources of an economically fragile Spain. In many European states, non-recognition would be perceived as anti-democratic. It will be extremely difficult to justify, given that more than two dozen states have achieved recognition in the past twenty years, and that Scotland is likely to join that list.
Europe as a whole also is unlikely to recognize Catalonia as independent and admit it to the European Union. That move would encourage further referenda in Belgium, Cyprus, Slovakia, Romania, and possibly Italy.
Europe likely will fail to develop a common approach, with some states recognizing Catalonia, and others denying recognition. The international community then will follow the pattern. In this case, Europe will suffer both consequences, creating a frozen conflict in Spain and prompting additional referenda on independence. It also will create a "state" with the euro as its currency, and 7 million people who could wind up retaining their European Union citizenship, while living outside the European Union.
Now is the time for the EU to be proactive and develop a policy for dealing with Catalonia's call for self-determination and possible independence. Its current path could well lead to chaos for Europe's grand experiment.
Dr. Paul R. Williams is the Rebecca I. Grazier Professor of Law and International Relations at American University and the co-founder and President of the Public International Law & Policy Group. He has published articles on the international law and policy ramifications of state secession.
Roushani Mansoor is a former Fulbright-Clinton Fellow to Bangladesh and a current Law Fellow at the Public International Law & Policy Group.