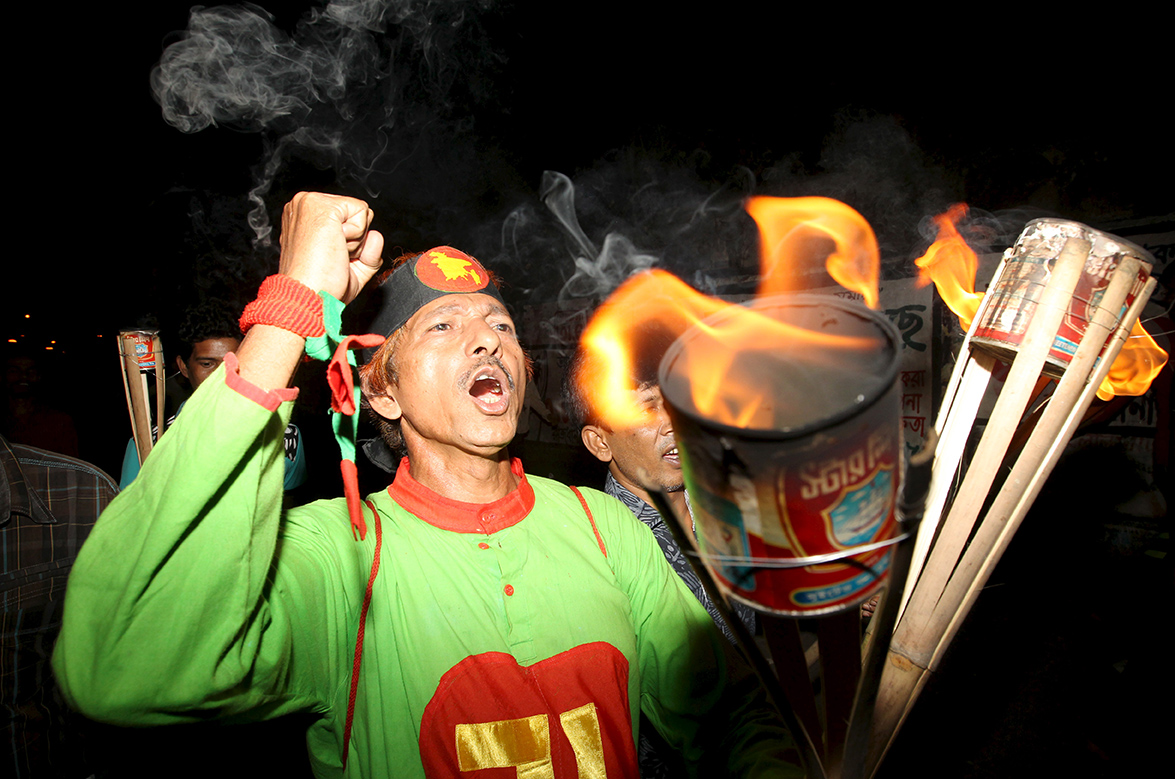 Faysal Arefin was stabbed to death in his second-floor office in a crowded Dhaka neighborhood on Oct. 31. His crime: Publishing books by Avijit Roy, a Bangladeshi-American blogger and strident opponent of religious extremism.
Arefin is not the first to meet such a gruesome end. On Feb. 26, machete-wielding men fatally attacked Roy as he was walking with his wife on a street in the Bangladeshi capital, Dhaka.
Arefin and Roy are part of an alarming — and growing — list of victims of radical Islam. At least five secular bloggers have been killed in Bangladesh so far this year. Ansarullah Bangla Team (ABT), a local Islamist group that has claimed responsibility for some of the attacks, has drawn up a hit list of secular bloggers, writers, and activists. ABT is believed to have links with Ansar ul-Islam, which is part of al-Qaeda in South Asia.

The latest attacks on the bloggers come on the heels of the murder of an Italian aid worker and a Japanese man in Bangladesh, and the bombing of a procession of Shia Muslims in Dhaka in October. The Islamic State has claimed responsibility for all these attacks.
Rise of radical Islam
Radical Islam has taken root in Bangladesh as Prime Minister Sheikh Hasina of the Awami League and Khaleda Zia of the Bangladesh Nationalist Party, Bangladesh's main opposition party, have been embroiled in a bitter and long-running feud. The rivalry between the "Battling Begums" is legendary.
A controversial International Crimes Tribunal, set up by the Hasina government to try people accused of committing war crimes during Bangladesh's war of independence from Pakistan in 1971, has poured gasoline on this feud. According to official estimates, three million people were killed and 200,000 women raped during the war.
The International Crimes Tribunal has convicted about two dozen people, most of whom belong to the BNP's Islamist ally, the Jamaat-e-Islami. Two Jamaat-e-Islami leaders were executed in December of 2013 and April of this year. Their executions drew widespread condemnation and questions from the Obama administration, the United Nations, and human rights groups about whether the tribunal meets international standards of fair trial. The tribunal has also been tainted by the perception that the judicial process is politicized.
"The rules of evidence have been flouted, not least in some defendants not having the opportunity to call relevant defense witnesses," said Alex Carlile, a Liberal Democrat peer in the United Kingdom's House of Lords.
"Defense lawyers have been under threat. Access to defendants has been limited. Judges have been subject to government pressure and their independence has been undermined," he added.
The tribunal has convicted and sentenced two more men — Jamaat-e-Islami's Ali Ahsan Mohammad Mojaheed and BNP's Salauddin Quader Chowdhury — to death. Bangladesh's Supreme Court earlier in November rejected Chowdhury's petition to allow deposition from several high-profile witnesses. The court postponed a hearing on the death sentence appeal to Nov. 17.
If the executions go ahead, Chowdhury would be the first BNP leader to be executed on the tribunal's orders. His death would almost certainly escalate the feud between the Awami League and the BNP.
No death penalty
"The government of Bangladesh must appreciate that it is arbitrary to impose the death penalty where the proceedings do not adhere to the highest standards of fair trial," said Abbas Faiz, a Senior Researcher at Amnesty International.
The government must also ensure that the International Crimes Tribunal functions within fair trial principles and is not mandated to impose the death penalty, he added.
Hasina has lashed out at Amnesty International, accusing the human rights group of trying to protect war criminals and alleging it has been bribed. She also said there is a campaign to portray Bangladesh as unsafe.
Key defense witnesses, including a former Prime Minister of Pakistan, were prevented from testifying in Chowdhury's case when the tribunal limited to four the number of witnesses the defense lawyers could summon.
Mohammed Mian Soomro, who served as Prime Minister of Pakistan from November of 2007 to March of 2008, said in a sworn affidavit that Chowdhury was actually present in Karachi, Pakistan, to complete and further his education at the time he was accused of war crimes in Bangladesh, in what was formerly known as East Pakistan.
"I clearly recollect his presence. Being younger, in our early 20s we discussed what young people would in our frequent meetings. Careers, higher education plans, what was happening in our part of the world at that time, and how it affected everyone," Soomro said in an e-mail interview with the New Atlanticist.
Soomro said he was shocked that Chowdhury has been sentenced to death. "It is very disappointing to believe that such a travesty of justice has been allowed. The silence in response by the world and the people of Bangladesh is deafening," he said.
"There is a saying — 'What goes around, comes around.' If a precedent such as this is set, it will become the modus operandi and eventually affect everyone," he added.
In a letter to Bangladesh's Ambassador to the United States, Mohammad Ziauddin, Sen. Patrick Leahy (D-VT), the ranking Democrat on the Senate Judiciary Committee, urged the Bangladeshi government to delay Chowdhury's execution and properly review his case.
While Chowdhury's defense team was not given the opportunity to present evidence that their client was actually out of the country at the time the offenses of which he was convicted occurred, the "prosecution was reportedly allowed to rely on hearsay and subjective written accounts," Leahy wrote.
Carlile said that if the executions are carried out, "the immediate result will be more mob rule, with the government turning a blind eye to Islamism and attacks on opposition and independent critics."
"It is a tragedy that there appears to be little wish for calm, political reconciliation for the sake of the country," he added.
The United States, which has an important trade relationship with Bangladesh, must encourage a rapprochement between Hasina and Zia. A failure to end this feud will not only mean bad news for Bangladesh, but will also deal a serious blow to the United States' counterterrorism efforts in a part of the world that can ill-afford more turmoil.
Ashish Kumar Sen is a staff writer at the Atlantic Council.