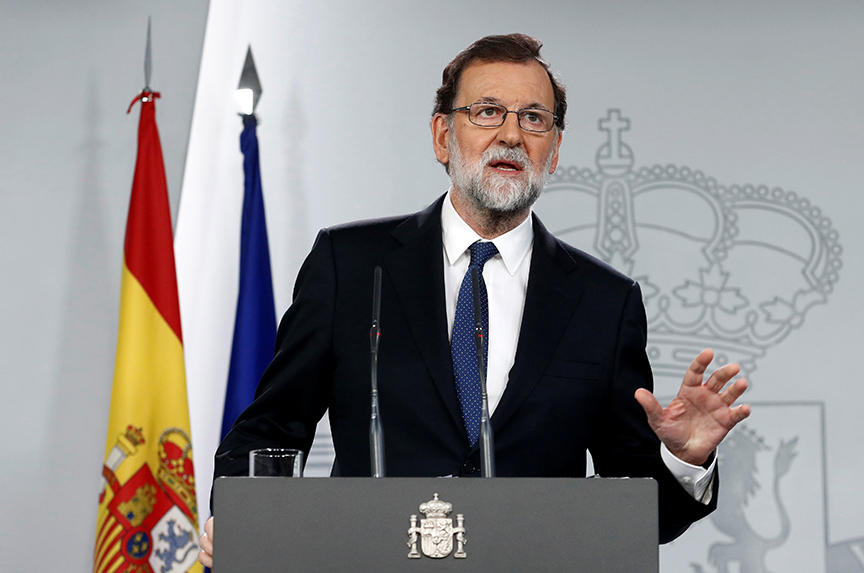 Catalonia's illegal independence referendum has thrown Spain into turmoil.
In light of the escalating tensions, Spanish Prime Minister Mariano Rajoy is now toying with the idea of invoking the never-before-used Article 155 of the Spanish constitution that would suspend Catalonia's regional autonomy. With a view to taking such action, Rajoy on October 11 asked the region's leaders whether they had formally declared independence from Spain.
The confusion stems from the words and actions of Catalonia's leaders. On October 10, Carles Puigdemont, president of the government of Catalonia, signed a declaration of independence. Further, in a speech to the Catalan parliament Puigdemont declared independence from Spain; he then held back to allow talks with the government in Madrid.
How did Spain get to this point?

On October 1, Catalans took part in an independence referendum which Spain's constitutional court had declared illegal. Hundreds of people were wounded in a crackdown by police deployed by the Spanish government to prevent the referendum from taking place.
The Catalan government claims that almost 90 percent of around 2.3 million people who participated in the referendum voted in favor of independence. That there are around 5.3 million registered voters in Catalonia has raised questions about the support for independence among Catalans themselves. In fact, since the referendum, massive demonstrations in support of Spanish unity have taken place in Barcelona, major Catalan city.
The referendum was nothing short of a "coup d'état masquerading as a referendum," said Tunku Varadarajan, a journalism fellow at Stanford University's Hoover Institution. He suggested a "grand constitutional conference" to resolve the crisis.
"This has to be done with one point firmly established and clear which is that the unity of Spain is not in play," he said. "You can suggest improvements to the constitution but the unity of Spain is a given."
Any compromises reached with Catalonia would have to be extended to other autonomous regions in Spain, he added.
The referendum prompted rare intervention from Spanish King Felipe VI, who rebuked Catalan leaders.
Noting the significance of this intervention, Varadarajan pointed out that the last time Spain's king intervened in such a manner was on February 23, 1981, when Col. Antonio Tejero Molina attempted a coup d'état.
"The [similarity is] on both occasions you had the Spanish king addressing an attempted coup d'état," Varadarajan said.
While the constitutional court had declared the referendum illegal, Varadarajan said: "The problem with that position of course is that… the battle is really between Madrid's assertions of legality versus Catalonia's assertion that the law is an ass."
He said: "I think the Spanish state is in the right; the Catalan separatists are kind of rhetorical political vandals… They have sought every opportunity that has come their way to escalate problems rather than to resolve them."
Varadarajan suggested the need to find a way for the Spanish state to rein in these separatists, whom he described as being part of a tribal movement. "With tribal movement, reason only plays a part, a limited part in any resolution of conflict," he said.
In an earlier interview with the New Atlanticist, Fran Burwell, a distinguished fellow at the Atlantic Council, said Catalonia's leaders had not thought through the consequences of their push for independence.
If it were to declare independence, Catalonia would lose membership in the European Union (EU), a prospect most Catalans do not favor. "That means barriers will go up immediately; no free movement for people who have Catalan passports; no free movement of goods of services to and from Catalonia; their relationship with the euro will be suspect, like Kosovo which uses the euro with no legal power to do so; there would be no common agricultural policy money for Catalonia," said Burwell.
The EU has described the developments in Spain as an internal matter.
Varadarajan said the EU is right not to intervene, but added that "Brussels has to make it absolutely clear that it will not abide a breakup of Spain."
Varadarajan painted a bleak outlook should Catalonia break away from Spain.
"If Catalonia does become independent it will have gone from being arguably the most prosperous part of a great old European country, the fourth-largest economy in the European Union, to being a small, shrunken, precarious, new state," he said. "And that will have obvious and immediate economic consequences both in terms of access to capital as well as in terms of shrinking of the investor confidence and appetite".
"Barcelona will go from being the sort of great cosmopolitan city of Spain, to being kind of a much reduced tribal… capital of a small country," he said. This, he added, would tarnish not just Barcelona's attraction to investors and banks, but to tourists as well.
Ashish Kumar Sen is deputy director of communications at the Atlantic Council. Follow him on Twitter @AshishSen.