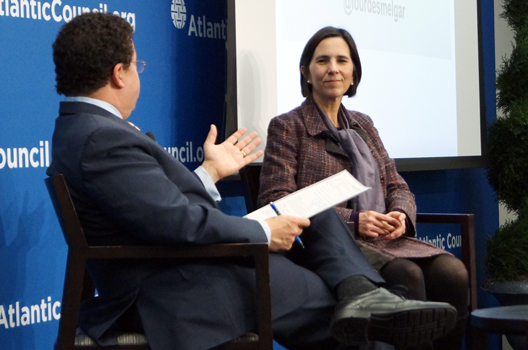 Energy sector reform will continue with or without the United States, said former Mexican official
Though recent political tensions threaten the stability of US-Mexico relations, Mexico's ongoing energy sector reform will continue without US partnership, if necessary, according to Mexico's former deputy secretary of energy.
"Mexico's energy reform does not depend on the United States," Lourdes Melgar, who now serves at the Robert E. Wilhelm Fellow at the Massachusetts Institute of Technology Center for International Studies, said at the Atlantic Council on March 16. "If the United States does not want to have business with Mexico," Melgar cautioned, "I think they're missing the picture, because Mexico has options."

In 2013, Mexico enacted energy sector reform at the constitutional level and began implementation in 2015. The reform is designed to increase oil and gas production, diversify investors, create new markets, and expand Mexico's natural gas infrastructure.
In introductory remarks, Peter Schechter, Atlantic Council senior vice president and director of the Adrienne Arsht Latin America Center, said Mexico's recent energy renaissance has led to an increasing energy partnership with the United States.
However, after twenty-five years of close and cooperative US-Mexico relations, rhetoric from US President Donald Trump is beginning to alienate the United States' southern neighbor. At a time when the relationship is at its best moment, said Melgar, "all of a sudden you change the script."
As Mexico builds and diversifies its markets, "we do have French companies, Spanish companies, [companies] from the UK, from China," interested in investing in Mexico, said Melgar. She added: "You start looking at the world and you start seeing that there are a lot of players out there; it's not just the US."
Meanwhile, Mexico's 2018 presidential elections are looming on the horizon. Leftist candidate Andrés Manuel López Obrador has expressed anti-American sentiments, a stance that is gaining traction among a Mexican electorate that is disenchanted, frustrated, and insulted by Trump's words. Should the United States and Mexico pull away from each other, Melgar said Mexico will seek alternative investors and opportunities to support its new, burgeoning energy infrastructure, a move which would negatively impact the United States.
For example, she said, a Chinese company has already won a contract to drill for oil off Mexico's shores.
Melgar participated in conversation moderated by David Goldwyn, chairman of the Atlantic Council's Energy Advisory Group, to analyze the future of the US-Mexico energy relationship. She stressed that the relationship has tangible, value-added benefits for both parties. Goldwyn noted that nearly 60 percent of US gas exports go to Mexico, and Melgar described the plans for an extensive network of North American pipelines, further uniting the two countries.
However, "if there is no longer interest in selling to Mexico, Mexico has other options," said Melgar.
Though Mexico could pursue alternate avenues for energy trade, she said the country's most strategic partnership still lies with the United States.
In particular, the North American Free Trade Agreement (NAFTA)—a trade deal between the United States, Mexico, and Canada—has strengthened the economies of all participants. Melgar said: "NAFTA has been a win-win for the three countries." Trump has claimed he wants to pull the United States out of NAFTA. The threat of repealing the agreement has been met with attempts by all three parties to update a deal written nearly twenty years ago.
"In a modernization of NAFTA, we would include areas that were not addressed twenty years ago," said Melgar. "Energy is one." Energy issues are not currently treated in NAFTA, but if it were included, she said, Mexico and the United States could see an increased integration in natural gas and oil supply chains as well as fuel markets, which would benefit both parties.
Melgar described how, through NAFTA, North America could become an "energy hub." She said the United States, Mexico, and Canada could productively collaborate on clean energy promotion, regulations, and standards. "If we can share all of that… it would create a positive cycle for everyone," she said.
Should Mexico turn elsewhere for its energy partnership, it would remain successful, however, "that's a different situation from having a strong geopolitical North America," said Melgar.
She outlined one of the more tangible benefits of increased North American cooperation in the energy sector: security. If the United States and Mexico work together to bring energy infrastructure to Central American countries, it would build industry, generate employment, and effectively reduce migration to the United States. Though Trump has issued an executive order targeting Mexican immigrants, the majority of people migrating from the south come from the Northern Triangle of Central America–Guatemala, Honduras, and El Salvador.
While the United States and Mexico currently collaborate to halt the flow of migrants at Mexico's southern border, promotion of the energy sector provides an avenue for bringing development to countries that need it, according to Melgar. "This is why I am fully convinced of the importance of trying to make North America an energy hub," she said.
However, Melgar said, "what has happened with the United States is making Mexico rethink its relationship with other parts of the world." Mexico has existing free-trade agreements (FTAs) with other South American countries, and has begun to deepen these ties. Further, China has stepped onto the scene as a potential trade partner, allowing the country to further integrate into the economy of the Western Hemisphere.
In another threat to the US-Mexico energy relationship, Obrador has expressed skepticism about the value of the energy reform. "The problem is that these things become politicized," said Melgar, but she confidently claimed that, regardless of the outcome of Mexico's 2018 election, the energy reform will continue.
"Whomever becomes president is going to have to take a really pragmatic look at the energy reform," she insisted. "They will need to make sure that we have the supply of energy that the country needs to grow." Obrador, if elected, cannot touch the constitutional elements of the reform, according to Melgar, but as for the other elements, she emphasized that this reform is the best path forward for Mexico. "The reform is not based on an ideology, it is based on international best practices," she said.
Rachel Ansley is an editorial assistant at the Atlantic Council.