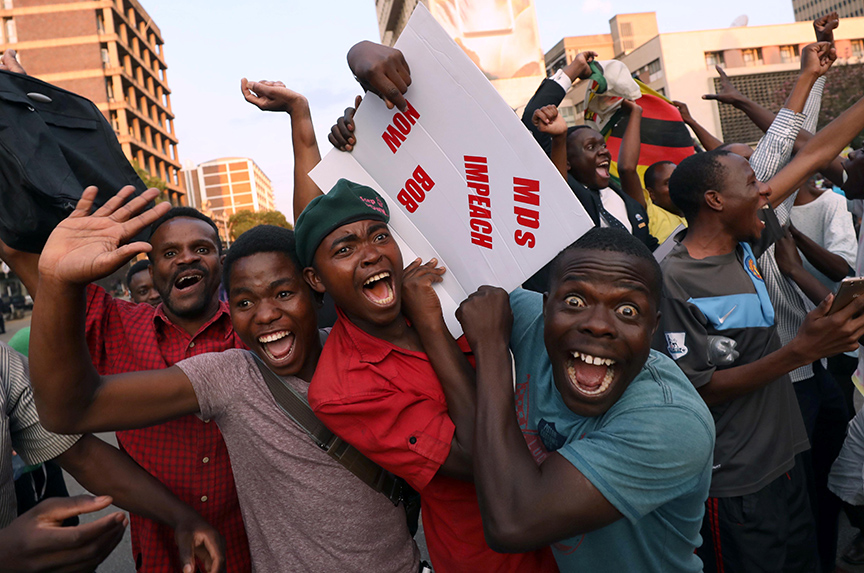 Robert Mugabe's decision to resign in the face of pressure from the military, his party, and the Zimbabwean people paves the way for a new chapter in Zimbabwe's history, said the Atlantic Council's J. Peter Pham.
Mugabe, a liberation struggle hero who led Zimbabwe since 1980, saw his star eventually tarnished by corruption, cronyism, and misrule. He abruptly resigned on November 21 as impeachment proceedings against him began in parliament in Harare.
"Mugabe's resignation clears the way not only for the resolution of the political impasse on a constitutional basis, but also for the beginning of a new chapter in Zimbabwe's history," said Pham, who is director of the Atlantic Council's Africa Center.

The opposition had made attempts to impeach Mugabe in the past, but what made this final effort significant was that the motion was introduced by Mugabe's own party, the Zimbabwe African National Union-Patriotic Front (ZANU-PF).
"The motion to impeach was tabled by the former ruler's own ZANU-PF party and seconded by the main opposition party, the [Movement for Democratic Change-Tsvangirai] MDC-T—a remarkable show of legislative unity that reflected the unity of the Zimbabwean people in the almost celebratory marches this past weekend demanding Mugabe's departure," said Pham.
"One would hope that the new government, presumably to be led by former Vice President Emmerson Mnangagwa, will likewise be broadly inclusive," he said. "If it is so, it will need and should get the support of the international community. It is in no one's interest that Zimbabwe be worse off than what Mugabe has left it after his many years of misrule."
ZANU-PF ousted Mugabe as its leader and appointed Mnangagwa in his place earlier this week. Mnangagwa has the support of the military and Zimbabwe's aging war veterans. He headed an elite band of guerillas known as the Crocodile Fighters during Zimbabwe's independence struggle. He has also served as minister of defense, minister of justice, speaker of parliament, and until November 6 as vice president of Zimbabwe.
Mnangagwa is also the subject of US Treasury sanctions for his role in the suppressing democracy in Zimbabwe.
In an earlier interview with the New Atlanticist, Pham noted that the United States should nevertheless work with Mugabe's successor who will have to overcome immense challenges.
"Zimbabwe, thanks to the gross mismanagement of Mugabe, has been turned literally from southern Africa's breadbasket into a basket case," he said.
The country is in hyperinflation and does not have the resources to pay the military, security services, and civil services.
"Some sort of engagement is necessary to give the government breathing room—it needs to be held to benchmarks, certainly—in order for it to move toward what one hopes will be a free, transparent, credible electoral process in 2018," Pham said.
As for how Mugabe will be remembered, Pham said: "Unfortunately, he will be remembered more for his later inertia than for the accomplishments of his earlier days."
Ashish Kumar Sen is deputy director of communications at the Atlantic Council. Follow him on Twitter @AshishSen.