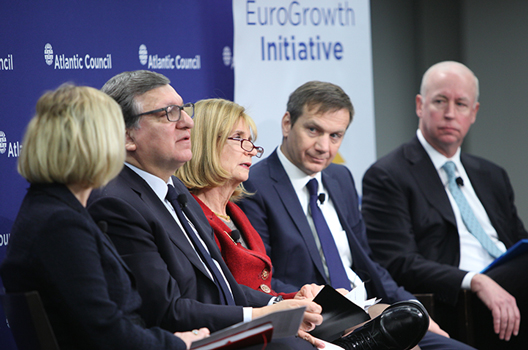 As migrants head to Europe, International Monetary Fund study places emphasis on integration
Contrary to the rhetoric from some politicians, there is very little evidence that migrants take jobs away from host populations, and in Europe, where some countries have low to negative population growth, migration should be seen as a boon, according to an International Monetary Fund study.
"There is very little evidence that migrants or refugees steal labor from natives," said Antonio Spilimbergo, the head of the IMF's mission to Turkey. One explanation for this is that migrants have skills that are "complimentary" to those of the native population, "so they don't compete for the same job, but help enhance economic activity," he said.
In fact, Spilimbergo said, migrants transform a country's "product mix." For example, the presence of migrants created the ideal conditions for the textile industry in Southern California and the high-tech industry in Israel to develop and flourish, he said.
"The bottom line is that there is no strong evidence of competition," Spilimbergo added.

Spilimbergo presented an IMF study, "The Refugee Surge in Europe: Economic Challenges," at the Atlantic Council, where he participated in a EuroGrowth Conversation Series hosted by the Council's Global Business and Economics program on April 5. The presentation was followed by a panel discussion that featured Moreno Bertoldi, Principal Advisor to the EU Delegation to the United States; Laura Lane, President of Global Public Affairs at UPS; and Spilimbergo. Katerina Sokou, Washington correspondent for the Greek daily Kathimerini, moderated the discussion.
A separate white paper produced earlier this year by the Global Agenda Council on Europe examined the multiple challenges facing Europe, including the migrant crisis.
"By getting an injection of young, often educated, folks in the population there is an opportunity to help fuel economic growth and create positive pressure for labor market reforms, which allow greater flexibility and easier entry into the market for all sorts of individuals," Damon Wilson, Executive Vice President for Programs and Strategy at the Atlantic Council, and one of the authors of the white paper, said in an interview with the New Atlanticist.
The migrant crisis
In what has been the largest movement of people across the continent since World War II, more than 1.2 million migrants moved into Europe in 2015. Most of these migrants are fleeing wars in Syria, Iraq, and Afghanistan.
In an effort to stem this flow, the European Union and Turkey reached a deal on March 18 under which all migrants who attempt to enter Europe via the Aegean Sea are sent back to Turkey. In a "one-to-one" swap, Europe will take in one Syrian from a Turkish refugee camp for every Syrian returned from Greece. That number has been capped at 72,000. Greece started deporting migrants to Turkey on April 4.
The jury is still out on whether the EU-Turkey deal will succeed, said Spilimbergo. The fact that eight million people are displaced within Syria as a result of continued conflict means that the number of migrants heading to Europe could actually increase, he added.
Europe has witnessed three significant waves of migrants in the past twenty-five years: The first at the end of the Cold War and the beginning of the 1990s, and the second in the late 1990s following the wars in the former Yugoslavia. The current wave—unlike the previous two—is unique in that it has higher levels of migrants who originate outside Europe. Germany, Hungary, Sweden, and Austria are the main destinations for these migrants.
A plan proposed by European Commission President Jean Claude Juncker to distribute 160,000 migrants across the twenty-eight-nation bloc stalled amid opposition from Eastern European countries. While some countries—like Germany and Sweden—have been more welcoming to the migrants, others, like Hungary, have erected a border fence to keep migrants out.
"One of the key facets of the European project is the free movement of people, goods, services, and capital," said C. Boyden Gray, a member of the EuroGrowth Initiative and a Vice Chair of the Atlantic Council's Board of Directors, "and when you impede the free movement of people, you have struck at the heart of what makes Europe Europe."
This influx of migrants is "not about people looking for a handout," Gray said in his introductory remarks. "This is people coming in and looking for ways to make Europe a better place for them and for the Europeans already there."
Bertoldi emphasized the need for building greater capacity in Europe to process and distribute the refugees across the continent in an orderly manner. "We are building the infrastructure to allow these people to come," he said.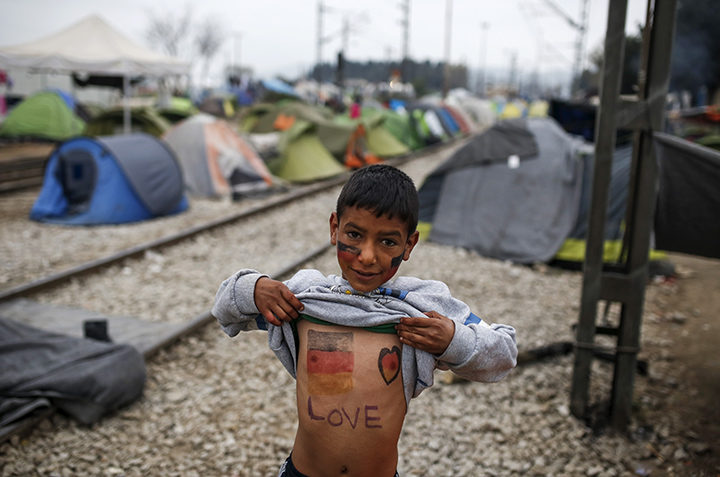 A child bares his chest painted in the colors of the German flag at a makeshift camp for migrants and refugees at the Greek-Macedonian border near the village of Idomeni, Greece, on April 3. (Reuters/Marko Djurica)
The economic impact
Immigrants, even second-generation ones, get paid lower wages than native populations in the United States and Europe. On average, migrants earn thirty percent less. This wage gap does not disappear and this makes integration difficult, said Spilimbergo.
Furthermore, on average, host countries spend just 0.2 percent of GDP on migrants, he added. At 1 percent of its GDP, Sweden spends the most. The IMF study does not look at the economic impact of migrants on transit countries—particularly Greece—where migrants have no intention of settling and finding jobs.
Immigration is crucial for boosting mostly stagnant, and in some instances negative, population growth across Europe. The wave of migrants could help solve Europe's problem of "depopulation," said Gray.
Refugees, on average, are also younger than average EU citizens. This means that the expenditure on pensions and health care will be lower.
Integrating refugees
Employment opportunities are key to the integration of refugees. "Some countries, including Turkey, didn't allow refugees to work until very recently," said Spilimbergo. "So there were 2.5 million people who legally couldn't work, and this is terrible…It is bad for refugees, it is bad for the host countries," he added.
Europe is providing $3.3 billion to Turkey to build homes, schools, provide jobs and health care to the 2.6 million Syrian refugees already in the country. Under the recent migrant deal, the EU will double the amount of money it gives Turkey by 2018.
Lane said the migrant crisis is not just a European problem. It deserves a solution that includes governments, businesses, and civil society, she contended. UPS employees volunteer to teach refugees local languages—for example, German at a Berlin center for migrants—and the company provides logistics capabilities, coordinating with nongovernmental organizations to get in-kind donations to migrant communities. There are plenty of opportunities for businesses to use their project management skills and employees to make a difference, she added.
Migrant families in particular need help getting work permits, said Lane, noting that it takes six to nine months just to cut through the bureaucratic red tape. Adding that UPS is eager to employ many of the migrants if they can get the proper paperwork, she said: "This doesn't have to be a problem, it can be a great economic opportunity, and it is the right thing to do."
Spilimbergo said European governments can take many actions that have no fiscal cost, but are important to facilitating the integration of refugees, such as providing migrants a clear path to self employment.
Moreno noted that Juncker favors allowing migrants to work while they are waiting for their asylum applications to be processed. While how long a country takes to process such applications cannot be imposed from the outside, there is a "growing awareness that in order to have a successful integration of refugees you need to have them entering more rapidly in the labor market and that has to be done at all levels," he added.
Cultural barriers also pose challenges to integration. There is a perception among some in Europe that an influx of immigrants from the Middle East will dilute the European identity. Others worry that terrorists could slip in alongside refugees. Far-right political parties across Europe have exploited this anti-immigrant sentiment.

"We are fully aware that the main challenges are political and humanitarian," said Spilimbergo.

Noting that integration requires time and is politically costly, Moreno asked: "What is the alternative? The alternative is to say no to refugees, and the EU would lose its soul."
Ashish Kumar Sen is a staff writer at the Atlantic Council.