As Russia continues its assault on Ukraine, the Atlantic Council's Digital Forensic Research Lab (DFRLab) is keeping a close eye on Russia's movements across the military, cyber, and information domains. With more than seven years of experience monitoring the situation in Ukraine—as well as Russia's use of propaganda and disinformation to undermine the United States, NATO, and the European Union—the DFRLab's global team presents the latest installment of the Russian War Report.
Security
Wagner forces attempt to encircle Bakhmut and cut off vital Ukrainian supply routes
Alleged Russian agent captured as Moscow restarts offensives on the Kreminna-Svatove line
Tracking narratives
Russia claims 'panicked West' sent tanks to Ukraine
Media policy
New Russian maps redraw borders to include eastern Ukraine
Wagner forces attempt to encircle Bakhmut and cut off vital Ukrainian supply routes
After gaining control over Soledar in mid-January, Wagner Group soldiers are attempting to encircle Bakhmut. The DFRLab confirmed the progression of a bloc of forces that includes Wagner, the People's Militia of the Donetsk People's Republic, and Russian armed forces. At the end of January, Wagner shared a photo of its soldiers standing in front of a sign reading "Blahodatne" as evidence they had seized the village of the same name. On February 7, the Russian MoD also stated that it had seized Blahodatne. The small village is strategically located on the key Ukrainian E40 highway, which serves as a supply route to Krasna Hora and Bakhmut. A photo of a burning Russian tank geolocated by OSINT researcher @Neonhandrail suggests that attempts to cut off the supply route have thus far been unsuccessful.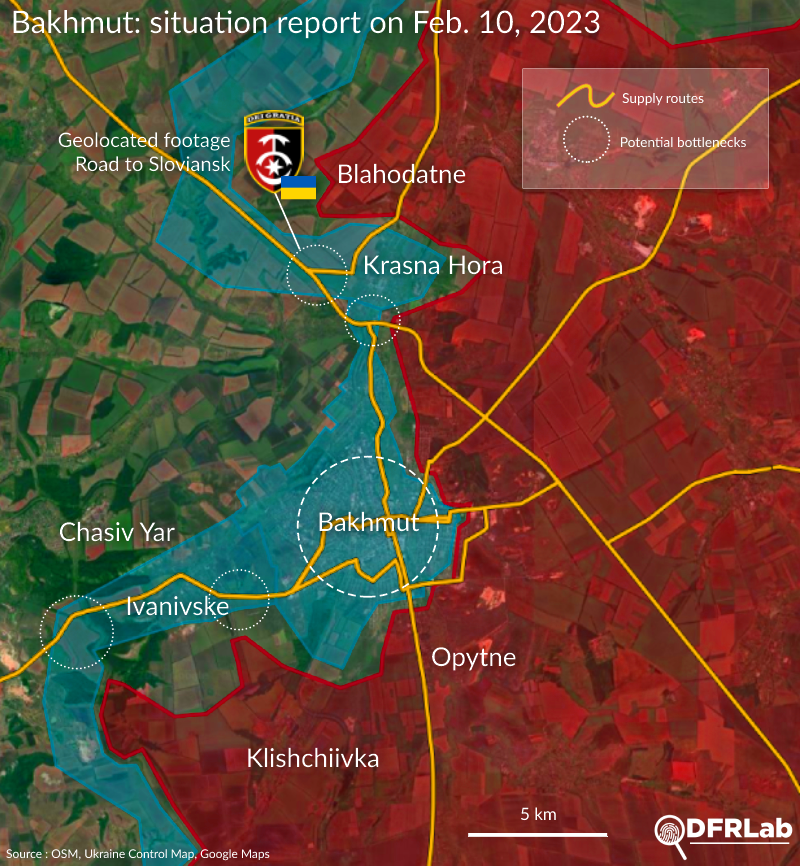 Meanwhile on the southern flank, Russian armed forces are trying to consolidate their progression towards Ivanivske. Only one division of the Ukrainian army, the 30th Mechanized Brigade, has had to repel a Russian incursion on the road between Bakhmut and Sloviansk.
On Telegram, a post by WarDonbass speculated that Wagner could have gained control over two southern supply routes to Bakhmut. However, there is no evidence to support this claim. Inside the city of Bakhmut, footage released by the Georgian legion of the Ukrainian army indicates that Ukraine is strengthening its defensive positions.
Further south, the DFRLab geolocated footage published by the Telegram channel ColonelCassad, which was then reposted on Wagner's own Telegram channel. Videos of drone strikes on the northern and eastern part of Marinka indicate a violent escalation on the southern flank. The footage also shows rubble where a hospital once stood.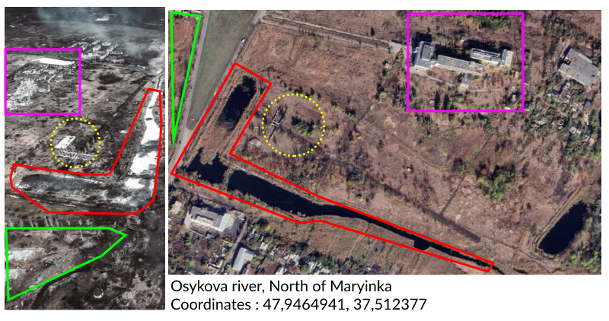 —Valentin Châtelet, Research Associate, Brussels, Belgium
Alleged Russian agent captured as Moscow restarts offensives on the Kreminna-Svatove line
Ukrainian military intelligence announced on February 6 the capture of a Russian agent who allegedly leaked information about Ukrainian military operations in "a strategically important sector of the front." The suspect was an official in a Ukrainian military unit. He was allegedly recruited by Russia after the start of the invasion.
Elsewhere, the Russian army launched limited offensives on February 7 along the Kreminna-Svatove line. Russian forces have made gains in the Dvorichna area, northwest of Svatove. Units that have been spotted on this front include regular units, special intelligence units, regiments from the 144th and 3rd Motor Rifle Division, a regiment from the 90th Tank Division, and the 76th Airborne Division. On February 9, Ukrainian forces appear to have destroyed a Russian BMPT Terminator armored vehicle near Kreminna, according to a visual report published by the UNIAN Telegram channel. If confirmed, this would be the first documented loss of such a vehicle, which is only available in limited supply. Days earlier, on February 6, Russian pro-government media published footage showing how Russian units in the area used these vehicles in a local counter-offensive in Kreminna.
Russian forces continue to attack towns across Ukraine, with Russian channels reporting missile attacks in Kramatorsk and Sloviansk. On February 9, Ukrainian media reported that drones over Dnipro were downed.
Ukrainian parliament voted in favor of bills N8360 and N8361-d, which provide an exemption from taxes and duties for drones, thermal imagers, collimators, walkie-talkies, and night vision devices. Yaroslav Zhelezniak, deputy head of the Verkhovna Rada Committee on Tax and Customs Policy, clarified on his Telegram channel that radios were added to the bills after appeals from volunteer organizations. The adopted bills will remove import restrictions, allowing for the express shipment of some military equipment.
—Ruslan Trad, Resident Fellow for Security Research, Sofia, Bulgaria
Following the decision from Western allies to provide armored tanks to Ukraine, there has been an increase in Russian narratives opposing the decision. The state-owned news outlet RIA Novosti published an article aimed at ridiculing Ukrainian Defense Minister Oleksiy Reznikov. The article's banner photo depicts Reznikov holding a model tank with the accompanying headline, "Germany handed over toy Leopard 2 to Ukraine." The narrative appears aimed at casting doubt on the efficacy of Germany's Leopard 2 tanks.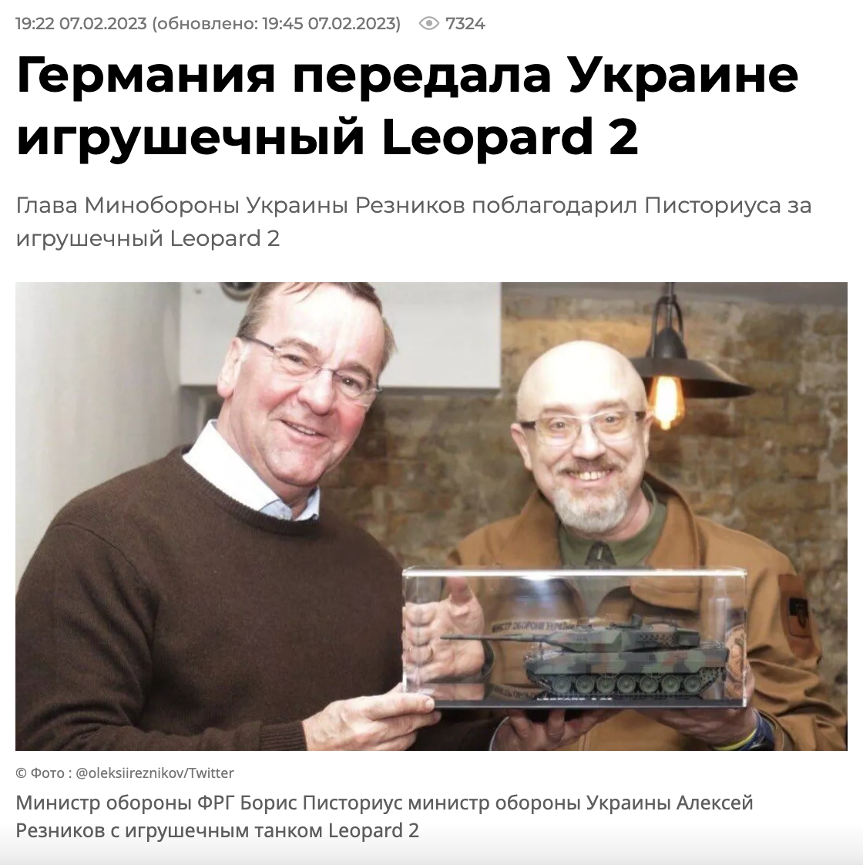 Along with the heightened focus from Russian media on the transfer of tanks, other narratives presented the latest military aid package as a reaction from a panicked West due to the successes of the Russian "special military operation." The pro-Kremlin journal International Affairs referred to Germany's decision to send in tanks as capitulation to external pressure and a rash political decision arising from the tensions caused by Russia's military successes. In addition, Ukraine's latest round of anti-corruption measures resulted in speculation about the possible resignation or dismissal of Defense Minister Reznikov. Major Kremlin-backed publications, including TASS, have directly followed the developments, highlighting corruption problems in Kyiv. Other narratives have outlined Reznikov's alleged refusal to resign amid the corruption charges as a result of his purported blackmail capabilities against the top echelons of the Ukrainian military and defense leadership, while also casting into doubt Ukraine's entire leadership and ability to function as a government.
—Kateryna Halstead, Research Assistant, Bologna, Italy
New Russian maps redraw borders to include eastern Ukraine
The Kremlin-approved media outlet RBC reported on February 8 that Russian bookstores are selling new maps that include Crimea, Luhansk, Donetsk, Zaporizhzhia, and Kherson oblasts as part of Russia. The DFRLab found a version of this map for sale on the website of the Russian publishing company Atlas Print.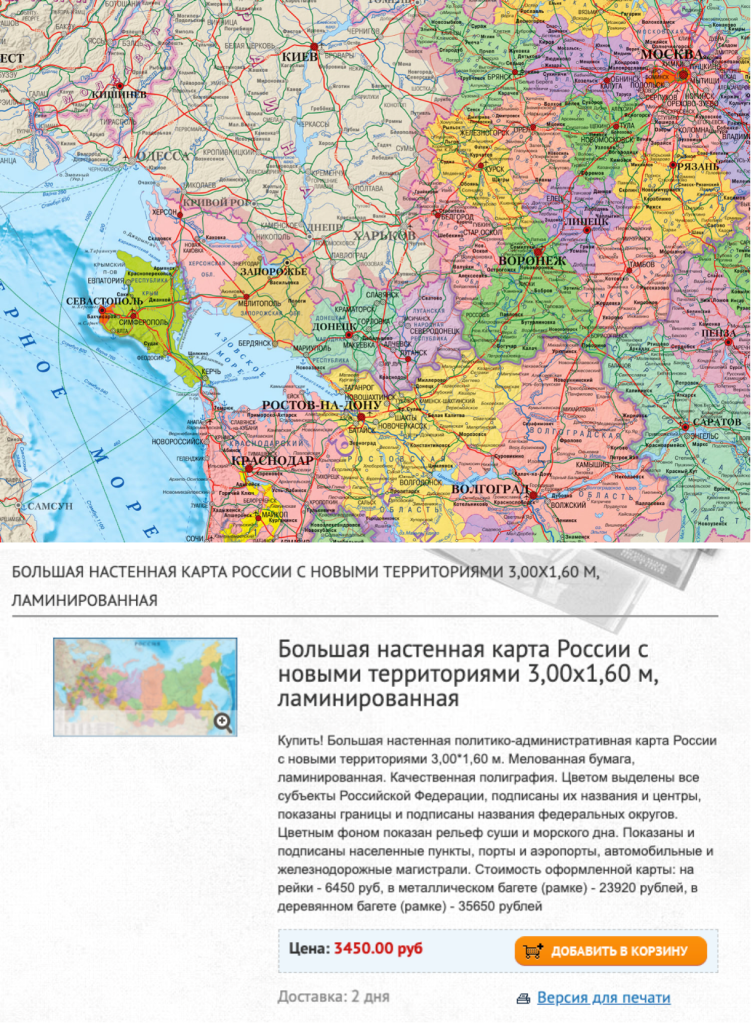 Atlas Print Director Yuri Sukhanov spoke to RBC about how a bill in the Russian Duma "on countering extremist activity" prevented retailers from selling previous maps. The bill, which passed its first reading on December 20, 2022, stipulated that "extremist materials will include cartographic and other documents and images intended for distribution and public demonstration that dispute the territorial integrity of Russia." The new maps appear to have been printed in response to the bill. According to Sukhanov, "There are large retail chains that are ready to sell only updated maps with the new borders of Russia."
On September 23, 2022, Russia launched rigged referendums in Ukraine's Luhansk, Donetsk, Kherson, and Zaporizhzhia oblasts. Russian President Vladimir Putin then signed decrees to recognize Kherson and Zaporizhzhia as independent and held a ceremony to incorporate all four oblasts into Russian territory. The newly printed maps do not correspond with the reality on the ground. On November 12, 2022, Ukraine forced Russian troops out of Kherson as it regained control over the area.
—Nika Aleksejeva, Research Fellow, Riga, Latvia