As Russia continues its assault on Ukraine, the Atlantic Council's Digital Forensic Research Lab (DFRLab) is keeping a close eye on Russia's movements across the military, cyber, and information domains. With more than seven years of experience monitoring the situation in Ukraine—as well as Russia's use of propaganda and disinformation to undermine the United States, NATO, and the European Union—the DFRLab's global team presents the latest installment of the Russian War Report.
Security
Ukraine pushes Russian forces along multiple fronts
Tracking narratives
Increased tensions along Belarus-Poland border
Relatives of Wagner fighters share details about their current status
International affairs
Putin releases op-ed prior to 2023 Russia-Africa Summit
Pro-Russian Telegram channel depict Niger coup as a new opening for Wagner
Ukraine pushes Russian forces along multiple fronts
Fighting continues along different parts of the front line in eastern and southern Ukraine as Kyiv's forces expand their counteroffensive operations. The Russian army retreated from its positions in Andriivka, south of Bakhmut, after a successful Ukrainian attack, according to a July 25 briefing by Andrii Kovalov, spokesperson for the General Staff of the Armed Forces of Ukraine. DFRLab monitoring of open source channels suggests that Ukrainian forces have now entered the village; fighting is still ongoing near Andriivka, however.
Ukraine is currently conducting offensive operations north and south of Bakhmut. Kovalov said that Russian units were unsuccessful in advancing south of Ivanivske and west of Klishchiivka. Fighting in Klishchiivka remains active, with the site increasingly becoming a frontline hotspot. Kovalov also noted that Russian troops "continue to put up strong resistance, move their units, and use reserves." In a separate statement, Kovalov reported that Russian forces were pushed out from their positions near the village of Orikhovo-Vasylivka.
Meanwhile, Serhii Cherevatyi, spokesperson for Ukraine's Eastern Military Command, told the Kyiv Independent that Ukrainian forces are "using the entire line of armaments provided to us by our partners." Cherevatyi also confirmed that Ukraine had used US-provided cluster munitions in battle. The munitions were likely used around Bakhmut, given that's where the fighting has been concentrated, but this is not yet verified.
On July 26, US officials told the New York Times that they believed Ukraine had initiated a significant push southward in Zaporizhzhia Oblast; a Russian defense ministry spokesperson noted that Ukraine had launched a "massive" assault south of Orikhiv and Robotyne. "Ukrainian officials declined to confirm that the assaults took place," the New York Times added.
Ukraine is also considering a response to Russian strikes against grain infrastructure and cultural heritage, Ukrainian President Volodymyr Zelenskyy said on July 24 after a meeting with leading military staff. Russia withdrew from the Black Sea Grain Initiative on July 17, effectively terminating the deal that permitted Ukraine to export its agricultural goods. In addition, Russian forces have attacked the strategically important Odesa region, hitting grain silos and cultural heritage sites, including a cathedral.
Speaking to CNN, a Ukrainian defense intelligence official said Kyiv was responsible for the July 24 drone attack on Moscow. Russian authorities reported that Ukrainian drones targeted two buildings in the Russian capital. The Kremlin said it thwarted the attack and neutralized the drones. The Russian Ministry of Foreign Affairs added that the drones were suppressed by "electronic warfare" and crashed, damaging two non-residential buildings. One drone detonated on Komsomolsky Avenue, located within the perimeter of a defense ministry compound and close to a building used by the Main Directorate of the General Staff (GRU).
Also on July 24, the occupying Russian authorities in Crimea claimed that Ukrainian drones struck an ammunition depot in the Dzhankoi region, where the Russian army maintains an active presence. Ukrainian Minister of Digital Transformation Mykhailo Fedorov said that unspecified unmanned aerial vehicles attacked the Crimean capital and warned that more UAV attacks would be carried out against Russia. Oleg Kryuchkov, an advisor to the occupying Russian authorities, said that officials would closely monitor social media for posts that could help Ukrainian forces identify targets in Crimea.
That same day, Agence France-Presse video journalist Dylan Collins was reportedly wounded in a drone attack while reporting from a Ukrainian artillery position near Bakhmut. Collins sustained non-life-threatening shrapnel injuries.
—Ruslan Trad, resident fellow for security research, Sofia, Bulgaria
On July 20, the Belarusian defense ministry reported that Wagner participated in joint drills with the Belarusian military at a training field in Brest, near the Polish border. In response, Poland relocated military units from the western part of the country to supplement units in the east.
Responding to Poland's military movement, Russian President Vladimir Putin on July 21 accused Poland of having hostile territorial ambitions toward Ukraine and Belarus, and claimed that any aggression against Belarus would be considered an attack on Russia. He threatened that Russia "will respond to this with all the means at our disposal."
Two days later, Putin hosted Belarusian President Aleksandr Lukashenka in Saint Petersburg. During the meeting, Lukashenka asserted that Poland intends to annex western Ukraine, which he said was unacceptable. Lukashenka claimed that if western Ukraine asked for help, Russia and Belarus would support it against Polish aggression. Lukashenka also thanked Putin for confirming that an attack on Belarus is equal to an attack on Russia, stating that Putin is "the first person in Russia who spoke about this openly, clearly, and understandably."
Lukashenka also noted that he brought Putin a map that allegedly shows the deployment of Polish troops along the borders of Russia and Belarus. According to Lukashenka, one Polish military brigade was positioned forty kilometers from the Belarusian city of Brest, while another brigade was one hundred kilometers from Grodno. Lukashenka also claimed that Wagner members in Belarus are pushing him to allow them to go "west"—in other words, Poland—saying that Wagner members want to "go on an excursion to Warsaw and Rzeszow." He then clarified that he was aware of the fact that many Wagner fighters are belligerent toward Poland and he would keep them within the boundaries of Belarus.
—Givi Gigitashvili, research associate, Warsaw, Poland
Relatives of Wagner fighters share details about their current status
New details about Wagner's deployment to Belarus appeared this week. Sibir.Realii, a service of the independent US-funded RFE/RL in Russian, investigated online chats involving family members of Wagner fighters. Chat members complained that there was no news from Wagner soldiers for almost a month prior to July 23. During part of this period, many Wagner fighters were at a military camp near Molkino in Krasnodar Krai, Russia, and any external communications were forbidden. Previous reporting by Zerkolo, a Belarusian independent media outlet in exile, corroborated their location, as its correspondents talked with people living near Molkino about their experience with Wagner soldiers who had maintained a presence there since at least 2017.
According to Sibir.Realii, Wagner fighters who had signed contracts prior to the invasion of Ukraine had transferred to Belarus, though no exact number was given. Other Wagner fighters reportedly returned home. These fighters might include convicts recruited in 2022; on June 28, a Russian court ruled that completing active service in the war in Ukraine would result in a pardon for their previous crimes.
Sibir.Realii cited relatives of Wagner fighters who stated that Wagner troops had relocated to a camp near Osipovichi, Belarus. This is most likely the recently renovated military camp in the village of Tsel, where Wagner fighters have reportedly trained with Belarusian soldiers. Wagner financier Yevgeny Prigozhin recently registered his company, Concord Management and Consulting, with an address in Tsel, listing its primary enterprise as "real estate management."
Wagner family members additionally claimed that the fighters cannot leave the camp in Belarus, and that "they cannot withdraw money they allegedly received before the mutiny." One chat member claimed that fighters would receive a salary of 150,000 rubles (USD $1,670) a month, and that their salary for July would be transferred to them in August. Sibir.Realii noted that a recent Wagner recruitment advertisement on Telegram had promised Wagner troops a monthly salary of 240,000 rubles (USD $2,670).
Family members in the chat also referenced Prigozhin's recent statements on Central African Republic television that Wagner was expanding its presence there. They added that some Wagner fighters had returned to Russia to receive new passports for foreign travel, but faced a number of problems, including long processing times and official requests to not leave the country due to unpaid debts.
—Nika Aleksejeva, resident fellow, Riga, Latvia
Putin releases op-ed prior to 2023 Russia-Africa Summit
Three days prior to this week's Russia-Africa Summit and Russia-Africa Economic and Humanitarian Forum, the Kremlin published an op-ed written by Putin. The essay, "Russia and Africa: Joining Efforts for Peace, Progress, and a Successful Future," detailed Russia's vision for the future of its relations with African nations. It also outlined multiple Kremlin narratives routinely deployed across the continent.
In the essay, Putin reiterated the narrative of a Russia historically opposed to colonial oppression, while also underlining how Moscow has always supported the development of the continent. "We have consistently supported African peoples in their struggle for liberation from colonial oppression," he wrote. "We have provided assistance in developing statehood, strengthening their sovereignty, and defense capability."
Subtly referring to anti-Western narratives employed by the Kremlin, Putin said that contrary to Western powers, Russia has "always strictly adhered to the 'African solutions to African problems' principle" and has "never tried to impose on partners our own ideas about the internal structure, forms and methods of management, development goals, and ways to achieve them."
In a reference to the emerging multipolar world order, Putin stated, "[T]here is no doubt that Africa, along with Asia, the Middle East, and Latin America, will take its worthy place in it and finally free itself from the bitter legacy of colonialism and neo-colonialism, rejecting its modern practices."
Putin reiterated Kremlin narratives blaming Ukraine and the West for Africa's food, grain, and fertilizer shortages. He specifically referenced the grain deal that Russia recently abandoned. "While it was publicly advertised by the West as a gesture of goodwill that benefited Africa, has in fact been shamelessly used solely for the enrichment of large US and European businesses that exported and resold grain from Ukraine." Putin failed to note how Africa has directly suffered the consequences of Russia's invasion of Ukraine, however.
The first Russia-Africa Summit, held in 2019, kickstarted a series of official visits, diplomatic initiatives, and arms deals to African countries. It also helped broaden the role of state-sponsored actors like the Wagner Group in African affairs, expanding Russia's reach in the region. With Putin's op-ed, his remarks seem to suggest that this week's summit will continue in the same direction, with Russia will sparing no effort to reinforce its influence on the African continent.
—Mattia Caniglia, associate director, Brussels, Belgium
Pro-Russian Telegram channel depict Niger coup as a new opening for Wagner
Russian Telegram channels are following events in Niger closely after Nigerien soldiers announced the removal of democratically-elected President Mohamed Bazoum on July 26. As the coup unfolded, the channels portrayed Bazoum as a vassal of the West, and Niger under Bazoum's leadership as being "directly dependent on France" and "part of the remnants of the French neo-colonial empire." The Telegram channels emphasized that Central African Republic, Mali, and Burkina Faso—countries in which Wagner is confirmed to be present or allegedly present—had extricated themselves from French military influence in recent years.
Some channels also claimed the coup leaders were associated with Wagner Group, alleging that Wagner supported the faction of Colonel-Major Amadou Abdramane, which seized control of the presidency. One Russian military blogger, Boris Rozhin, reported on his channel that Wagner would soon receive an invitation from a "free" Niger.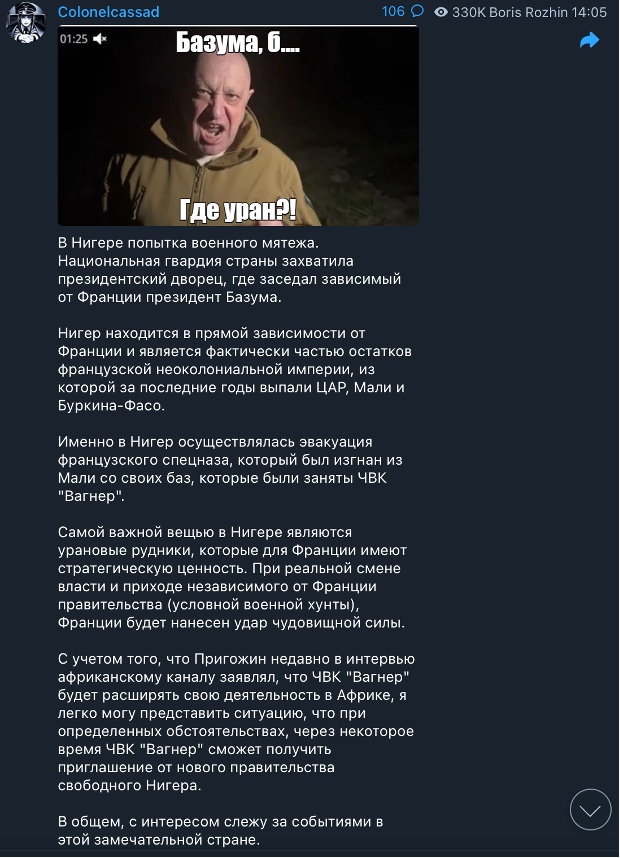 The coup is also seen as a confirmation of Prigozhin's recent statements about expanding Wagner's presence in Africa. The channels emphasized the importance of Niger's uranium mines to France, possibly alluding to the fact that Wagner's presence in African states is often linked to them receiving local mining concessions.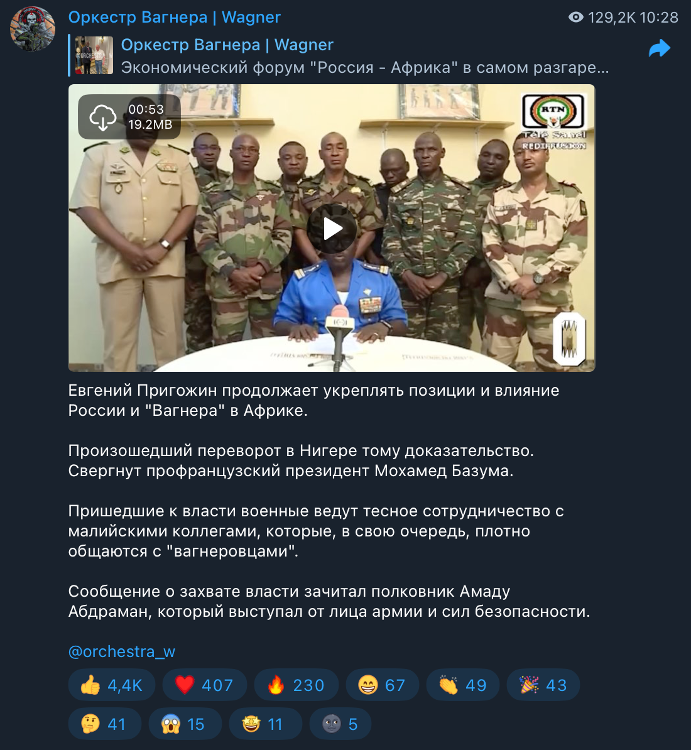 Bazoum insisted the day after the coup that "hard-won gains will be safeguarded." But the coup will likely change Europe's political calculus regarding Niger, which had become central to France and the European Union's new approach to a region plagued by a growing Jihadist insurgency and political instability, particularly in the wake of French forces pulling out of Mali in 2022.
—Tessa Knight, research associate, London, United Kingdom
—Mattia Caniglia, associate director, Brussels, Belgium