As Russia continues its assault on Ukraine, the Atlantic Council's Digital Forensic Research Lab (DFRLab) is keeping a close eye on Russia's movements across the military, cyber, and information domains. With more than seven years of experience monitoring the situation in Ukraine—as well as Russia's use of propaganda and disinformation to undermine the United States, NATO, and the European Union—the DFRLab's global team presents the latest installment of the Russian War Report.
Security
Russian soldier allegedly captured in Ukraine claims Gazprom formed military units
Google Earth updates to satellite imagery reveal destruction in Mariupol
Russia strikes residential building in pre-dawn missile barrage
A video has surfaced online showing a Russian soldier allegedly captured in Ukraine talking about military units formed by the state-owned energy corporation Gazprom. In the footage, he identifies himself as Alexei Tkachenko and claims to be a contractor for Russian private military company (PMC) Redut ("Redoubt"), where he "got through Gazprom." Tkachenko claims that Gazprom created a military unit called Potok ("Stream"), which the energy corporation handed over to PMC Redut. He added that Gazprom also created two other military units named Fakel ("Torch") and Plamya ("Flame"). According to Tkachenko, Gazprom handed over the Torch and Flame units to Russia's Ministry of Defense, while giving Stream to Redut. The video footage then continues with Tkachenko telling a story on how he was wounded, left in the field by his compatriots, and crawled to Ukrainian positions. The author of the tweet wrote in the caption of the video that Tkachenko is a "first captured russian from the "Redut" PMC."
It is unknown whether the soldier's testimony is accurate or voluntary; as the Washington Post noted last year, the International Committee of the Red Cross considers the sharing of POW footage as prohibited by the Geneva Conventions. Ukrainian military intelligence previously claimed in February 2023 that Gazprom had created its own PMC.
According to Meduza, Novaya Gazeta was the first to report about Russian PMC Redut in 2019. Prior to Russia's 2022 invasion of Ukraine, Redut was engaged in the protection of Stroytransgaz's facilities in Syria, which is a Russian engineering construction company in the oil and gas industry. Based on sources that include "one of Redoubt's own former commanders," Meduza reported that "Redoubt, which still has a substantial number of combatants in Ukraine, is under the Russian Defense Ministry's complete control." According to an interview that the Gulagu.net project recorded with a former Redut contractor, the PMC was also backed by Russian oligarchs Oleg Deripaska and Gennady Timchenko.
—Eto Buziashvili, Research Associate, Tbilisi, Georgia 
*A representative for Oleg Deripaska contacted the DFRLab and insisted that Deripaska has never provided any form of support, financing, or backing to any military companies or groups. He also took issue with referring to Deripaska as an "oligarch," and added that Deripaska has consistently called for peace in Ukraine as well as for military spending to be reduced globally.
Google Earth updates to satellite imagery reveal destruction in Mariupol
Recently updated Google Earth imagery reveals the extent of the Russian bombing of Mariupol that occurred on March 26, 2022. The update, first reported by Meduza, also includes details of the dire condition in which the national drama theatre of Mariupol was left after the bombing. This facility was notably used for shelter by the civilian population and children, featuring the inscription "children" ("ДЕТИ") in Russian in front of the theatre.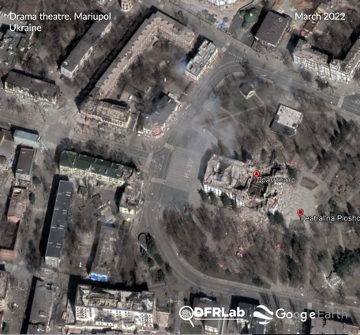 Other key locations featured in the imagery update include the Azovstal plant, which the Russian air force had struck. The plant operated as a stronghold for the Ukrainian resistance in Mariupol until May 2022. Google Earth imagery posted by Meduza also shows a line of civilians in front of the humanitarian aid established by United Russia.
The update also reveals how burial sites in Mariupol have expanded as a result of the Russian occupation of the city. Other OSINT sources including Planet Labs imagery posted on Twitter by Benjamin Strick of the Center for Information Resilience indicate how the Staryi Krym graveyard in Mariupol has been expanding under Russian occupation. According to estimates by the OSINT project GeoConfirmed, the cemetery could have grown by around 15,000 graves between May 2022 and April 2023.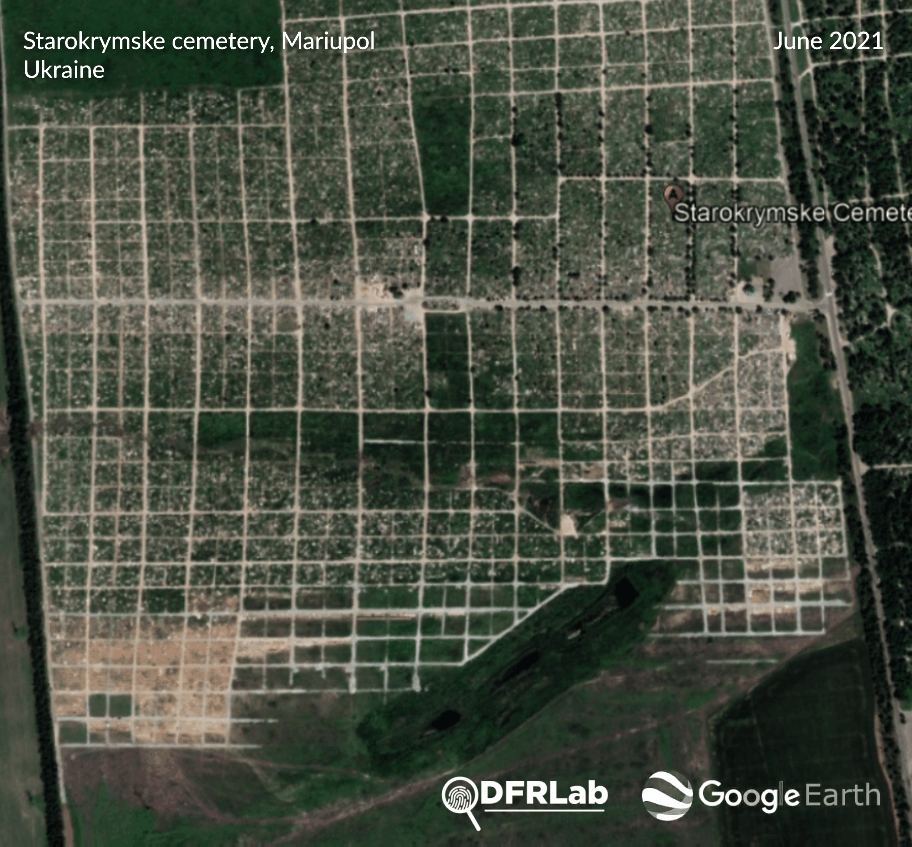 –Valentin Châtelet, Research Associate, Security, Brussels, Belgium
Russia strikes residential building in pre-dawn missile barrage
In the early hours of April 28, Russia launched a barrage of missiles on Ukraine, killing more than twenty people. A residential building was struck in the central Ukrainian city of Uman, leaving multiple people dead and wounded. In Dnipro, a woman and her three-year-old child were killed, according to the city's mayor, Borys Filatov.
On April 27, the General Staff of the Ukrainian Armed Forces reported fifty-four attacks by Russian forces in Bakhmut, Marinka, and individual villages in the direction of Avda. On April 25, Ukraine said it recorded forty-three attacks by the Russian army over the preceding twenty-four-hour period. The geography of the attacks followed the pattern observed in recent weeks, with fierce battles continuing in Bakhmut and Marinka and separate assaults on positions around Avdiivka. Artillery shelling was recorded in the direction of Lyman and the area around Vuhledar, but Russian forces appear to be decreasing their attacks on Lyman.
According to an April 23 assessment from British military intelligence, the number of casualties among Russian personnel in Ukraine has likely decreased by about 30 percent in April compared to the high casualty period of January to March 2023. The reduced losses are likely due to the gradual curtailment of Russian offensive operations, which have failed to achieve their objectives, and the gradual transition to defensive operations.
Ukrainian forces shot down nine drones on April 24, six Iranian-made Shahed drones in the eastern direction, two Russian Lancet drones, and one operational-tactical drone in the southern direction. On April 25, one person was killed, and ten were wounded due to a Russian missile strike with an S-300 missile on the museum in central Kupiansk. A second body found later in the day was also attributed to the attack. On the same day, explosions were reported in the occupied town of Tokmak, according to Melitopol Mayor Ivan Fedorov, as well as in Kherson.
Meanwhile, five villages in Russia's Belgorod region were left without electricity after Ukrainian shelling, according to Belgorod Governor Vyacheslav Gladkov. Reportedly, projectiles damaged power lines around Cheremoshnoe, Ustinka, Yasnye Zori, Bochkovka, and Rovenek.
Ukraine continues to diversify its arsenal with locally made weapons. Soldiers of the 68th Chasseur Brigade showcased the Ukrainian Shablya firing system. The remote-controlled robotic machine gun turret allows the operator to remain at a safe distance without exposure to return fire. These types of weapons are critical during military operations, such as those in eastern Ukraine, where soldiers are directly exposed to enemy fire.
Footage of newly produced Bulgarian Arsenal MG-1M machine guns, delivered by the Come Back Alive Foundation, has appeared online. The machine guns and ammunition were produced in 2023, with 1,460 guns purchased, and distributed to twenty-one combat brigades within the Ukrainian Army, along with 7.62 x 54r FMJ/SC ammunition. According to the foundation, the weapons were purchased for €6.5 million (USD $7.1 million).
Ukrainian engineers are closely examining Russian drones after changes in UAV design were observed. Serhiy Speshilov, head of the department studying robotic systems at the Center for Research of Captured and Advanced Weapons and Military Equipment within the Ukrainian army, said significant changes were noted in Iran-produced Shahed drones. According to Speshilov, the UAVs previously had relatively new microcircuits and chips, but recently there has been a degradation of components. Speshilov said this is due to the effect of sanctions. In one example, Speshilov's team discovered a relay manufactured in Armenia in 1996. In addition, Speshilov noted the use of interference-proof satellite navigation receivers and said Ukrainian forces are working to counter the effects with anti-jamming equipment.
—Ruslan Trad, Resident Fellow for Security Research, Sofia, Bulgaria