On the evening of Friday, June 23, Wagner Group founder Yevgeny Prigozhin effectively broke ties with Moscow and initiated a mutiny against the Russian military, successfully occupying Rostov. Russian President Vladimir Putin condemned Prigozhin's actions in an address to the nation as Russian authorities secured Moscow and reportedly engaged Wagner forces around Rostov. At the time of writing on the afternoon of Saturday, June 24, Prigozhin appears to have accepted a pause in further escalation, stating that Wagner forces will return to base. Today's special edition of the Russian War Report provides an overview of the last thirty-six hours, including details on how Prigozhin's rhetoric escalated into open conflict, open-source analysis of the latest footage, and a review of some of the competing narratives on Telegram and across the Russian information ecosystem.
Tracking narratives
How Prigozhin used Telegram to declare war on the Russian Ministry of Defense – and then suddenly pull back
Putin calls Prigozhin's "criminal adventure" an "armed mutiny" and "treason"
Security
Wagner forces enter Rostov, occupy Russian Southern Military District headquarters
Wagner forces emerge south of Moscow in Lipetsk
Explosion at oil depot in Russian city of Voronezh
Media policy
Amid chaos in the Russian information space the Kremlin attempts to limit information on Prigozhin
How Prigozhin used Telegram to declare war on the Russian Ministry of Defense – and then suddenly pull back
The Russian-founded messaging platform Telegram, which became a primary tool circulating pro-Kremlin narratives throughout Russia's war in Ukraine, achieved an unprecedented level of influence on June 23, with Prigozhin wielding it to vent his rage at the Russian defense establishment and launch a mercenary mutiny. For months, Prigozhin has engaged in rhetorical warfare against his rivals in the Kremlin, in particular Russian Defense Minister Sergei Shoigu and Armed Forces Chief of Staff Gen. Valery Gerasimov. The Wagner founder blamed them for ineptitude over the course of the war in Ukraine, including a months-long public argument about supplying his forces with adequate munitions during its siege of Bakhmut.
Prigozhin's one-man war against the Russian Ministry of Defense (MoD) reached new heights in a series of Telegram posts that began on Friday, June 23, and continued into Saturday. At 10:50 am Moscow time, he posted a thirty-minute video to his Prigozhin Press Service Telegram channel excoriating the MoD, accusing its leadership of deceiving Putin and the Russian public in early 2022 into believing that Ukrainian aggression was imminent, and that Russia had no choice but to invade Ukraine.
Sitting in a chair in front of a Wagner Group flag pinned to an otherwise blank wall, Prigozhin proceeded to make his case against the MoD and its entire war effort. "Right now, the [MoD] is trying to deceive society and the president and tell a story that there was insane aggression from the Ukrainian side and they were going to attack us together with the whole NATO bloc," Prigozhin said effectively undermining the Kremlin's entire case for war. "Therefore, on February 24, the so-called special operation was launched for completely different reasons." He described Russia's invasion of Ukraine as a "monstrous shame show" and an "incompetently planned operation" conducted by "a bunch of creatures" and "mentally ill scum" who "don't have the balls" to fight aggressively with the necessary decisiveness to win the war, including their unwillingness to use tactical nuclear weapons. "The grandfathers are rather weak. They cannot get out of their comfort zone," he added.
"A handful of dipshits decided for some reason that they were so cunning that no one would realize what they were doing with their military exercises, and nobody would stop them when they went to Kyiv," Prigozhin said. He went on to blame Shoigu for killing thousands of capable Russian soldiers, and he directed his ire at Russian oligarchs enriching themselves on the war while seeking to return former Russian President Dmitry Medvedev to power. "Our sacred war against those who wrong the Russian people has turned into racketeering, into theft," he said.
Prigozhin later added that he would follow up the video with a second "interview," but this would turn out to be a gross understatement, as the initial video was merely the first of more than a dozen messages he would post to his Prigozhin Press Service Telegram channel over the next thirty-six hours.
Later in the day at 5:10 pm Moscow time, Prigozhin amped up his criticism of the MoD even further with a Telegram audio post in which he accused it of committing "genocide" against Russians. Calling out Shoigu and Gerasimov directly, Prigozhin said "they should be held responsible for the genocide of the Russian people, the murder of tens of thousands of Russian citizens, and the transfer of Russian territories to the enemy."
As angry audio clips of Prigozhin continued to appear into the evening, multiple pro-Wagner Telegram channels circulated a video around 9:00 pm Moscow time purporting to document the aftermath of a Russian airstrike on a Wagner encampment. The video shows scenes of a wooded area lined with stone paths subjected to a moderate amount debris and several fires burning in trenches; a body is briefly seen towards the end of the clip. It is unclear where or when the footage was filmed, and it brought to mind similar suspicious footage contextually devoid footage circulated prior to the February 2022 invasion accusing Ukraine of engaging in sabotage and other aggression against Russia.
Within ten minutes, Prigozhin posted another angry statement, this time accusing the MoD of attacking his forces at the camp. "Today, seeing that we aren't broken, they decided to launch rocket attacks on our rear camps," he exclaimed. "A huge number of fighters were killed, our comrades in arms. We'll decide how to respond to this atrocity. The ball's in our court."
Approximately fifteen minutes later, Prigozhin effectively declared war against the MoD in another Telegram audio clip. "The Wagner Group commanders' council has made a decision," he announced. "The evil that the country's military leadership is carrying out must be stopped. They neglect soldiers' lives. They've forgotten the word 'justice' and we're bringing it back. Those who destroyed our guys today, those who destroyed many tens of thousands of Russian soldiers' lives will be punished." Later, he described his forces as "25,000 strong," adding, "We're going to get to the bottom of the lawlessness in this country."
As Prigozhin continued posting additional threats and taunts on Telegram, the MoD described the alleged footage circulated on pro-Wagner channels as fake, while Russia's National Anti-Terrorism Committee announced that the Federal Security Service, or FSB, would initiate a criminal case against Prigozhin "on the fact of calling for an armed rebellion."
Prigozhin continued posting on and off throughout Saturday as his forces advanced north in the direction of Moscow. Then just before 8:30pm local time, he uploaded another message, stating he would return Wagner forces to their camps. It remains unclear whether he intends to keep that promise.
—Andy Carvin, managing editor, Washington, DC
Putin calls Prigozhin's "criminal adventure" an "armed mutiny" and "treason"
After spending Friday night away from cameras, Putin released a televised statement late Saturday morning. Addressing the Russian public as well as the armed forces and security personnel "who are now fighting in their combat positions, repulsing enemy attacks," Putin described Prigozhin's actions as a "criminal adventure" and an "armed mutiny."
"Today, Russia is waging a tough struggle for its future, repelling the aggression of neo-Nazis and their patrons," he stated. "The entire military, economic, and informational machine of the West is directed against us. We are fighting for the lives and security of our people, for our sovereignty and independence, for the right to be and remain Russia, a state with a thousand-year history."
"This battle, when the fate of our nation is being decided, requires consolidation of all forces," Putin continued. "It requires unity, consolidation, and a sense of responsibility, and everything that weakens us, any strife that our external enemies can use and do so to subvert us from within, must be discarded. Therefore, any actions that split our nation are essentially a betrayal of our people, of our comrades-in-arms who are now fighting at the frontline. This is a knife in the back of our country and our people."
Comparing the mutiny to 1917, when "Russians were killing Russians and brothers were killing brothers," Putin declared, "We will not allow this to happen again. We will protect our people and our statehood from any threats, including from internal betrayal…. Inflated ambitions and personal interests have led to treason—treason against our country, our people and the common cause which Wagner Group soldiers, and commanders were fighting and dying for."
"Once again, any internal revolt is a deadly threat to our statehood and our nation. It is a blow to Russia, to our people," he continued. "Our actions to defend the fatherland from this threat will be harsh. All those who have consciously chosen the path of betrayal, planned an armed mutiny, and taken the path of blackmail and terrorism, will inevitably be punished and will answer before the law and our people…. Those who staged the mutiny and took up arms against their comrades—they have betrayed Russia and will be brought to account. I urge those who are being dragged into this crime not to make a fatal and tragic mistake but make the only right choice: to stop taking part in criminal actions."
"I am certain that we will preserve and defend what we hold dear and sacred, and together with our motherland we will overcome any hardships and become even stronger," Putin concluded.
—Andy Carvin, managing editor, Washington, DC
Wagner forces enter Rostov, occupy Russian Southern Military District headquarters
Over the course of Prigozhin's Telegram posts, he boasted that his "25,000 strong" Wagner forces had marched across the border from Ukraine into Russia before claiming they had shot down a Russian armed forces helicopter before entering the city of Rostov. For many hours overnight, he provided no evidence to back his claims. This finally began to change as footage emerged on Russian Telegram, ultimately confirming that Prigozhin had indeed occupied Rostov.
At 3:47 am Moscow time, the pro-Wagner channel VChK-OGPU posted a video in which a helicopter can be heard circling over Rostov at night. The channel noted, however, "No one has yet seen the video of the Wagner PMC column and the battles with the Ministry of Defense." Two minutes later, the channel changed its tune by sharing a second video appearing to show rocket fire and bursts of assault rifles, describing it as the "first video reportedly showing fighting between PMC Wagner and Ministry of Defense units." The footage circulated widely on Telegram but remained unverified.
Less than twenty minutes later, at 4:09 am, VChK-OGPU shared a third clip showing what appeared to be a convoy of Wagner tanks, trucks, and other vehicles crossing a checkpoint without any opposition. Unlike the previous clips, however, the footage was easily visible, as it appeared to have been recorded during the pre-dawn twilight. According to open-source sun-tracking data, the sun rose in Rostov this morning at 4:25 am, with twilight commencing at 3:50 am, putting the video's release squarely in the middle of pre-dawn twilight. The exact location of the footage is still under review and cannot be confirmed.
At 5:01 am, not long after sunrise, the Verum Regnum Telegram channel circulated video clips of what appeared to show Wagner forces arriving in central Rostov, just outside the MoD's Southern Military District headquarters at the intersection of Pushkinskaya Ulitsa and Budonnovskiy Prospekt. One of the videos appeared to show forces beginning to set up a perimeter around the MoD building.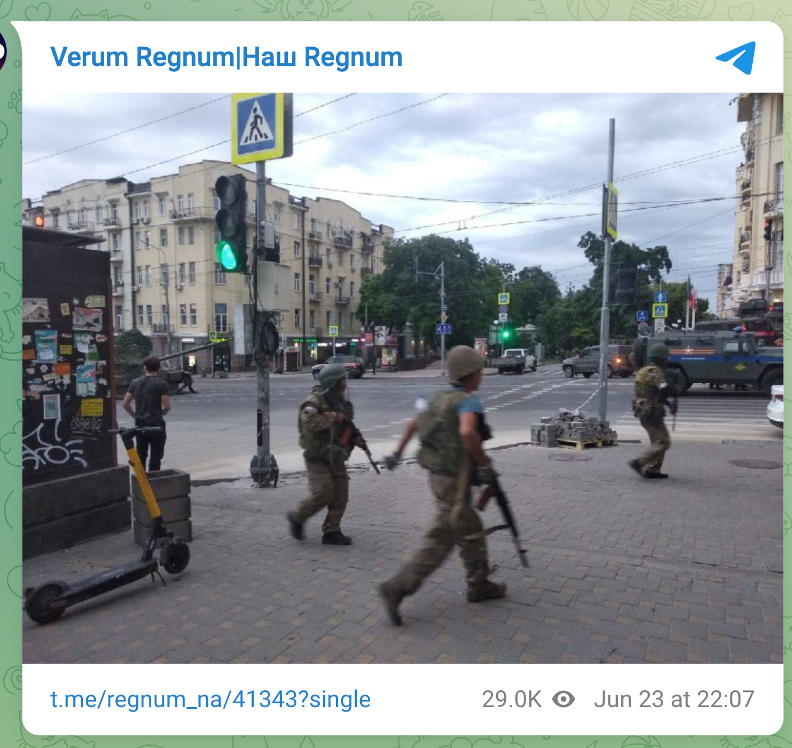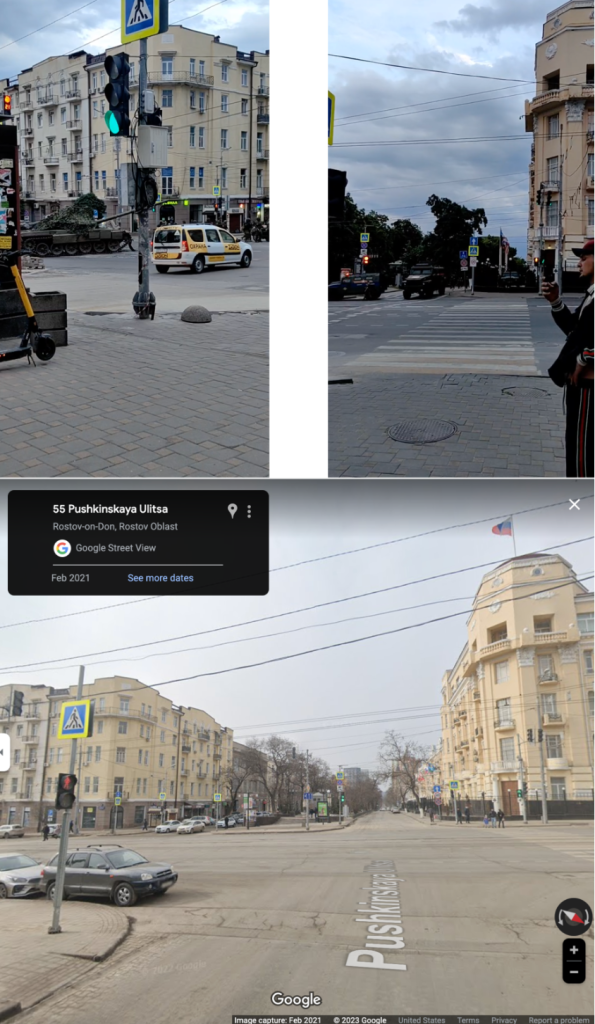 A second clip showed how that presence had expanded with the placement of additional armored vehicles blocking the entire intersection from vehicle traffic.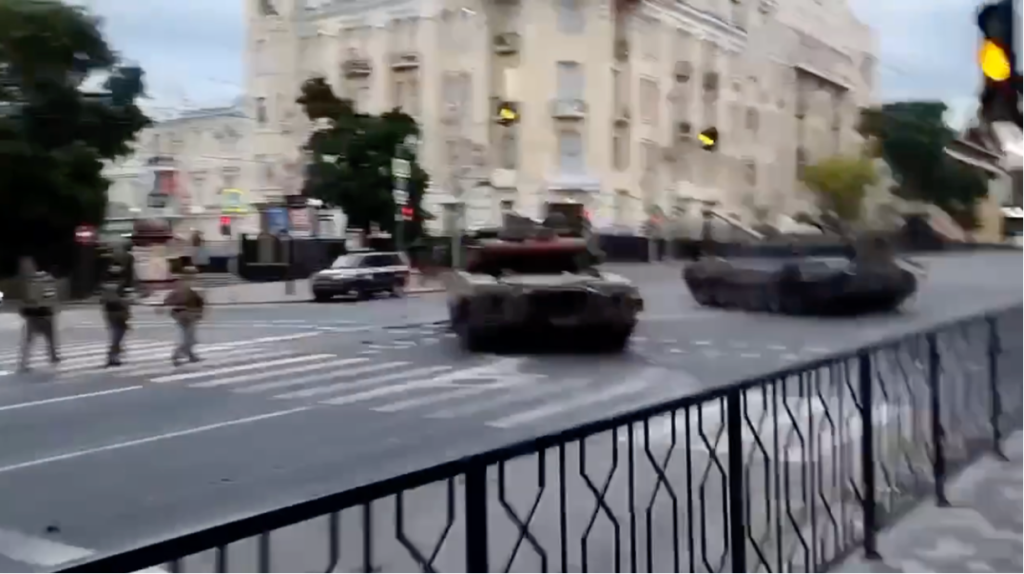 Around 7:30 am Moscow time, a pair of videos appeared on the WAGNER Z GROUP/Z PMC WAGNER'Z Telegram channel and Prigozhin's press channel respectively. The first video showed Prigozhin and his entourage entering the inner courtyard of the Southern Military District building. Prigozhin is later seen bragging about his successes with Deputy Defense Minister Yunus-bek Yevkurov while demanding that Yevkurov speak to him respectfully. In the second video, he addressed the camera and bragged that he had captured Rostov without firing a single shot.
Later, prior to 2:00 pm Moscow time, new footage emerged showing people running from the neighborhood of the MoD building. Initial reports suggested it was a Russian Armed Forces attack within the vicinity, but this has not been confirmed.
The many civilians running from the sound of an explosion were likely due to the crowds that came out to observe Wagner's occupation of the MoD building. In one video, people can be seen chatting with Wagner soldiers and thanking them.
—Andy Carvin, managing editor, Washington, DC
Wagner forces emerge south of Moscow in Lipetsk
The governor of Lipetsk, Igor Artamonov, announced Saturday afternoon that Wagner forces had entered the region, approximately 400 km south of Moscow. The Associated Press noted that the governor added, "The situation is under control." Meanwhile, footage emerged that appeared to show excavators destroying the highway between Lipetsk and Moscow.
At the time of writing there were conflicting reports as to whether the Wagner convoy had traveled from Rostov or was comprised of defectors from the Russian Armed Forces.
—Andy Carvin, managing editor, Washington, DC
Explosion at oil depot in Russian city of Voronezh
On June 24, videos depicting an explosion at an oil depot in the region of Voronezh were widely circulated online. The DFRLab identified the precise location of the explosion and confirmed the videos as authentic.
The video published online was captured from buildings in close proximity to the Leroy Merlin store in Voronezh, as clearly observed in the footage. The DFRLab also corroborated the location of the oil depot Red Flag Oil Combine (Комбинат Красное знамя) and identified approximate coordinates for the area where the video was recorded. Below, the screenshot on the left is extracted from the video, while the image on the right is from Google Maps, illustrating the precise positions of the oil depot, store, and the recorded video.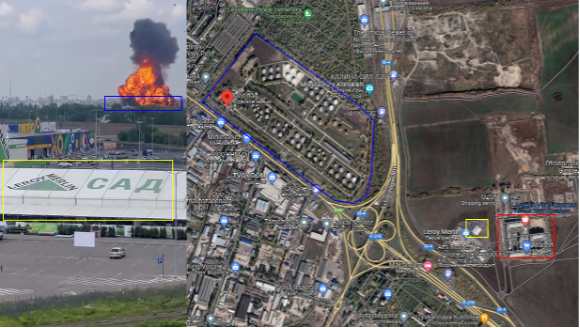 Additional footage documented the shelling of a residential area in Voronezh. The footage reveals visible damage to cars. In order to verify the location of the building, the DFRLab utilized reverse image search via Google and Yandex, then cross-referenced the results with Google Maps, verifying the location of the shelling.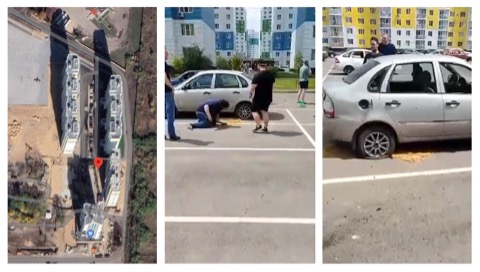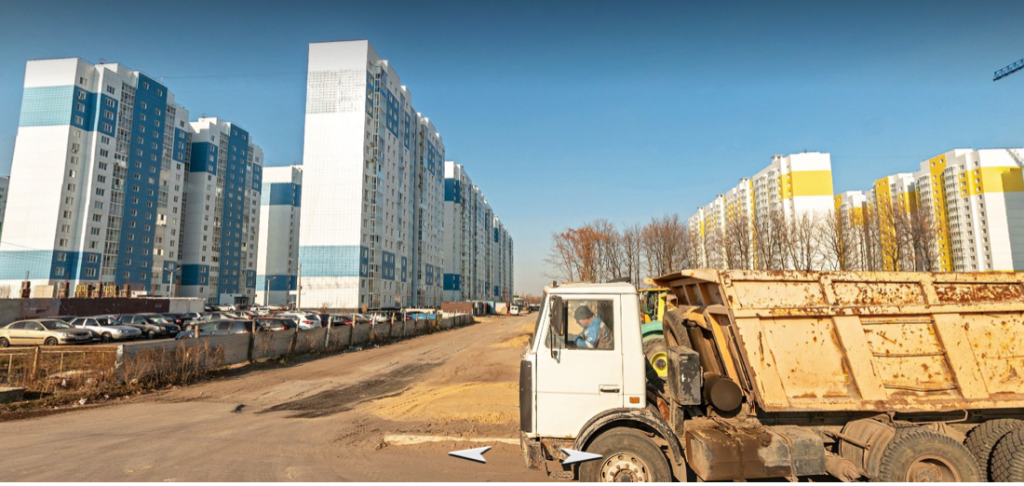 —Sayyara Mammadova, research associate, Warsaw, Poland
—Valentin Châtelet, research associate, Brussels, Belgium
Amid chaos in the Russian information space the Kremlin attempts to limit information on Prigozhin
According to TASS, Russian social network VKontakte (VK) and search engine Yandex are blocking content related to Prigozhin. Reportedly, instead of Prigozhin's statement that was published on June 23 at 9:52 pm Moscow time, a VK page for Prigozhin's Concord company displayed a message that the material was blocked on the territory of Russia on the basis of the decision of the Prosecutor General's Office. At the time of the writing, Prigozhin's posts on Concord VK page were available, though none of them correspond to 9:52 pm Moscow time. TASS added that the Yandex search results for Prigozhin notifies a reader that some of the search results are hidden in accordance with federal law. Using a virtual private network (VPN), the DFRLab replicated the search of the content mentioned by TASS and found that they are accessible from other locations. The restrictions seem to be geofenced to Russia.
Separately, TASS reported that there are Telegram-access disruptions detected in various Russian cities, including Moscow, St. Petersburg, Voronezh, and Volgograd Oblasts.
Russia's internet regulator Roskomnadzor warned that the government can place internet performance restrictions in locations where counter-terrorist operations might take place, such as Moscow, Voronezh, or Rostov. Roskomnadzor also added that the use of Telegram is not limited for now.
Meanwhile, the Telegram channel Faridaily reported that residents of Moscow and the surrounding region are receiving calls from unknown mobile numbers with messages from Wagner. According to the Telegram post, one person received a call on their Viber messenger with a recording of Prigozhin's appeal about "restoring justice." Another person received a call on behalf of Wagner with an automated voice encouraging them to join Wagner when their units move toward Moscow.
Meanwhile, footage from Russian state media Rossiya 24 surfaced online showing a confused news anchor. Apparently lacking instructions from the Kremlin on how to report about the armed insurrection in Russia, they said, "Next we are going for short commercial and then… commercial."
—Eto Buziashvili, research associate, Tbilisi, Georgia