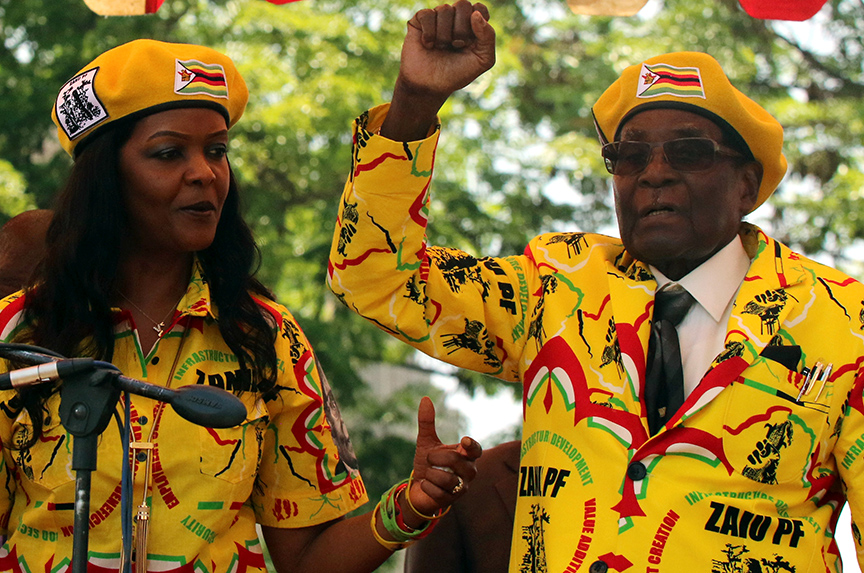 The ongoing military intervention in Zimbabwe effectively marks the end of Robert Mugabe's thirty-seven-year hold on power, according to J. Peter Pham, director of the Atlantic Council's Africa Center.
"In whatever way the developments of the last twenty-four to forty-eight hours play out, it is quite clear that the near-absolute grip that he had on power for almost four decades, that era has come to an end," said Pham.
The military said it has put Mugabe, who has led the country since 1980, under house arrest.
"The military seems to be taking a very careful approach in not formally declaring this a coup, but it is quite clear that, at least for now, they are in charge," said Pham.

J. Peter Pham spoke in an interview with the New Atlanticist's Ashish Kumar Sen. Here are excerpts from our interview.
Q: Are we seeing the end of Robert Mugabe's absolute hold on power in Zimbabwe?
Pham: In whatever way the developments of the last twenty-four to forty-eight hours play out, it is quite clear that the near absolute grip that he had on power for almost four decades, that era has come to an end. The military seems to be taking a very careful approach in not formally declaring this a coup, but it is quite clear that, at least for now, they are in charge. They are maintaining a respectful reference to Mugabe and are insisting that they have not overthrown him. That is a very calculated move.
The Finance Minister Ignatius Chombo has been detained after a firefight which left several of his bodyguards dead; Information Minister Jonathan Moyo, who is also the head of communications for the ruling Zimbabwe African National Union-Patriotic Front (ZANU-PF), is reportedly on the run; other senior government officials are also missing. The foreign minister was on a trip to neighboring Zambia and is apparently deciding not to come home.
Q: Why has the military been reluctant to declare a coup?
Pham: There are two reasons. First, the African Union has slowly but surely arrived at the consensus that military takeovers and unconstitutional changes of government are not recognized. They have suspended countries where military takeovers have taken place from the African Union. So, maintaining Robert Mugabe as nominally still head of state avoids that legal distinction.
Second, Mugabe is still a figure held in reverence by many of the veterans of the liberation struggle. His thirty-something years in power has worn out the respect, but he is still regarded not only inside the country but across the region as a hero of the fight against the white minority domination of what was then Rhodesia under [then-Prime Minister] Ian Smith. While [Mugabe] is still referred to by the military as commander-in-chief, his power is certainly circumscribed by the fact that his ministers are on the run and we do not know what contact he is allowed to have with anyone else, although he did speak today by telephone with South African President Jacob Zuma, according to the latter.
The objective was to prevent what many in the military and older supporters of the regime fear: that is the marginalization of the liberation struggle veterans. The big loser is Grace Mugabe, the president's second wife.
Q: Is this, fundamentally, an internal power struggle within ZANU-PF?
Pham: It is an internal power struggle, but it is also one that has implications not only within the ruling party, but also in society. The opposition has waxed and waned over the years. Although it is a more robust and diverse opposition than it was in 2008 when it was a two-party race between ZANU-PF and Morgan Tsvangirai's Movement for Democratic Change (MDC), the opposition is also divided.
Apparently, Vice President Emmerson Mnangagwa, who was fired just a week ago and whose whereabouts were a mystery, has apparently re-emerged. Indications are that he may seek to form some sort of 'unity government,' possibly with the participation of the MDC faction loyal to Tsvangirai, with whom he reportedly developed a good relationship in recent years.
Q: What does the military intervention mean for Grace Mugabe's plans to succeed her husband?
Pham: Things are very much fluid. I suspect the prudent course of action would be for those who participated in the non-coup, or whatever they are going to call it, will be to maintain Mugabe as head of state. Although deprived of his advisers and loyalists, he would be a titular head of state. Power would likely devolve to the Emmerson Mnangagwa clearly in cooperation with those who led the military intervention, especially the chief of the defense force, Gen. Constantino Chiwenga.
The statement that was read by the military on the state broadcaster said they were not targeting the president, but the unspecified 'criminals' around him. I suspect that ambiguous category would include his wife, Grace. She is a big bone of contention within ZANU-PF. One of the reasons that Grace was disliked was not only her perceived hold over her clearly doting husband, but that she was barely a teenager at the time of independence and did not participate in the struggle.
Q: Where does the military's loyalty lie—toward Grace Mugabe or Emmerson Mnangagwa?
Pham: Emmerson Mnangagwa headed an elite band of guerillas known as the Crocodile Fighters that carried out attacks deep in what was then white-ruled Rhodesia. He comes out of the liberation struggle and also served as minister of defense and minister of justice as well as speaker of parliament. Very clearly the security apparatus and the military were aligned with the vice president.
But this is not just about politics, it is also about economics. The most telling thing in the middle of this crisis is the speech that the Finance Minister Ignatius Chombo made last week to parliament. In that speech he acknowledged that the government's budget gap was $1.82 billion, several times what had previously been estimated. Given that 90 percent of the government's budget goes to paying the salaries of military and security personnel and civil servants meant that they were facing at the end of the year the possibility that they would not be paid. Soldiers will either fight for free for people they respect or they will fight for money, but they will not fight for free for people they do not respect and that was clearly the case with Grace Mugabe.
Also, little noticed is the fact that this fall the country quietly slipped into hyperinflation. Economists usually define hyperinflation as a sustained monthly inflation rate of more than 50 percent. In mid-October Zimbabwe had an inflation rate in excess of a 100 percent a month, giving an annualized rate in excess of 300 percent for the year, if current trends persist, as Steve Hanke has documented.
So, the current events in Zimbabwe are the result of the prospect of not having enough money to pay troops, security, and civil servants; hyperinflation; and the attempt to push out a figure respected by the military and security services [Mnangagwa] in favor of someone they did not respect and viewed as a threat to their interests [Grace Mugabe].
I think Grace Mugabe was fearing that with her husband's age she would be marginalized in the event that he passed on, so she was trying to clear the way to get a formalized role where she could establish a dynasty. That was perhaps a bit of an overreach.
Q: What sort of relationship does Mnangagwa have with the West?
Pham: While the developments may marginalize Robert Mugabe after thirty-seven-plus years in power, the people who have taken control are not necessarily angels themselves. I'm not saying that one cannot work with them, but one has to acknowledge the reality of who they are.
Tellingly, both the Mnangagwa and Gen. Chiwenga have both been on US sanctions lists since the early 2000s for their role in repressing democracy in Zimbabwe. Early in his career Mnangagwa made his mark by heading up the Gukurahundi campaign in which a North Korean military unit, the Fifth Brigade, violently repressed an ethnic minority in Matabeleland. It was essentially an ethnic cleansing.
We have to be realistic about who or what we have, but at the same time Mnangagwa is an experienced hand. He clearly has broad support in the military and security services and among those older Zimbabweans of the liberation-struggle generation. It will behoove us to wait and see what his first steps are and reserve judgment.
Q: Is it your sense that the military chief, Gen. Constantino Chiwenga, is trying to seize power for himself? Does he have political ambitions?
Pham: He has generally stayed out of politics, which is what has made his weekend press conference that telling. He certainly will have play a pivotal function in whatever leadership emerges, but I think they are going to preserve at least the appearances of constitutional order with Mugabe playing a titular role for whatever is left of his days and civilian oversight with Mnangagwa as de facto head of state.
Ashish Kumar Sen is deputy director of communications at the Atlantic Council. Follow him on Twitter @AshishSen.