While China's deployment of solar panels is highly impressive, its actual generation from these assets is much less so. China is apparently deploying scarce solar assets irrationally, installing substantial numbers of solar panels in several renewables-poor provinces while largely ignoring sun-soaked regions. Even worse, more than half of China's new solar installations are dedicated to "distributed" rooftop generation sites, which suffer from poor utilization factors compared with utility-scale solar from power plants.
While China's solar deployment has been extremely wasteful from an economic or environmental perspective, the shape of Beijing's solar build may be influenced in part by security considerations. While rooftop solar increases an electricity grid's "attack surface" and potential exposure to cyberattacks, it also disperses generation and generally increases system resilience, especially if microgrids are employed. Beijing's solar strategy has evidently prioritized deployment of rooftop solar for government buildings and in provinces that hold key naval bases. If tensions over Taiwan, for example, increase or even break into open conflict, mainland China's distributed deployment of rooftop solar could reduce its overall vulnerability to cyberattacks or other disruptions, granting Beijing's leadership greater flexibility.
A curious story
China's solar industry is a major success story, in many respects. The country has cumulatively deployed over 425 gigawatts (GW) of solar electricity capacity, with a whopping 33.7 GW installed in the first quarter of this year alone. China is easily the world's largest solar market by capacity.
Yet much of this capacity has been deployed wastefully. China's best solar regions are found in the northern and western parts of the country, but Beijing has not prioritized solar development of these regions. Inner Mongolia's solar resources, its proximity to Beijing and other major electricity demand centers, and its potential usefulness for Chinese energy security render it ideally suited to host solar capacity. Yet the Chinese province holds only 15 GW of solar capacity, less than areas such as Anhui or Hebei that suffer from worse solar economics.
China has also mandated distributed solar capacity at the expense of utility-scale solar projects. In July 2021, China's National Energy Bureau required solar installation on 50 percent of rooftop space on party and government buildings, 40 percent of public buildings such as schools and hospitals, 30 percent of industrial and commercial spaces, and 20 percent of rural households. It also mandated that these measures conclude by the end of 2023. Consequently, about 54 percent of all Chinese solar installations year-to-date have been for distributed generation. For reference, only around 41 percent of US solar installations were for distributed generation, according to the latest data.
It's difficult to justify these measures economically and environmentally. Utility-scale capacity factors tend to run at 33 percent, or higher, for the most sophisticated modules in the best locations. Conversely, the best utilization factors for residential solar run at about 20 percent (due to less than ideal and often fixed positions on rooftops). Distributed solar projects are ad hoc, difficult to scale, and suffer from poor project economics. Accordingly, China's emphasis on distributed solar deployment is suboptimal from both an economic and environmental perspective.
Even worse, China is deploying substantial amounts of rooftop solar to provinces such as Shandong, Zhejiang, Jiangsu, and Anhui that have moderate solar potential, at best.
There are several reasons why the People's Republic of China (PRC) might be tolerating this very inefficient dynamic. Transmission constraints, particularly for long-distance transmission, have historically hindered renewables development in China, especially in solar- and wind-rich Inner Mongolia. Chinese solar photovoltaic manufacturers have also traditionally been concentrated along the southeastern coast, which has moderate solar potential, and local officials may seek to keep the panels within those provinces. Finally, China faces land use tradeoffs, especially around agriculture. It suffers from increasing food import dependency, and since the Chinese Communist Party is extremely attentive to food security concerns, it may be wary of repurposing agricultural land further north and inland for solar generation.
But these explanations are imperfect. While transmission and permitting are enduring issues in democracies, which must balance individual property rights against the public good, China's government is not similarly constrained. Moreover, "exporting" solar panels from southeastern China to more climatologically appropriate locations in the north does not seem economically prohibitive, especially when considering a solar project's life cycle.
Potential security implications
There is another factor to consider, which is that the PRC may be pushing for distributed solar with security objectives in mind. In the event of conventional military hostilities over Taiwan, the United States and China might target one another's grids with cyberattacks (or even kinetic attacks, as Russia is doing in Ukraine). While distributed solar can introduce new vulnerabilities for the electricity grid, on balance it strengthens resiliency. Accordingly, wide-scale rooftop solar deployment could improve the resilience of China's grids in a confrontation or conflict. During a military standoff of Taiwan, in either a quarantine, blockade, or invasion scenario, distributed solar could provide key areas of mainland China with more reliable emergency energy than a power station taken offline by, for instance, a cyberattack. Chinese leader Xi Jinping has reportedly instructed his military to be ready to invade Taiwan by 2027, although that date reflects an aspiration, not necessarily a decision. As such, distributed solar could factor in military planning by the PRC, if it does not already.
China's National Energy Bureau has mandated that distributed solar panels be installed in government buildings by the end of this year. And already several provinces receiving significant distributed solar investments are militarily important. Shandong, Zhejiang, and Guangdong are home to the Northern, Eastern, and Southern Theater Navy Headquarters for the People's Liberation Army Navy at Qingdao, Ningbo, and Zhanjiang, respectively. While Guangdong distributed solar deployment is limited, both Shandong and Zhejiang are clear outliers, receiving about three times as much distributed solar capacity as the rest of the country, after normalizing for population.
It's far too soon to conclude why the PRC is seemingly wasting solar panels en masse. The Chinese coal industry is extremely powerful and may be attempting to restrict renewables, while inter- or intra-provincial political economy may be playing an important, if unclear, role. As China's disastrous COVID-19 response demonstrates, its political leadership is capable of profound errors, and it also has a history of wasting wind generation capacity. Beijing may simply be blundering its way into a more resilient grid. Still, it's worth questioning why China is deploying so much solar capacity in such an economically and environmentally wasteful way.
---
Joseph Webster is a senior fellow at the Atlantic Council and editor of the China-Russia Report. This article represents his own personal opinion.
Further reading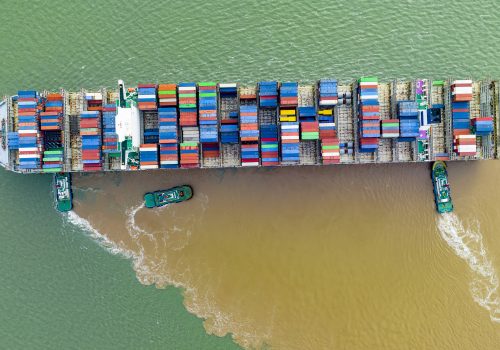 Tue, Jul 25, 2023
New Atlanticist By Niels Graham and Mondrita Rashid
The Biden administration has identified around 2,400 critical goods and materials that fall under its efforts to move supply chains out of China. Check out what the data reveal so far.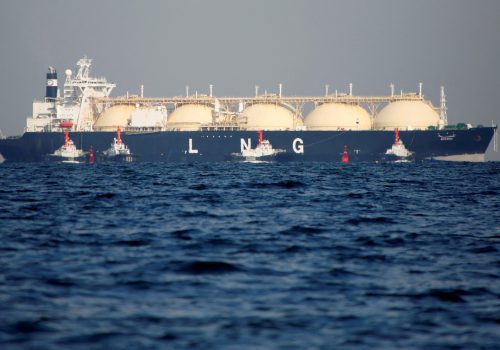 Fri, Jul 7, 2023
New Atlanticist By Joseph Webster
Taipei relies on maritime imports for around 97 percent of its energy, even as Beijing appears increasingly capable of launching a quarantine, blockade, siege, or even invasion of the island.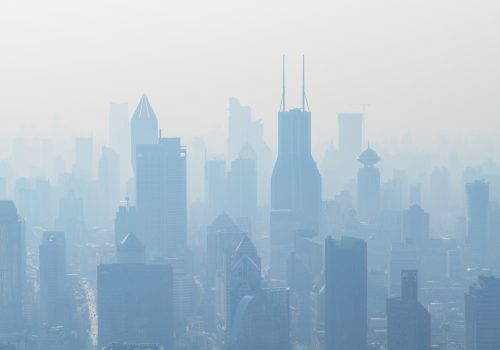 Tue, Jun 6, 2023
EnergySource By Joseph Webster
Greater uptake of natural gas has helped substantially reduce urban air pollution in Beijing. Ahead of COP28 discussions this year, the United States, China, and other countries should encourage responsible natural gas production as a solution for reducing global emissions and urban air pollution.