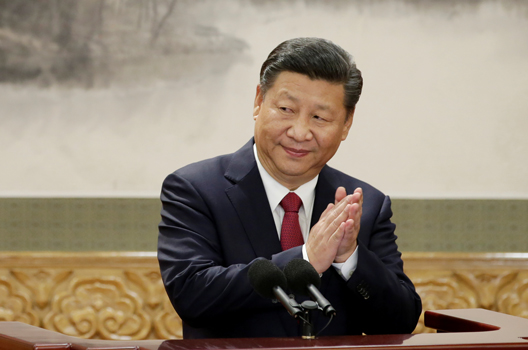 China steps up on climate change and United States steps down
In the wake of Chinese President Xi Jinping's reelection, the Communist Party of China has begun to take steps to realize Xi's vision of China as an authoritative power on the world stage, adeptly exploiting the vacuum created by a lack of US leadership on issues like international development and climate change.
Xi was reelected at the conclusion of the nineteenth National Congress of the Communist Party of China on October 23. The outcome of the meeting, which focused on leadership changes, further confirms that Xi's hold over the party is strengthening as he enters his second term. International policy statements adopted at the congress also confirm that a domestically empowered Xi bolsters the party's confidence in China's future on the international stage.
Xi's consolidation of power has implications both for domestic policy and China's international engagement, particularly when it comes to energy and climate.

The party congress, held every five years, confirms leadership changes in the Political Bureau and its Standing Committee, the party's most powerful body. Of the seven seats on the present Politburo Standing Committee, all except for Premier Li Keqiang and Xi himself are held by new members, thus beholden to Xi.
Xi was already recognized in late 2016 as the "core" of the party, a designation previously granted only to former Chairmen Mao Zedong, Deng Xiaoping, and Jiang Zemin. The party congress also recognized "Xi Jinping Thought" in its party constitution, placing Xi on par with Mao and Deng. Xi's vision for China's "new era," a phrase repeated throughout his opening address at the party congress, is predicated on a desire to increase China's international influence. With Xi's reelection and consolidation of authority, he will be able to make further progress on this agenda, perhaps beyond his five-year term.
Many analysts have speculated that Xi may seek to extend his presidency to a third five-year term, which would require a constitutional amendment. His roles as chairman of the party and the Central Military Commission (the formal role of commander in chief of the People's Liberation Army) are not term limited.
Xi's renewed domestic mandate and increasing control over the Communist Party will also allow him to advance his foreign policy agenda.
In contrast to US President Donald J. Trump's inaugural declaration of "America First," a phrase which has defined his approach to foreign policy, Xi's signature Belt Road Initiative (BRI) is an externally focused strategy, promoting broader development and integration of China within Asia and beyond. The initiative's breadth is expansive, promising to expand China's state and private enterprises' commercial interests globally.
The BRI potentially represents a first move in China's bid to remake the international order. Significantly, the BRI was also written into the amended party constitution which emerged from the congress, an endorsement rarely given to individual policies. This bolsters Xi's vision of the initiative as the centerpiece of China's strategy to shape what Xi calls "a community of common destiny", which contemplates China playing a central role in terms of leadership and potentially support among developing countries.
The BRI is backed by massive financial commitments from the state's foreign aid budget, the state banking system, and newly established multilateral institutions led by China like the Asia Infrastructure Investment Bank (AIIB) and the New Development Bank (formerly the BRICS Bank). In short, the BRI is key to facilitating China's advancement of a global political and economic agenda that reinforces its own interests and positions China's industrial base to drive global South-South development.
Part of these comprehensive efforts to demonstrate global leadership and influence are reflected in China's position on climate change. Chinese policymakers are looking to present China as a leader in global efforts to tackle climate change, a remarkable position reflecting China's desire to dominate a policy space on the heels of US retreat. China's leadership bid is particularly bold given that China faces enormous challenges in reining in domestic emissions, a problem for which its policymakers and technologists are seeking solutions, as well as concerns expressed by the international community with the transparency of its efforts.
Xi also aims to restore the party's grip on Chinese society. To that end, his administration has launched a much-needed—but potentially politically motivated—anti-corruption drive, which the Chinese government claims has punished over 1.3 million officials since its inception in 2013. Xi has also strengthened controls over public expression by aggressively censoring social media, and has introduced plans to implement a "social credit" system that rates citizens on all facets of their lives, from social media activity to credit worthiness. This system could potentially determine a citizen's fate from admission into college, career promotions and ability to obtain credit to buy a home. The party has also been increasing control over China's private sector, demanding shares in private companies and requiring private companies establish Party cells, specifically focused on China's burgeoning tech sector.
However, China's messaging resonates with other developing countriesalso pursuing economic growth while working to reduce their greenhouse gas emissions as part of a wider international effort to combat climate change. China's impressive, decades-long run of unabated economic growth and its emergence as a manufacturing and technology hub make it an attractive model. That reality, in combination with Beijing's generous offers to cooperate with other nations on an issue of shared concern, and the sense of "being one of us" makes China a natural candidate to lead among developing countries. China's top leaders have acknowledged that its climate policies are fundamental to its foreign relations, and clean energy and South-South cooperation between China and other developing countries are integral to the BRI. Thus, the US exit from the Paris Agreement presents China with an irresistible opportunity to supplant US leadership in this important test of international governance.
As Xi's momentum is growing, China will assert itself more confidently beyond its borders under his leadership. For the Trump administration, and the West more broadly, it is essential for Washington to develop a coherent foreign policy approach that both strategically grapples with China as a rising power and also speaks to the issues important to developing countries, particularly when it comes to economic development and climate. A failure to do so will cede this ground to China, an outcome the United States should seek to avoid.
Craig Hart is a nonresident senior fellow at the Atlantic Council's Global Energy Center.