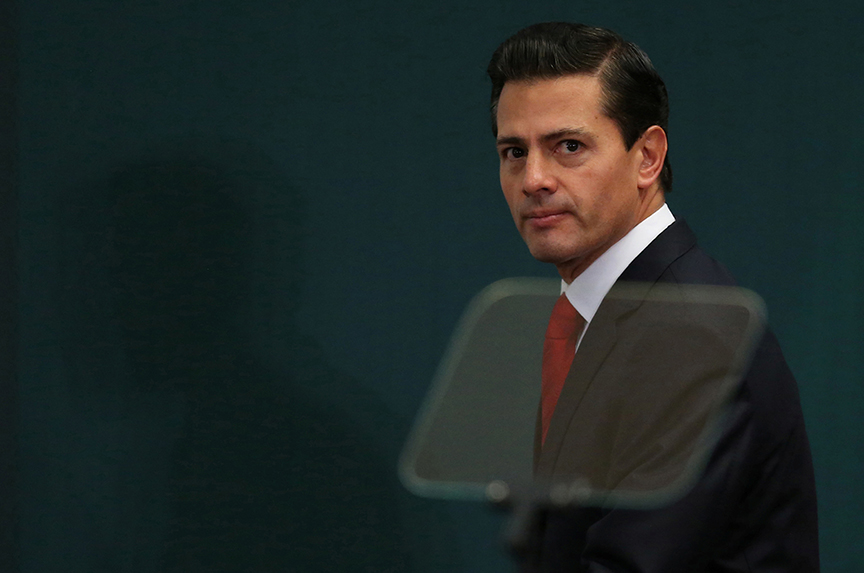 US President Donald Trump's demand that Mexico pay for a border wall has plunged the US-Mexico relationship into an unseemly crisis, according to two Latin America analysts at the Atlantic Council.
"It is a troubling development for a relationship that has few parallels throughout the world," said Peter Schechter, director of the Atlantic Council's Adrienne Arsht Latin America Center.
On January 26, Mexican President Enrique Peña Nieto cancelled his visit to the United States and a planned meeting with Trump after the US president insisted that Mexico pay for the border wall. Peña Nieto has insisted that Mexico will not foot the bill for the wall.

The same day Peña Nieto cancelled his visit, White House Press Secretary Sean Spicer said that the United States is considering a 20 percent tax on all imports arriving from Mexico to fund the construction of the wall.
"What happens next in US-Mexican relations is anybody's guess. But what happens next in Mexico itself should worry all Americans. The country's politics may not be resilient enough to withstand the pressure of this kind of US rhetoric," Schechter said.
"Ahead of Mexico's 2018 presidential election, today's news will skyrocket the popularity of a candidate, Andres Manuel Lopez Obrador, who espouses weakening ties with the United States," said Schechter.
Peña Nieto's popularity ratings are close to single digits.
On January 25, Trump signed an executive order for the construction of the wall even as Mexico's foreign minister, Luis Videgaray, was in Washington for a meeting with Trump aides aimed at laying the groundwork for Peña Nieto's visit.
Trump took to Twitter to say: "If Mexico is unwilling to pay for the badly needed wall, then it would be better to cancel the upcoming meeting."
Trump's taunts left Peña Nieto with no other option but to cancel his US visit, said Jason Marczak, director of the Latin America Economic Growth Initiative at the Adrienne Arsht Latin America Center.
"Now a destabilized relationship threatens decades of bipartisan work. Today's events are dangerous for the immediate and long-term security and economy of the United States," he added.
The crisis also threatens Mexico's efforts to salvage trade ties with the United States. Trump has vowed to renegotiate the North American Free Trade Agreement (NAFTA). He also wants to impose high tariffs on US companies that have moved jobs out of the United States.
Marczak noted that the United States and Mexico have far-reaching cooperation on areas as diverse as "intelligence sharing for the capture of drug traffickers to the flow of commercial goods that support the livelihoods of nearly five million American workers."
As a candidate, Trump, took a tough line on unauthorized immigration. He described Mexican migrants as rapists. He also vowed to build a wall to prevent unauthorized immigrants from getting into the United States. Trump's executive order is a step toward fulfilling that campaign pledge.
Interestingly, a Pew Research Center study found that over the past few years more Mexicans are actually leaving than coming to the United States.
Ashish Kumar Sen is deputy director of communications at the Atlantic Council. You can follow him on Twitter @AshishSen.