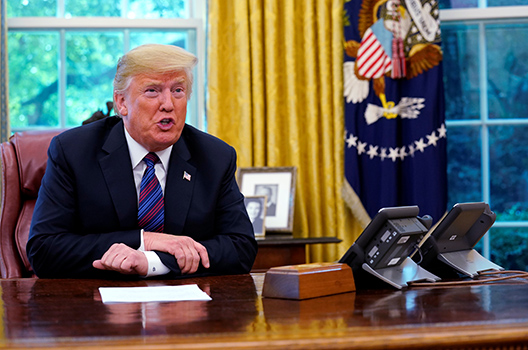 Now that the United States and Mexico have reached a bilateral trade agreement, the focus shifts to Canada—the third partner in the North American Free Trade Agreement (NAFTA).
"Reaching a US-Mexico trade deal is critical for the US and Mexican economies and for the millions of US workers who depend on trade with our southern neighbor. But it would be a real loss to not incorporate Canada—the number one destination of US exports," said Jason Marczak, director of the Atlantic Council's Adrienne Arsht Latin America Center.
"Across the United States, communities depend on US-Mexico trade and also a smooth functioning trilateral accord," he added.
NAFTA, which was signed in 1993, however, may well be entering its final days.

US President Donald J. Trump announced on August 27 that the United States and Mexico will be entering into a new trade deal—the "United States-Mexico Trade Agreement"—and that was he was willing to shed the name NAFTA, which he said "has a lot of bad connotations for the United States because it was a rip-off—a horrible deal for our country."
The agreement announced on August 27 conspicuously does not include Canada.
In an open call with outgoing Mexican President Enrique Peña Nieto, Trump announced the deal that would reportedly include substantial changes in the US-Mexico trade relationship. The announcement followed months of negotiations between Washington and Mexico City after Trump campaigned heavily on the renegotiation of NAFTA and his imposition of steel and aluminum tariffs on Mexico, which resulted in $3 billion of response tariffs from Mexico City.
Neither Trump nor Peña Nieto gave specifics about the provisions of the new deal, but Trump promised the agreement "is something very special for our manufacturers and farmers," adding that "Mexico has agreed to immediately begin purchasing as much farm product as they can." Peña Nieto said the new deal would "generate a framework to boost the potential productivity of North America."
The new deal casts doubt on NAFTA's future. Trump maintained that he was willing to "terminate" NAFTA and pursue bilateral negotiations with Canada and Mexico respectively. Peña Nieto, however, pushed back several times on this idea during the call, remarking that he and the new government of Andres Manuel Lopez Obrador wanted "Canada to be incorporated in all this."
"It is our wish, Mr. President, that now Canada will also be able to be incorporated in all this," Peña Nieto, who spoke in Spanish, said through a translator.
Marczak made the case for including Canada.
"Over thirty states count Mexico as one of their top-three export markets and over thirty states also count Canada as their most important foreign market," he said, adding that the breakthrough between the United States and Mexico "is an important milestone in broader US-Mexico relations, and must be a stepping stone to a modernized three-country deal."

Canadian officials have for the most part approved of the separate talks between the United States and Mexico, but it is unclear how they will respond to Trump's clear preference for bilateral ties over the original tripartite NAFTA agreement.
Canadian Foreign Minister Chrystia Freeland on August 24 said Canada would be "happy" to rejoin the talks. "Once the bilateral issues get resolved, Canada will be joining the talks to work on both bilateral issues and our trilateral issues," Freeland said.
Trump said in his call with Peña Nieto that the United States will "start negotiations with Canada pretty much immediately," but openly wondered whether Ottawa was prepared to "negotiate fairly." He said rather than a comprehensive agreement, "the easiest thing to do is tariff [Canadian] cars coming in—it is a tremendous amount of money." Trump said he remained confident that the negotiation "could end in one day" and that "we will have a deal with Canada either way."
Significant hurdles remain for US and Canadian negotiators, however, even without the threat of car tariffs. Should the three countries continue toward a full renegotiation of NAFTA, Ottawa and Washington must come into agreement about a US proposal to include a five-year termination clause (now revised to be a six-year review, according to reports on the US-Mexico deal) and the Trump administration's desire to weaken the trade dispute mechanism within the original NAFTA agreement.
"The sunset clause and investor dispute resolution are particularly important to the Canadian government. Any sunset clause, particularly, would be considered detrimental to the investment climate and a non-starter for Ottawa," said Bart Oosterveld, director of the Atlantic Council's Global Business and Economics program.
"Additionally, there remain product-specific topics that need to be discussed with Canada," said Oosterveld. "For example, there is domestic political pressure to protect the interests of Canada's dairy industry during the negotiations. There will be provincial elections later this year in both Quebec and Ontario, large producers of dairy product," he added.
It also remains unclear how Congress will respond to Trump's new deal and his comments casting doubt on the future of NAFTA—which remains popular with many Republican lawmakers. An administration official in the room with Trump on August 27 stated that the White House hoped to have its agreement with Mexico codified by November.
Despite the celebration in the Oval Office and kind words between Trump and Peña Nieto, it remains to be seen what the future holds for trade relations in North America. Trump has raised the possibility that NAFTA could now be at risk of being scrapped completely, giving only promises of what might come in its place.

David A. Wemer is assistant director of communications, editorial, at the Atlantic Council. Follow him on Twitter @DavidAWemer.