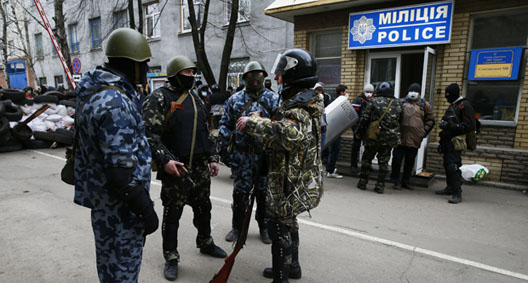 A former US ambassador to Ukraine, John Herbst, is urging the Obama administration to begin providing direct military help to the government in Kyiv, saying new violence by Russian-backed gunmen in eastern Ukraine appears to reflect a Russian government escalation of the crisis.
"The United States should provide Ukraine with anti-air and anti-tank equipment, along with trainers," Herbst writes in an article published today on the website of the Atlantic Council, which announced his appointment as director of its center on Eurasian affairs. "It should share intelligence on Russian military movements and intentions," Herbst writes in a question-and-answer overview of the crisis.

Herbst served as the US ambassador in Kyiv from 2003 to 2006. He is to take over on May 12 as director of the Dinu Patriciu Eurasia Center, the Atlantic Council announced.
In its confrontation with Ukraine, "the Kremlin seems to be upping the ante," Herbst writes, with the new seizures by Russian-backed armed groups of Ukrainian government and police buildings in eastern Ukraine over the weekend. "Moscow's subversion campaign is now taking a paramilitary cast," and the United States and NATO can help counter it, according to Herbst. "Thanks to our operations in Iraq and Afghanistan, both the U.S. and our European allies have a great deal of experience with counter-insurgency. Here too we can provide advisers, training and equipment to address this problem."
Herbst says the US also should help Ukraine strengthen border controls as part of Kyiv's effort to control subversion from Russia, by providing "border control equipment meant to keep out weapons, training for border officials and intelligence support."
To the west of Ukraine, the NATO alliance should consider moving reinforcements onto the territory of its easternmost members, Herbst writes. NATO should "consider stationing additional air assets, anti-air and anti-tank capabilities, and perhaps combat brigades in the east," he writes, "both to protect alliance members and to show the Russian General Staff that the aggression in Crimea has brought new strategic problems."
Herbst calls on European nations to join the United States in announcing their readiness to impose economic sanctions on broad sectors of Russia's economic, such as finance or energy.
Russian President Vladimir Putin "will watch both Ukraine and the West carefully before making any decisions on sending in the Russian army," Herbst writes. "Washington and Brussels have the means to dissuade Mr. Putin. If he knows that an invasion brings crushing sanctions, or if he knows that Western anti-tank and anti-aircraft equipment are part of Ukraine's military arsenal, the price of an invasion rises drastically."
James Rupert is managing editor at the Atlantic Council.