In light of what appears to be Assad's victory in Syria, domestic and international attention is increasingly shifting towards Syria's reconstruction phase and the future of post-war Syria. But for many Syrians, the horrors of war are far from over. 
Hanen al-Sayed, is one of the tens of thousands of Syrians who recently fled Idlib in what the UN described as the worst campaign on the city since the area was declared a demilitarized zone under a Russian-Turkish agreement last September. The ferocious Syrian-Russian assault on Hanen's village in southern Idlib, Ma'aret Hurmah, has forced her and her family to leave their home into an unknown destination.
"We didn't have time to think. The time was very short. We had few minutes to pack before they started bombing again," Hanen explained. "I packed my Quran, novels, journal, and teddy bear; and some other simple things that meant much to me."
Hanen, who was working on various projects to support women of war, said her life was "full of dreams." But she had to leave everything behind.
"We left all our achievements and dreams behind. We left everything that is beautiful," she said.
For Hanen, as for the many Syrian civilians who escaped strikes and shelling in the past weeks, leaving her home was only the beginning of the journey.
"What I have seen and experienced during this journey was so painful that I will never forget," Hanen said, with a shaking voice. "People were carrying their entire home in their cars. You see people, children, animals, home supplies–all in one car. And as we drove north, things got worse. Many people were on the streets, under the olive trees–there were no homes or tents. You look at peoples' faces, and all what you see are images of defeat, pain, and misery."
She then explained that the experience of displacement becomes even more impermeable during the holy fasting month of Ramadan. "It breaks your heart to see people on the streets without food or water to break their fast. You see a family of twenty people breaking their fast on a small dish of lentil soup," Hanen added.
Sariya Bitar, head of the Atta Relief Association in Atma, a charity organization that works with displaced Syrians, described the situation as "very miserable" and said almost 70 percent of incoming families are living under olive trees or in very small tents. "We lack the most basic life necessities here. We need lands, tents, food, drinking water—we don't have anything. And the situation is only getting worse as more families are being displaced."
"It is a slow death out here," shouted Abu Ahmad, a 65-year-old civilian who was displaced along with twenty families and is now living under olive trees in Aqrabat village near the Turkish borders. "Just like a cancer patient, we are slowly dying here."


Photo: Displaced Syrians seek refuge under olive trees in Atma. May 4, 2019. Mohammad Daboul.
An estimated three million people live in Idlib, many of whom have already been forced to leave their homes many times. The UN Office for the Coordination of Humanitarian Affairs (OCHA) estimated that the recent escalation has displaced some 152,000 people between April 29 and May 5 to the north. But Turkish forces, occupying areas of northern Syria including the city of Afrin and Azaz, are stopping Syrians from entering into these areas. And Syrians have no place to go.
"I can't believe Turkish forces are preventing us from entering into our own territories," Hanen expressed with frustration. "The Russians are bombing us; the Turkish are preventing us from getting into a safe zone; and we are here dying in this small place of the world."
According to the Syrian Network for Human Rights, at least 108 civilians, including twenty-six children and twenty-four women, have been killed by Assad regime forces and their allied Russian warplanes over the past weeks. The aggression has also targeted at least eighty-two vital civilian facilities, including places of worship, schools, medical facilities, and Civil Defense also known as White Helmets centers.
"The bombing campaign is massive. It targeted forty districts in rural Hama and Homs," said Anas al-Dyab, a White Helmet photographer. "The warplanes are dropping indiscriminate barrels bombs everywhere. There are now no hospitals in southern Idlib. If anyone got injured, it will take us at least thirty minutes to get to the closest medical facility."
Idlib province is held by an array of rebel groups, the most powerful of which is Hay'at Tahrir al-Sham, a coalition of fighters affiliated with al-Qaeda. Assad claimed that the latest escalation came in response to the "terrorists violation" of the de-escalation zone agreement that was signed last September to halt the violence in the area. But as the Assad regime continues its fight against whom it calls "terrorists," Syrians are once again paying the highest price of the "war on terror."
"The entire world is bombing us in the name of terrorism. Those who you call Jabhat al-Nusra, we don't even know who they are," said Hanen. "They created terrorism to justify killing us. We are not terrorists. We are ordinary people who want freedom."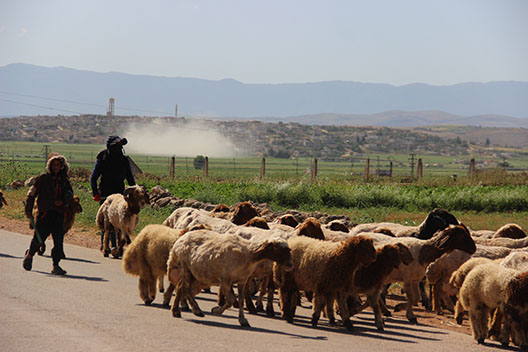 Photo: Residents of Hobait in Idlib providence escape attacks on the town. May 3, 2019. Mohammad Daboul.
The UN has expressed a "grave concern" over escalating humanitarian crisis in Idlib, but despite all UN warnings, the Syrian-Russian offensive is ongoing.
"We are living a humanitarian disaster," said Mohammad Daboul, an activist and photojournalist from Idlib. "The murders in Syria have been going on for so long—and the international community is once again standing silent. When will the world hold Assad accountable for all his crimes?"
Tesbih Habbal is a Syrian researcher and editor, currently based at the University of Chicago. Follow her @Tesbihhabbal1.