The Syrian government along with its Russian allies launched a brutal assault on Idlib province, the last rebel-held areas, on Monday 30 April. The United Nations said the attacks included the worst use of barrel bombs by the Syrian army in 15 months. It said an estimated 323,000 people have been displaced in northwest Syria since last year. This bloody assault has been going on for two weeks and is a violation of the ongoing ceasefire agreement. The only victims of the daily barrel bombs and the Russians airstrikes are the civilians in Idlib.
Last Sunday, May 5, 2019 Russian warplanes struck a hospital in Kafranbel, Idlib, knocking it out of service. It caused a wave of people to be further displaced throughout the province. SyriaSource interviewed the displaced to find out about their experiences during this attack and how they are managing to survive in this new environment.

"It's difficult to get the wounded to a clinic after the hospital attacks, we have to drive 50 km (31 miles) to save their lives" Obida Othman said, a thirty-one-year-old volunteer with the Civil Defence known also as the White Helmets. Obida joined the White Helmets in 2013, he added "It's a very tragic situation, the Russians and the Syrian regime attack civilian houses, and markets." Obida said that they respond to attacks about ten times a day. Every time Obida leaves his house his wife and their four-year-old child are terrified because he works in such a dangerous job.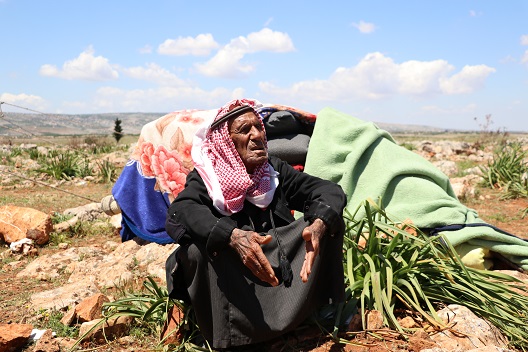 Maha Mohamad is twenty-three and was having lunch two days ago with her five children in Khan Sheikhoun when the heavy bombardment started. They had to leave everything and run for their lives. Maha said "I have been told that our house has been destroyed, my children were very sad when we heard the news, they are in shock that we don't have a house anymore." Maha now lives in a tent that people in the camp offered her along with food from other displaced people in the camp. However, in the camp there are no schools for children or employment opportunities. "We have no future, we need help to build a future for us." Maha and her children are very traumatized, especially because they don't feel safe in the camp either. "There's planes everyday, we might all die in the camp."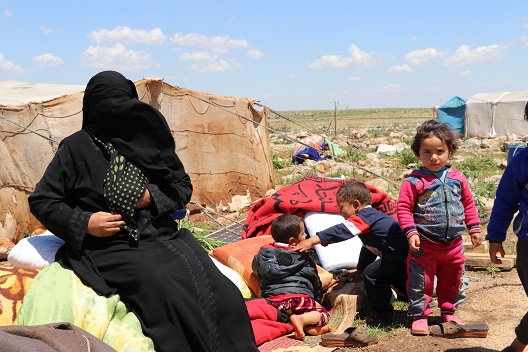 Ouis Shouhada, is thirty-two years old and he has five children to care for. Ouis lives under the trees now in farming land south of Idlib. This is not the first time that Ouis has been displaced, he said "It was around 9pm when I woke my children and carried them out of the house to a nearby cave, we were only ten meters from the house when suddenly I saw my car and my house on fire." Ouis' children are still in shock from their escape on May 1, 2019. "My seven year old daughter still doesn't eaten properly since the day we left our house, she is still in shock." His cousins were killed while they were trying to escape "I am still living in fear, and I don't know what our future will be. How I can afford food for my children and make them forget what happened?" Now he wishes he had a tent for his children, they could go back to school, and live a normal life like any other kids.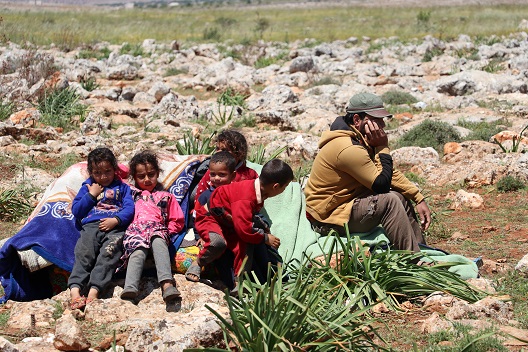 Ali Mohamad, is twenty-eight and lucky to find a tent, but he lives in it with another eighteen people and his four children. Ali used to work as a farmer. "The bombardment started in the early evening, I carried my children and ran;" he managed to flee from his house, but they were targeted on their way. "We barely escaped, all I could think about was the safety of my children." Ali's three year old boy was badly burned in the tent when he was playing, but Ali couldn't take him to a doctor or to a hospital. "The doctor said he needs an operation, but I can't afford it and I don't know how to help my child." Ali lost his house, his work, and he's fighting not to lose his child.
According to the British-based Syrian Observatory For Human Rights, more than 220 airstrikes and hundreds of rocket and artillery shells shower both the northern countryside of Hama and the southern countryside of Idlib, and the factions continue their attacks and recover positions they lost hours before. The spokesperson of Hay'at Tahrir al-Sham said in a statement "Any attempt by the forces of the Russian occupation to enter our virtuous and liberated land will be met with fire."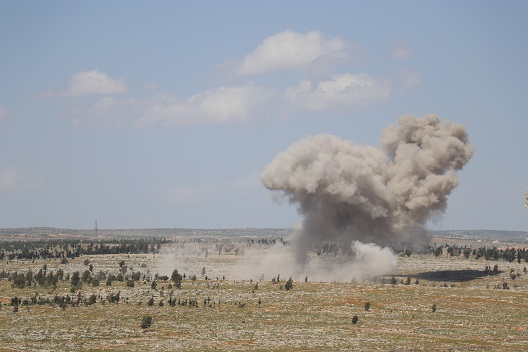 The spokesperson of the National Front for Liberation, Naji Mustafa said "The Russian warplanes have escalated the situation in Northern Hama and Idlib, they used random barrel bombs to kill civilians." Mustafa said that the regime tried to come by land in Qalaat al-Madiq in northwest Hama, but they failed "We fought them back, this is a violation of the ceasefire and they lost."
It is unclear if or when these coordinated attacks by the Syrian regime and Russia will cease. The UN continues to have grave concerns over the escalating humanitarian crisis, casualties, and displacement across northwest Syria. Idlib was the area where many civilians across Syria fled during forced displacement. Many civilians, women, children, and the elderly are left with very unstable futures in the north of Syria.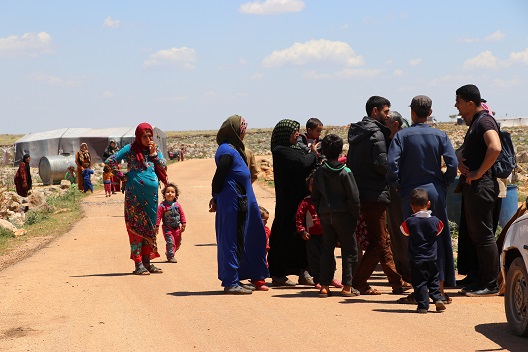 Rana Riziq is a freelance Syrian journalist.