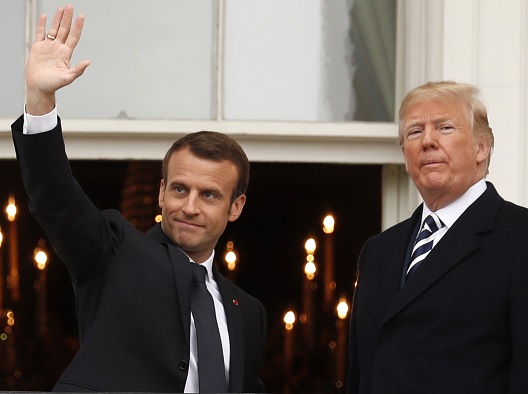 As France's President Emmanuel Macron begins a three-day state visit with US President Donald Trump, their discussions are likely to focus on differences of opinion relating to Syria and Iran's involvement in the conflict.
Rafik Hariri Center for the Middle East experts weigh in on the upcoming meeting between Macron and Trump, their differing views on Syria, and the potential impact of the visit.

Fred Hof, Nonresident Senior Fellow, Rafik Hariri Center for the Middle East
The visit to Washington of French President Emmanuel Macron offers the United States and its oldest ally an opportunity to agree on Syria. France's participation in the recent air attacks on Assad regime chemical facilities bodes well for agreement. President Trump's stated desire to remove American forces soon from the eastern part of the country does not.
Neither chief executive wishes to become embroiled in a violent regime change scenario. Indeed, each has taken the extreme risk-avoidance position that the only Syrian civilians to be protected – and even then, only retroactively – from regime mass homicide are those attacked with chemicals. Very few (relatively speaking) woman, men, and children have been killed with that particular murder weapon.
Where the two leaders appear to part company is on the subject of stabilizing populated areas liberated from ISIS east of the Euphrates River. Trump seems willing to define "victory" (and therefore full withdrawal of American forces) in terms of neutralizing ISIS' military capability. Macron's view coincides with that of Trump's military advisors: "victory" requires setting conditions that preclude liberated areas falling again to extremists, whether Sunni Islamist (ISIS, al-Qaeda) or Shia (the Islamic Republic of Iran).
Where they might find common ground is on a point Trump has made effectively: that whatever is to happen in terms of post-combat "stabilization" in eastern Syria, it must not be the exclusive responsibility of the United States, either in terms of manpower or money.
If Macron wishes to get the positive attention of Mr. Trump, he will offer a contingent of French soldiers and/or gendarmes to serve in eastern Syria alongside American advisors and units contributed by Arab states.
American leadership and "skin in the game" will be vital to any workable, professional ground force coalition of the willing. But if Macron wishes to convince Trump to do the right thing, his chances of doing so would improve exponentially if he brings to the table something more substantial than frank, friendly advice. French "skin in the game" will be required. Given that Paris was the scene of a particularly bloody ISIS operation, French participation in stabilizing areas liberated from the terror group would seem reasonable. Indeed, it would seem mandatory.
Faysal Itani, Senior Fellow, Rafik Hariri Center for the Middle East
As far as I can tell, there is a chemistry of sorts between these two presidents. Normally I would not pay too much attention to this because personal relations with a foreign leader do not usually decide things as important as US policy in the Middle East. I would pay a little more attention in this case because President Donald Trump does seem to value personal relations and trust more than others (as we can see by the way this White House works).
So, with that in mind: France has always been forward-leaning on the issue of Syria, and generally more belligerent. It was the most invested in the strike that almost happened after the regime's use of chemical weapons in August 2013. And Macron has pressured Trump (with unclear success) to commit to a long-term US military presence in post-ISIS Syria, not least to keep Iran from filling the vacuum should Trump withdraw. This conversation will continue in Washington, even as the Trump administration appears mired in a debate about how long to stay in Syria, in what form, and to what end.
We know what the Trump administration has been laser-focused on 'rolling back' Iranian influence in the Middle East, and that important figures such as Mike Pompeo and John Bolton are belligerent toward Iran. Iraq is already dominated by the Iranians, but Syria is the last truly-contested state. US supporters of an extended American deployment in Syria often highlight that a withdrawal would simply cede that territory to Iran. President Macron is certainly aware of the dimensions of this debate, and of the centrality of the Iran question. It's not surprising that he would try to emphasize it. But at the end of the day the president has his own isolationist tendencies that may leave little room for an indefinite US presence in Syria, even if that means Iran gains more territory.
Aaron Stein, Senior Fellow, Rafik Hariri Center for the Middle East
The recent US missile strikes in Syria will probably be discussed, but only as an introduction to a broader set agenda that Paris probably would like to address: American intent for Syria.
France has troops deployed in Syria, alongside the United States, and has emerged as an important supporter of the Syrian Democratic Forces. I think the French position is entirely self-interested, and related to their elevation of the ISIS threat, as the key driver of Syria policy. Thus, I would expect French President Emmanuel Macron to raise with US President Donald Trump the future of the American presence in Syria. The intention, I believe, is to gain more clarity on the Trump administration's Syria policy and the future of the American military presence in Syria.
The French are a tier one US ally and clearly it is important for the president to convey his thoughts on Syria and explain his thinking on the issue. At the very least, this is important for alliance management. It also will help the two countries get on the same page, as it pertains to the ISIS fight, and also about the next steps in the conflict — and whether there is room for deeper Franco-American collaboration on shared interests.