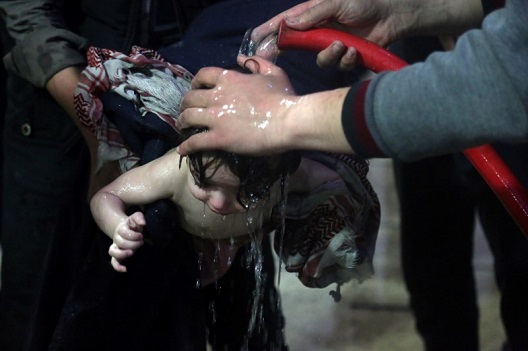 Saturday, April 7, 2018
7:45pm EST: A suspected chemical gas attack targeted the last opposition-held town of Douma, in eastern Ghouta on April 7—the eighth chemical attack since US President Donald Trump took office.
The Syrian Civil Defense rescue workers recorded 42 fatalities as of Sunday, while the Syrian Observatory for Human Rights said the death toll reached 80, including 40 who reportedly died from suffocation. Syria, Russia, and Iran all denied reports of the attack, calling it a fabrication.

A statement by the civil defense forces said that more than 500 people, mostly women and children, were brought to medical centers, exhibiting symptoms including difficulty breathing, foaming at the mouth, and signs of oxygen deprivation. A doctor in Ghouta quoted by the Union of Medical Care Organizations, said patients were coughing blood, a symptom not seen in previous chemical attacks.
Here is one of the horrifying videos coming out of Douma in Syria tonight showing the aftermath of what seems to be a chemical gas attack. These people were hiding underground from the bombing, leaving them more vulnerable to gas. pic.twitter.com/mm9jgBZ4V8

— Liz Sly (@LizSly) April 7, 2018
Sunday, April 8, 2018
4:30am EST:
Syrian state media
announced
on Sunday that its airbase in Homs withstood a missile attack that killed fourteen, including some Iranian nationals. US officials
denied
involvement.
5:00am EST: Jaish al-Islam, the last opposition group present in Eastern Ghouta, struck a deal with the government to hand over Douma, the last town under their control, and allow armed opposition fighters safe evacuation out of Ghouta to another opposition-controlled district.
6:55am EST: The European Union also issued a statement appealing to Russia and Iran to "use their influence to prevent any further attack and ensure the cessation of hostilities and de-escalation of violence."
7:15am EST: Turkey, which has been cooperating with Assad's allies, Russia and Iran, called for international action to prevent what it called "war crimes and crimes against humanity."
9:00am EST: Following the attack, jarring images and videos of the numerous casualties from the attack surfaced, much of them including young children. President Trump took to twitter to condemn the attack, holding Russia, Iran, and Syrian President Bashar responsible for the attack, saying there will be a 'big price to pay.'
Many dead, including women and children, in mindless CHEMICAL attack in Syria. Area of atrocity is in lockdown and encircled by Syrian Army, making it completely inaccessible to outside world. President Putin, Russia and Iran are responsible for backing Animal Assad. Big price…

— Donald J. Trump (@realDonaldTrump) April 8, 2018
….to pay. Open area immediately for medical help and verification. Another humanitarian disaster for no reason whatsoever. SICK!

— Donald J. Trump (@realDonaldTrump) April 8, 2018
Trump also placed blame on former President Barack Obama:
If President Obama had crossed his stated Red Line In The Sand, the Syrian disaster would have ended long ago! Animal Assad would have been history!

— Donald J. Trump (@realDonaldTrump) April 8, 2018

The gas attack comes days after Trump announced the reversal of his administration's policy toward Syria—pushing for the withdrawal of US forces from the country. Many analysts believe that this reversal in policy emboldened Syrian President Bashar al-Assad to carry out the strike with little, or only superficial repercussions. By the end of March, President Trump ordered the State Department to suspend more than $200 million in funds for recovery efforts in Syria while the administration recalculated their desired role in the war.
11:40am EST: Syria and Russia later accused Israel of carrying out the airstrike on the airbase but Israel has not issued a public response.
7:30pm EST: Two unidentified US officials confirmed to NBC News that Israel was behind the airstrike on the Syrian airbase and that the US was informed of the Israeli airstrike in advance.
Israel carried out the strikes against Syrian base, two U.S. officials tell @NBCNews, and the US was informed of the forthcoming strikes in advance. https://t.co/FKrc4V1ZM1

— NBC News (@NBCNews) April 9, 2018

Monday, April 9, 2018
5:45am EST: The Lebanese army put out a statement soon after stating that four Israeli warplanes violated Lebanese airspace, flying toward the Syrian border.
8:00am EST: On Monday, The UN announced it will hold an emergency meeting to address the chemical attack in Syria.
1:00pm EST: President Trump announced in a Cabinet meeting that he would make a decision on how to respond within 24 to 48 hours. Trump said he would decide along with military leaders on who exactly is responsible for what he described as a "heinous attack" on innocent Syrians, saying "We cannot allow atrocities like that." When asked about whether he would utilize military action, he stated that "nothing is off the table."
It would not be the first time Trump used military action in response to Assad's use of chemical weapons. Just over a year ago, Trump ordered a military response to the Assad regime's use of sarin gas against civilians in the town of Khan Sheikhoun, killing more than 80 civilians. Trump ordered the military to fire 59 Tomahawk missiles on the Syrian regime's al-Shayrat airfield in retaliation. Trump's earlier statements could raise the prospect of a similar strike as an act of reprisal to this weekend's events.
In response to President Trump's remarks in the Cabinet meeting, Russia warned the US of "grave repercussions" if it decides to act militarily against Assad.
Tuesday, April 10, 2018
4:30am EST: The Russian military have been jamming US military drones flying over Syria, heavily affecting American military operations.
6:30am EST: The top advisor to Iran's Supreme leader stated that Israel will be met with a 'response' to the strike on the Syrian airbase that killed 7 Iranians.
9:00am EST: Syria invites the Organization for the Prohibition of Chemical Weapons (OPCW) to investigate allegations of the chemical attack in Douma after making its own investigation with Russian advisers that found no chemical residue was found and no civilians were taken to any hospitals in the area. It is unclear if evidence was tampered with since the regime went into the area.
11:40am EST: Reports that a US Navy destroyer armed with sixty tomahawk missiles is in position off the coast of Syria, although the Pentagon denies this. Analysts claim the US dispatched other aircraft carriers as well.
In addition to USS Donald Cook, the U.S has now dispatched USN Carrier Strike Group 8 to the Mediterranean/#Syria:

– USS Harry Truman aircraft carrier
– Carrier Air Wing VII
– USS Hué City missile cruiser
– x6 Arleigh Burke-class Destroyers
– x1 Oliver Hazard Perry-class frigate pic.twitter.com/5C0tyDlTkO

— Charles Lister (@Charles_Lister) April 10, 2018

12:00pm EST: Trump cancelled a planned trip to Latin America, citing the Syrian crisis as the reason, with press secretary Sarah Sanders saying "The president will remain in the United States to oversee the American response to Syria and to monitor developments around the world,"
3pm EST: The United Nations Security Council meeting on Tuesday failed to approve three different draft solutions on the chemical weapons attack. One by the U.S. was vetoed by Russia, while two proposed drafts written by Russia failed to get a minimum of nine votes.
4:30pm EST Russia threatened to shoot down any U.S. missiles fired at Syria and target the launch sites in a broadcasted statement from Russia's ambassador to Lebanon, Alexander Zasypkin.
Wednesday, April 11, 2018
5:30am EST: According to the World Health Organization, as many as 500 people seen at medical facilities exhibited symptoms consistent with exposure to toxic chemicals as a result of the suspected chemical attack last week in the town of Douma.

Five-hundred patients showed symptoms of chemical attack in Syria's Eastern Ghouta – World Health Organization https://t.co/KuKVRceNTZ

— BBC Breaking News (@BBCBreaking) April 11, 2018
7:00am EST: This morning, President Trump responded to Russia's threat by tweeting that missiles "will be coming," foreshadowing possible military action in Syria
Russia vows to shoot down any and all missiles fired at Syria. Get ready Russia, because they will be coming, nice and new and "smart!" You shouldn't be partners with a Gas Killing Animal who kills his people and enjoys it!

— Donald J. Trump (@realDonaldTrump) April 11, 2018

In a follow-up tweet, President Trump softened his rhetoric saying that there was "no reason" for the US's worsening relationship with Russia:
Our relationship with Russia is worse now than it has ever been, and that includes the Cold War. There is no reason for this. Russia needs us to help with their economy, something that would be very easy to do, and we need all nations to work together. Stop the arms race?

— Donald J. Trump (@realDonaldTrump) April 11, 2018
While the possibility of US retaliatory airstrikes against the Assad regime grow, the target of those attacks– whether they also include Russian or Iranian marks– is still undetermined.

Thursday, April 12, 2018
7:15am EST: On Wednesday, President Trump warned Russia to "get ready" and that missiles "will be coming, nice and new and smart." President Trump's warning appeared to publicly convey military plans, a move that the President severely criticized former President Barack Obama for. This morning, US President Donald Trump attempted to prompt uncertainty regarding the timing of potential airstrikes against the Assad regime, a day after signaling an attack was imminent:
Never said when an attack on Syria would take place. Could be very soon or not so soon at all! In any event, the United States, under my Administration, has done a great job of ridding the region of ISIS. Where is our "Thank you America?"

— Donald J. Trump (@realDonaldTrump) April 12, 2018

1:48pm EST: Two U.S. Officials annouce that blood and urin samples from the victims of Saturday's attacks tested positive for chemical weapons. The samples revealed the presence of both chlorine gas and an unidentified nerve agent.

Savannah Carter is an intern at the Rafik Hariri Center. Yousuf Eltagouri is an intern at the Rafik Hariri Center. Follow him on Twitter at @yousufeltagouri