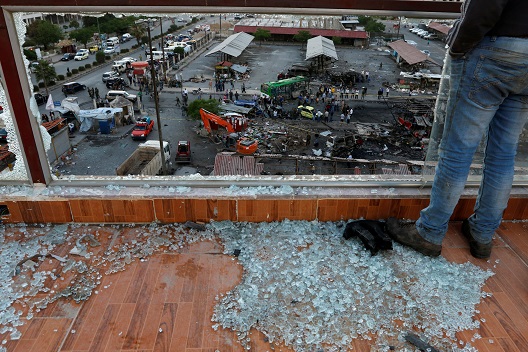 Lawlessness is a major problem in Assad regime-held Syrian cities, especially those on the coast. This is despite the large number of security agencies that control those areas, along with armed militias that commit daily abuses against civilians and government institutions—violations the government ignores as it relies on the militias' continued support. Such lawlessness raises questions over the regime's ability to control the areas it holds and whether it can still be thought of as part of the solution in Syria.

The deteriorating economic situation in these areas, resulting from the regime's inability to provide for the needs of their inhabitants, especially Alawites, is the main reason for the rising crime rate there. Latakia residents say this appears to be a deliberate policy; the regime appeases militias that fight alongside it by failing to act against them and allowing them to benefit from such lawlessness.
One of the worst results is the sense of society being ripped apart in these areas, most notably manifested in theft and armed clashes among families. A large number of crimes are committed every month, and the regime does little to stop them, resulting in the rise of local Alawite gangs that steal and carry out kidnappings to extort well-off merchants. There are even women in these gangs, along with teenagers seeking educational qualifications using the same methods as the gangs—extortion and murder.
On May 20, the body of retired officer Bassam Ibrahim was discovered, shot in the head, on the Jableh-Banias road, close to Jableh's Nour Hospital. Ibrahim had left his house in Jableh to go walking on May 18 and was abducted in a residential area. On May 15, the body of a young man called Hussam Nimr Shahin was found. Originally from the area of Halaqim and Misyaf, he was killed with a bullet to the head and placed in the trunk of a car then left on Road 60, close to the al-Atiqi garage in Homs city.
On May 11, security forces in Safita city, Homs province, detained a six-person gang that according to initial investigations had been active for a year. The gang held several hostages and was made up of young Alawites from Latakia and Aleppo belonging to the National Defence militia. On May 10, the residents of Latakia's Saliba neighborhood noticed a putrid smell coming from a house close to the Abu Sweis neighborhood. Security forces that entered the house found the dismembered and burned bodies of Mohammad Shariteh and his four-year-old daughter.
On May 9, a dispute between two Alawite families, Mia and Shahwat, in the Blue Beach area of Latakia, escalated into a firefight, leaving Karam Aliya, a local youth, dead. On May 5, thirteen year ol Ahmad Salukha from the Murtaqala district of Latakia was killed by local youths he knew, including relatives. Salukha was hanged then stabbed multiple times. According to their confessions, his killers justified the act by saying they had wanted to abduct him and obtain a ransom from his rich father. The killers, aged no more than seventeen, said they needed the money to illegally buy high school leaving certificates.
On May 3, a girl in al-Farous district of Latakia insulted the president, angering regime supporters, despite the fact she was Alawite. A member of the security forces threatened her and told her not to repeat the insult, but that provoked her and she added more insults until her family intervened. The quarrel turned into a firefight with guns and grenades, leaving two dead and five wounded.
On April 25, a military security branch in an Islamic endowment housing project in Latakia managed to free Jihad Marwan Awaikeh, a young Christian who had been abducted for ransom by an armed gang in the neighborhood.
On April 23, Afra Najeeb, a young woman from the Zira'a district of Latakia disappeared from the Shanata cafe on the city's corniche. Nothing has been heard of her since.
On April 3, a child was killed when a bomb he was playing with exploded. Children can buy hand grenades from security forces for between 4000 and 6000 liras (up to $10). These bombs can be obtained from Zira'a and the al-Ramal al-Shimali provided the buyer is from an Alawite coastal village. Anyone on the run from the law can hide out in the coastal villages for years without security patrols coming to search for them.
This deterioration of security has forced Sunni families in coastal areas to consider leaving for Turkey or Lebanon, as opposition-held areas also suffer from lawlessness and are not a good option. This lawlessness is caused by many actors, most prominently Hay'at Tahrir al-Sham.
The lack of security shows the regime's inability to control the areas it holds. Until today, the regime has not passed any laws banning the indiscriminate spread of weapons. Any young man from the Alawite sect can easily obtain a weapon, especially in the coastal city centers, which have not seen any military operations. The regime, for its part, is not serious about tackling this lawlessness because it receives considerable income from Alawites and militias involved in it.
Such developments in the coastal cities are not only a reflection of the political failure of Bashar al-Assad's regime due to its inability to tackle security issues in the areas it controls; they are also a reflection of social failure. There is little trust to underpin social relations amid fear of both regime forces and militias. Nobody can help a displaced person or give first aid to a child in the street due to fear for their own safety. People close their doors early, usually just after the dusk call to prayer, and nobody dares to go out after that time except for emergencies.
The regime's failure to impose security in the areas it controls and the fact it allows allied militias to commit crimes show that proposed solutions to the Syrian crisis which allow Assad to stay will not bring an end to the crisis. The regime is unable to preserve security in the areas it controls and therefore cannot govern effectively—not to mention all the crimes it has committed since the start of the Syrian revolution.
Saleem al-Omar is a freelance journalist who has written for Al-Jazeera, Alquds Alarabi Newspaper, Arabi 21, and Syria Deeply.