Damascus's escalations in the rebel-held Idlib province in northwestern Syria in August and early September preempted tensions between the Syrian President Bashar al-Assad and his Turkish counterpart Recep Tayyip Erdogan. While Turkey stated clearly its opposition to any action that would send additional hundreds of thousands of refugees to its borders, Syrian allies Iran and Russia adamantly supported Damascus's mission of ousting all remaining opposition enclaves inside Syria.The Syrian regime's intentions to strike Idlib were met with intense international disapproval, with UN Secretary-General António Guterres estimating hundreds of thousands of people could flee their homes amid the wreckage, and warning of chemical weapons from the Assad regime. The UN estimated that three million people in Idlib could be affected by a potential government offensive in the area. As Turkey amped up its deployments of reinforcements and tactical defense structures in preparation for an assault on Idlib, Erdogan repeatedly warned the Russian and Syrian governments of the dangers of a subsequent attack, advocating fiercely for a ceasefire and disarmament of the opposition groups in the province instead.
In an effort to purge the last remaining armed opposition groups, the Syrian regime, alongside Russian fighter jets, resumed its campaign of air raids, shelling, and barrel-bombing in northern Hama and southern Idlib provinces in early September.
Timeline of Events:
September 7: The Tehran summit convened days after the resumption of attacks in Idlib, where Erdogan, Russian President Vladimir Putin, and Iranian President Hassan Rouhani discussed the military intervention in Idlib, the likelihood of humanitarian disaster, and the possibility of a ceasefire agreement. Putin soundly rejected the ceasefire proposal, stating, "we consider it unacceptable when, under the pretext of protecting the civilian population, [Turkey and the international community] want to withdraw terrorists from being under attack, as well as inflict damage on Syrian government troops." Later that evening, back and forth shelling between a military faction in Idlib and the Syrian army resulted in eleven deaths and at least twenty injured in northwest Hama.
September 10: The US, British, and French governments all agree to respond to any instance of a chemical weapons attack, promising a much stronger response than had been used earlier this year.
September 13: Turkish military reinforcements flood its twelve observation posts surrounding Idlib, bolstering the deployment of armored and gun-mounted vehicles and tanks, as well as hundreds of additional Turkish soldiers.
September 17: At a joint press conference in Sochi, Putin stated, "We have agreed to create a demilitarized zone between the government troops and militants before October 15. The zone will be 15-20 kilometers wide, with full withdrawal of hard-line militants from there, including Jabhat al-Nusra." The Turkish President added, "the territory controlled by the Syrian opposition must be demilitarized and the Syrian opposition that is holding these territories will remain there. But together with Russia we will make efforts to clear these territories of radical elements." Russian and Turkish troops will patrol the buffer zone, and Turkish forces will fortify their existing twelve observation posts in Idlib.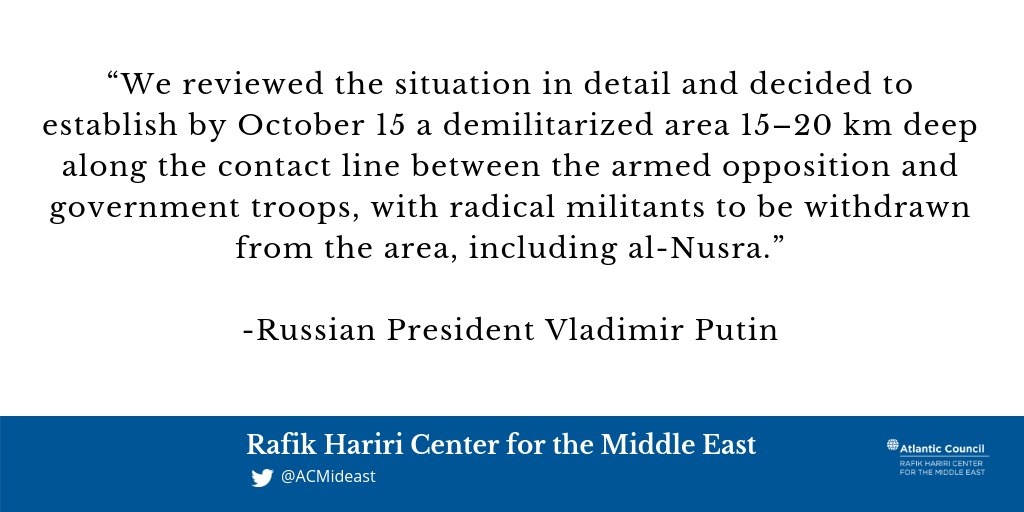 Though moderate opposition groups can remain in areas designated for the demilitarized zone, Putin's commitment to the agreement was contingent upon Erdogan's promise to disarm radical fighters in Idlib by October 15 and remove any personnel from Hay'at Tahrir al-Sham. It is likely that Erdogan's protection of rebel forces in Idlib from Russian and Syrian air power could encourage some degree of cooperation among opposition groups in the demilitarization period to come.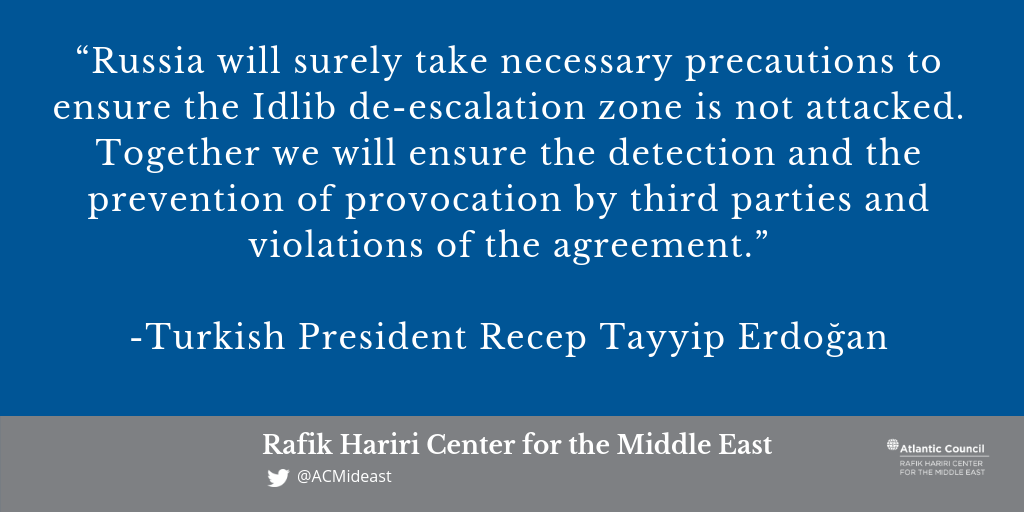 September 17, 8:34 pm EST: Foreign Minister of the Islamic Republic of Iran, Javad Zarif, tweeted his support for the agreement, the cooperation between Iran, Russia, and Turkey, and for the successful use of diplomacy.
Intensive responsible diplomacy over the last few weeks-pursued in my visits to Ankara & Damascus, followed by the Iran-Russia-Turkey Summit in Tehran and the meeting is Sochi-is succeeding to avert war in #Idlib with a firm commitment to fight extremist terror. Diplomacy works.

— Javad Zarif (@JZarif) September 18, 2018

September 18, 10:24 am EST: UN Secretary-General António Guterres released a similar statement, and urged all parties in Syria to ensure safe and unimpeded humanitarian access to all areas of the country. The Syrian government also released a statement in support of the demilitarized zone.
Military Mishaps in Latakia
Despite the tentative good news from Sochi, tensions escalated Monday night when Syrian government forces accidentally shot down a Russian military plane about 35 kilometers from its Hmeimim airbase in Latakia, amidst chaos from an Israeli air strike in the area. Earlier in the night, airstrikes in Latakia were reported to have struck the state-owned Organization for Technical Industries with ties to Syria's Ministry of Defense and its chemical weapons program. The Russian Il-20 aircraft crashed, killing all fifteen personnel and crew members on board, after Syrian air defenses responded to the Israeli attack, but missed the four Israeli F-16 jets hitting the Russian aircraft instead.
#Syria state TV shows the HQs of the Technical Industries Agency in #Lattakia in flames after being targeted by missiles in "an aggression from unknown source" pic.twitter.com/UsOlspySbn

— Zaid Benjamin (@zaidbenjamin) September 17, 2018

Timeline of Events:
September 17, 3:00 pm GMT: Airstrikes struck military locations in Latakia, Homs, and Hama early in the night and in a rare admission Israeli officials concede it was a mission to prevent a weapons transfer to Hezbollah. The pro-regime Syrian news agency SANA reported one of the targets as the Technical Industry Institution in Latakia, southeast of the city is the Russian-operated Hmeimim Air Base and further south is the Russian-leased naval seaport in Tartus.
September 17, 7:48 pm GMT: Russia's defense ministry stated it lost contact with an IL-20 aircraft with fifteen servicemen on board near the Hmeimim air base.
September 18, 2:10 am GMT: Russia blamed the destroyed aircraft on French Navy ship, The Auvergne, which was in the area at the time the IL-20 lost contact with Russia.
September 18, 2:51 am GMT: Colonel Patrik Steiger, a spokesperson for the French military, retaliated to Russia's comment by denying involvement in the disappearance of the Russian military aircraft.
September 18, 4:38 am GMT: @IDFSpokesperson tweeted a statement expressing "sorrow for the death of the aircrew members of the Russian plane that was downed."
September 18, 6:20 am GMT: Russia summoned the Israeli ambassador to discuss the situation. Israeli Deputy Ambassador to Russia, Keren Cohen-Gat, went to the foreign ministry on Tuesday for the meeting.
September 18, 11:11 am GMT: Israeli Prime Minister Benjamin Netanyahu spoke on the phone with Putin to express regret for the death of fifteen Russian crew members. Netanyahu told Putin that Syria was responsible for shooting down the Russian plane.
1 \ BREAKING: PM Netanyahu spoke on the phone with Russian president Putin and expressed regret for the death of the 15 crew members of the Russian plane which was shot down near Syria. Netanyahu told Putin Syria was responsible for shooting down the Russian plane

— Barak Ravid (@BarakRavid) September 18, 2018

September 18, 12:30 pm GMT: US Secretary of State Michael Pompeo expressed sorrow for the death of the aircrew members aboard the Russian aircraft. In the press statement, Pompeo called for peaceful resolutions to the conflicts in the region and referenced UNSC Resolution 2254, which appeals for a ceasefire and political settlement in Syria.
The incident came after a series of Israeli airstrikes reportedly hit various targets in Syria over a period of a few days, including an Iranian arms shipment facility near Damascus International Airport. Reports indicated that the attacks were intended to prevent the weapons from entering Hezbollah's control in Lebanon.
The incident demonstrates the sensitive dynamics between countries with competing interests in Syria. Mr. Staffan de Mistura, the UN Secretary-General Special Envoy for Syria, called upon all parties in Syria to refrain "from military actions elsewhere that would only exacerbate an already complex situation." Following initial reports of the Il-20's downing, pro-Syrian regime news outlet Al-Masdar News reported that President Putin's Press Secretary, Dmitry Peskov, asserted the crash would not affect the Idlib agreement reached between Russia and Turkey "in any way."
Clara Belk and Daniel Kamlarz are interns with the Scowcroft Center for Strategy and Security's Middle East Security Initiative at the Atlantic Council.
Aisha Han is an intern with the Rafik Hariri Center for the Middle East at the Atlantic Council.