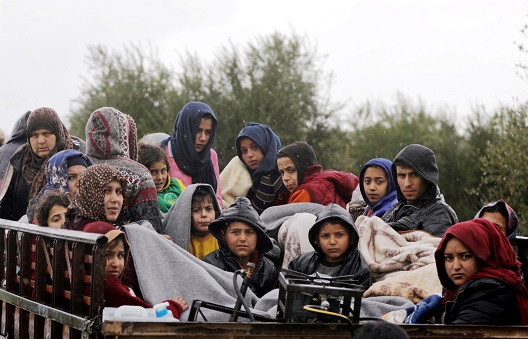 Seven years after the outbreak of the Syrian revolution, several groups now vie for control over Syria. Waves of internal displacement continue to grow in proportion to the battles for control and subsequent territorial divisions. In this context, marriage has become a complex issue, and sexual violence has become a too common yet rarely spoken of issue. Families increasingly fear the unknown fate of their children when marrying members of the regime-allied popular militias, commonly called Shabihas. In Aleppo, the Shabiha there have engaged in sexual violence on a particularly vulnerable group: the displaced youth from other parts of Syria to Aleppo, according to an Aleppo-based lawyer Khalid al-Ali.

"We cannot identify cases associated with sexual violence against men in Aleppo, because the issue itself is taboo in the community," said al-Ali. He attributed the lack of information to a dearth of treatment and rehabilitation centers for sexual violence as well as the families' fear of scandal in the community if knowledge is revealed of a son subjected to an incident of sexual violence. Al-Ali concludes that "parents are afraid of raising a case against a Shabiha member or other perpetrators, just as they fear their child's detention in a juvenile prison under the pending investigation."
In prison, children are also exposed to incidents of sexual violence. A minor charged with petty crimes such as stealing a cell phone can be sent to a detention facility. By the time he leaves, he is likely to have either committed or become the victim of sexual violence.
After a disheartened youth meeting about stories of rape and sexual violence in al-Bab, a town northeast of Aleppo city, a young man approached me. He asked me to ride behind him on his motorcycle and then walk with him to a relative's home in a city recently liberated from the Islamic State (ISIS, ISIL, or Daesh) to the home of one of his relatives. He asked me not to mention my profession in journalism.
We entered the house and greeted its owner. The home appeared recently furnished with a modern fireplace installed. The owner was largely ignorant of the area except for his wife's knowledge as she grew up in al-Bab originally. The father was looking for work after he lost his job in Aleppo, now controlled by the Assad regime and the Shia militias supporting him.
According to the homeowner, these forces have turned Syria into a country of mafias, forcing him to leave Aleppo city and move to al-Bab where his son was a victim of these gangs. "If it were not for my fear of being dragged off by the Shabiha, I would have left Aleppo province entirely," says the father, as he turned to ask his curly-haired son, Asmar, to ask his mother to bring the tea.
"The Shabiha raped my son," he said, pointing to the 15-year-old boy who just left the room, "it happened at a checkpoint in exchange for giving him bread rations." His mother noticed the boy's early return from the bakery, an unusual occurrence. When she asked him why he came home early, he answered that the Shabiha member in Aleppo "Abu Ghaleb" asked the boy to join him in the storeroom before dawn and sleep next to him for 15 minutes in return for providing him with his bread ration quickly. The father did not go into detail and started to stutter.
The father had no choice but to leave his home and move to the nearby city of al-Bab. When asked why he did not report the incident to the media, he replied, "What will the media do? Their priority should be to help stop the bombing." There were no signs of fear or aggression on the face of the boy who brought us tea. He sat near the door of the room and soon left when his father nodded his head for him to leave us. The father explained that he does not want his son to know what happened to him is rape, and hoped he would forget the incident.
When asked about cases of sexual violence against men in Aleppo, he replied, "some poor families allow the Shabiha to abuse their children in return for bread and to make their lives easier. Some families cannot travel outside Aleppo, [because they are] too broke to leave and live elsewhere. Some families have relatives fighting either in the ranks of ISIS or the Free Syrian Army factions. The Shabiha uses these allegiances to exploit families, threatening parents with two options: either comply with their sexual demands or face imprisonment for terrorism."
One al-Bab resident who had been raped surrendered to ISIS to carry out the punishment for sodomy. By ISIS' version of sharia law, thieves—and other criminals—who surrender and submit to punishments through ISIS, such as having a leg amputated, can enter the day of judgement 'cleansed of their sins' and enter into heaven. In this version of sharia law, rape victims, even if they are unwilling, are considered 'unclean' and guilty of sin as well. So, a raped man could enter heaven if he surrenders and accepts punishment by ISIS in order to avoid punishment in hell.
With ISIS in control of the area in 2014, and its implementation of the 'sodomy law,' some of those who were raped in their youth, turned themselves into ISIS to seek punishment to purge themselves of sin in the hereafter. A grocery store owner named Mohammed (a pseudonym for a grocery store owner I met in al-Bab), upon my asking about males who were sexually assaulted, said "one of those sentenced was a young man raped in his youth by his uncle. The uncle threatened to expose the young man's theft from the family shop if he spoke to anyone about the rape. The youth turned himself in, was sentenced, and thrown off of a tall building."
Muhammad al-Shawya, a young man from al-Bab who works in car repairs, described a member of the "civilian" youth (a term that is given to every Syrian who does not belong to any of the parties controlling Syria) by ISIS. Al-Shawya said that the youth's cousin fought with the Free Syrian Army, and one ISIS militant knew it. The militant threatened him with fabricated charges of communicating with the "Sahawat" (a term used by ISIS fighters referring to the revolutionary factions) if he did not have sex with him. ISIS arrested the militant involved and no one knows the whereabouts of this youth today; he disappeared after exposing the story.
In Syria, in general, and in northern Syrian in particular, no official statistics exist on the number of incidents related to male sexual violence; due in part to the customs and traditions of society, as well as the fear of social consequences. Victims of male sexual violence rarely speak of it and when they do, the topic is discussed with sarcasm. Once people focus on the subject and the conversation turns serious in such a way that prevents diffusion or deflection, locals react to the interviewer as if he was a heretic.
No official bodies or civil society organizations monitor and confront this phenomenon in Syria, whether under the pretext of fear or the threat of death and or displacement should a family complain of a specific Shabiha member in Syria. The regime and the employees under its command justify their inaction under the pretext that the country is fighting terrorism and must focus primarily on that fight.
"I cannot compel my patients to inform the security authorities and file a lawsuit against the Shabiha," says a doctor from Aleppo who declined to be identified. He had treated a number of Syrians in Aleppo who were sexually abused by the Shabiha. "It is known in Aleppo that the security authorities commit these acts against those who stray outside of the law. There are no medical and psychological programs and support centers to help a child overcome this ordeal. The first and final losers are the parents; those who fight 'terrorism' are forgiven for all their sins, and there is no recourse for people to confront the Shabiha militant gangs."
Ongoing events in Syria have overshadowed any focus on cases of sexual violence. The international and local organizations on the ground do not devote attention to the issue or build awareness and educate people, prompting some citizens to give themselves up to a terrorist organization. Some of the sex offenders were subjected to ISIS' sharia lessons in mosques. Therefore, the current handling of sexual abuse and violence in the context of a civil war does not incentivize a change in behavior of the perpetrators.
*Some names have been changed to protect the identity of people mentioned.
Khalifa al-Khuder is a Syrian writer and photographer, a former detainee in ISIS prisons, the author of the book "Stories from ISIS prisons in Syria," and winner of the Samir Kassir Award for Freedom of the Press and Media in 2017.