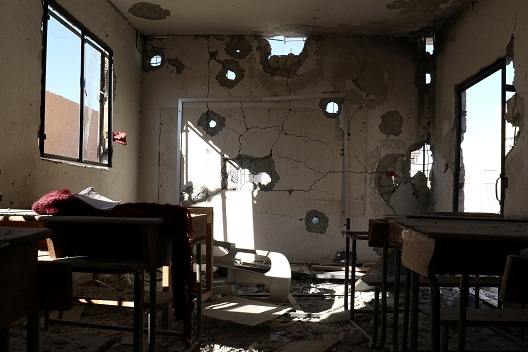 Syria experts cited different motives and reasons behind the recent infighting between rebel groups in northern Syria. Jabhat Fatah al-Sham (JFS), the rebranded former al-Qaeda affiliated Nusra Front, launched multiple attacks against anti-Assad insurgent fractions over the past few weeks.

Motivations varied from ideological struggles between hardliners and pragmatists to a preemptive strategy by JFS to stop rebels-backed offensives. These causes alone – which could explain what happened – fall short of other important factors. Why would Fatah al-Sham attack groups like Ahrar al-Sham, a known sympathizer and an ally of JFS? Why would JFS merge with Nour Al Din Al Zenki, a former CIA vetted group? Were territories seized part of a pre-planned strategy?
On January 24th Fatah al-Sham launched a series of attacks on six rebel factions in Idlib and Aleppo provinces including Alwiyat Suqour al-Sham and Jaish al-Mujahideen. Fatah al-Sham officially accused rebels of seeking to isolate and conspire against JFS at peace talks in Kazakhstan on January 23-24. The group also pinned the increasing number of assaults against JFS on local rebels, by providing coordinates for the strikes. The accused rebel groups announced a merger with the powerful Ahrar al-Sham as a last resort to stop the fight. Fighting did gradually halt for a short period following the large scale merger between rebel groups and JFS in an alliance known as Hay'at Taḥrir al-Sham (HTS) or Levant Liberation Committee.
Some experts amplified reasons stated by Fatah al-Sham for the attacks while others presented it as an ideological struggle. "I think part of this is rooted in JFS' perception of a conspiracy against it with the broader attempts to isolate the group," Aymenn Jawad al-Tamimi, Jihad-Intel Research Fellow at the Middle East Forum, told Middle East Eye. "I have no doubt about the broader attempts to isolate JFS as being a US strategy. And to an extent, you can perceive the effect in the wider [rebel] reluctance to offer JFS condolences for casualties in air strikes," he added.
The attempt by JSF to eliminate the near enemy, however, has not been completely achieved as targeted "enemies" still exist despite their merger with Ahrar al-Sham. The death toll among rebels was also insignificant in comparison to previous attacks, such as the one against Harakt Hazm. This strategy indicates that terminating the enemy is not the main goal.
The reasons for attacks are also seen as a continuation of the fight between hardliners and pragmatists. "Fatah al-Sham is trying to eliminate other Free Syrian Army (FSA) groups. They have largely succeeded in preventing the existence of any strong or independent FSA group. Radical rebel groups have joined Hay'at Tahrir al-Sham, while others were pushed to join the Salafist group Ahrar al-Sham for protection," said Ahmed Hussein, a Syrian activist based in northern Syria.
But this also does not explain why JFS would merge with Nour Al Din Al Zenki — considered a CIA vetted group and received American support until 2015 — while fighting against Alwiyat Suqour al-Sham, which adopts conservative religious ideology close to that of JFS.
The timing of the attacks and the locations captured indicate that competition over resources is one of the main motivations. JFS attacks took place after the fall of Aleppo in December 2016, widely perceived with the approval of Turkey. The significant shift in the position of Turkey towards the Syrian conflict may have scared and pushed JFS toward more hostile measures by securing resources.
El-Dorar al-Shamia, a pro-opposition news outlet, reported that sources close to Jihad al-Sheikh (aka Abu Ahmed Zakour), the General Director of Economic Affairs in JFS who defected on January 2, 2017, confirmed that JFS is going through major financial difficulties. Locals in northern Syria also confirmed the financial difficulties facing JFS. "Everyone knows about the financial difficulties and lack of ammunition that JFS is going through. This problem has been ongoing for months now. Even some of the group members started mentioning publicly that their salaries have not been consistently paid for some time," said Mustafa al-Abdullah, a media activist in northern Syria.
The location of JFS attacks against rebel groups are well planned and target fertile farming areas such as the ones in Atmeh and Jabal al-Zawieh. JFS avoided the main border crossings into Syria from Turkey, which previously triggered Turkish authorities to close the borders. Instead JFS focused on seizing access routes and towns nearby. The group now controls border cities with Turkey, such Danna and Sarmada, and trading corridors for food and fuel with the Kurdish areas such as Daret Azza. Other attacks focused on capturing ammunition stores among which are Jaish al-Islam's warehouses in Baskaba village and Jaish al-Mujahideen's in Hallazoun village, Idlib province.
Some people questioned the whole offensive as a pretext to confiscate weapons and resources. "If the real reason behind the attack is to eliminate those who conspire against JFS then why was the group focusing on capturing the weapons and ammunition of the targeted groups rather than on eliminating their threat," wrote Akil Hussien, a Syrian citizen journalist. "Some people only see the offensive as a looting operation, which is much needed for the newly formed alliance. They need it to secure the weaponry and ammunition shortage they have. They also need to secure enough stockpile for any future restrictions on the group," he added.
On March 2, HTS launched a new wave of attacks against Ahrar al-Sham in Idlib province including Marat Misrin, al-Mastoumeh, al-Ghazal, and Zardana. HTS justified its aggression by accusing Ahrar al-Sham of plotting against the group. But the locations HTS attacked further confirm that the attacks were aiming, among other reasons, to capture weapons and ammunitions. Furthermore, a statement released by Ahrar al-Sham stated the main aim of the JFS attacks is to weaken the group and to capture its resources, occurrences that happen on a regular basis.
The recent JFS attacks against rebel forces should not only be seen through the lens of competition over resources. It is important to pay attention to this motivation to better understand the tactics of the group which in return can help shape the policies targeting them.
Haid Haid is a Syrian columnist, researcher, and Chatham House Associate Fellow who focuses on security policy, conflict studies, and Kurdish and Islamist movements. Follow him on Twitter at @HaidHaid22.