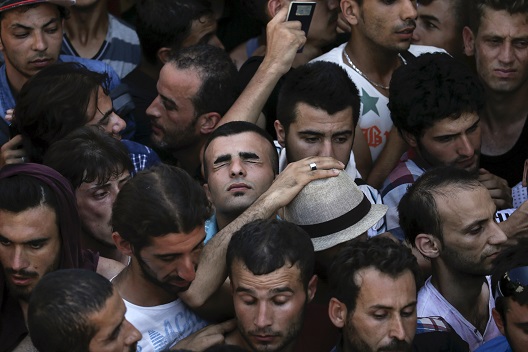 Shahira, 57, from Deir Ezzor knows that there's a widespread refugee fatigue: the numbers—over one million people fleeing by sea to Europe just in 2015—have overwhelmed western countries and publics. She also knows painfully well that—despite the strong efforts of many—Europe's system is failing Syrians like her. Spend just a day in the Greece she's experienced and it is palpable that the current policies are disconnected from the realities on the ground. "Tell me," the matriarch asked me in April. "Are our voices being heard?"

Shahira and her nine family members arrived wet and cold on Lesbos Island on March 19, 2016. It was supposed to be the start of the end, the matriarch told me a month later. First there was the danger of life under Bashar al-Assad, followed by the protests and hopes—and then the regional violence that engulfed the fight and turned Deir Ezzor into a battlefield. Next came the siege, the hunger, the bombing and fighting, the escape to Raqqa, the terror of the so-called Islamic State, the escape to Turkey, the exploitation, and the gamble on death or Europe across the Mediterranean.
And now this shock: Greek authorities processed Shahira and her family, on March 21 two days after they arrived and a day after the implementation of the controversial EU-Turkey deal intended to cut the maritime flow of refugees by criminalizing their passage. They are stuck without the right stamp in legal limbo at the Kara Tepe center on Lesbos. Shahira knows it is comparatively better than the nearby closed Moria detention center where new arrivals are now detained—or shipped back to Turkey. "It's Guantanamo," she likened it, having initially been processed there.
Still, the family's options are dire: there's a son already in Germany, but once they go through the paperwork it will likely take years for cash-strapped Greece to process their asylum request for relocation. In the meantime, the borders they once hoped to escape through remain closed as reports out of Moria remain dire, Athens fills with homeless refugees, a humanitarian crisis boils in the north at Idomeni, and rumors and mistrust swirl over the new military camps being built for the fifty thousand, and growing, people burdening an already struggling Greece.
"It's the market of luck," Shahira, dressed in a bright white hijab and donated clothes, told me. Beside her sat her daughter, who's back still burns from bomb wounds they can't afford to treat. "What should I do? We are in Europe?"
Syrians like Shahira represent the realities of Europe today: they are trapped in Greece and unable to safely and legally leave because of the EU-Turkey deal. Refugees often do not want their pictures taken—"I don't want my family seeing me like this on Facebook," Affaf, 27, from Raqaa said—they are conscious that people are quick to pass around their images while politicians reduce their lives and rights to political talking points and empty promises.
Like with Syria's war, news reports and politics often depict each twist of the refugee trail as a big mess indistinguishable from the next. But constant policy and legal changes have made it difficult for aid agencies to plan their care and left refugees endangered and caught in information voids. Last summer, shifting coast guard rescue points by authorities and registering refugees all over the Greek islands, made it difficult for NGO's to provide consistent care, explained Jane Waite of the International Rescue Committee. Then borders started to periodically close and restrict by nationality. Soon new fronts opened as the European Union balked at creating a comprehensive approach.
On March 9 Macedonia completely shut its border with Greece, cutting off access to the Balkan route to Germany and western Europe. On March 20 came the EU-Turkey deal, turning Moria into a detention center for refugees and sanctioning the return of asylum seekers to Turkey. Tens of thousands of people, who planned to be only days in Greece, found themselves undeterminably stuck. The Idomeni camp metastasized to around 12,000 people, while resources dwindled and people could only keep faith the border would re-open. "In this case, it's basically impossible to plan anything for the future," said Emmanuel Massert of Doctors Without Borders, which has had to rent land from Idomeni's owner just to place necessities like portable washrooms in the informal camp. Then as NGOs scrambled to shift from transit to stationary care, UNHCR and others pulled their services from Moria to protest the illegal detention of asylum seekers. In the background, Greek military and local authorities started to convert old farms and barracks into formal camps—primarily still closed to aid workers and journalists—to provide for part two of Europe's refugee crisis.
For Greece, it is also an implausible expectation. Greece has been processing about 45 asylum requests a day, which at this rate would take twenty years to complete, Waite said. Part of the problem is that under the EU's austerity plans the government cannot hire more people to meet asylum needs. Unemployment is already rampant in Greece and most Syrians never intended to stay; now they are slowly beginning paperwork anyway. That is when they can reach UNHCR at all. Greek authorities have set up a system where people have initial interviews by Skype—but the line is always busy and Internet access expensive and often intermittent. The European Union pledged to send more staff to Moria, but has barely done so yet. It also agreed to resettle 160,000 refugees from Italy and Greece, the latter which has barely begun.
Last week, riots and a fire broke out at Moria, reportedly after police hit an unaccompanied child. Conditions inside are dire. The week before that I met a man from Syria there, who thought he would be in Germany by April, not in what he likened to jail. We spoke as he charged his phone on an extension cord connected from a food truck through the tall fence enclosing Moria detention center. Turkey's Turkcell reaches strongest here. He cannot leave and journalists cannot enter the camp under the EU-Turkey deal. Inside, he tells me, fights are ongoing, the food is spoiled, infections are rampant, sleeping quarters overcrowded, and lines for anything essential hours long. People with medical and psychological needs remain locked up with little recourse. Reports circulate of violations of European laws, like children not receiving adequate milk. By the fence, a 17-year-old Syrian woman fanned herself with a piece of cupboard and explained that the facilities do not keep her safe: she isn't comfortable walking around without a male companion, while sleeping is often interrupted by fears for her safety.
Hours north in snake-prone Idomeni, the situation is similarly shocking. "You come from another planet," Abdel Rahman, 39, also from Deir Ezzor, told me while seated in his family's 'house'—a carefully organized section of a larger tent, which houses around 200 people, demarcated by low walls of bunk beds and blankets. Abdel Rahman, his three children, wife, and parents all share this small space. "The last thing we wanted was to leave Syria," he said, his broad frame still stiff. Next to him, his oldest, Sara, 9-years-old, listened in as she leafed through notes from her occasional English class. We would rather die in Syria than live like this, he told me.
Abdel Rahman once rejoiced at escaping war-torn Syrian, but his status as a survivor is now a different kind of burden. "The hardest thing in life is not to have a goal," he said of learning the border had closed. What eats at him is the way the darkest moments are used against the Syrians. They should be the number one priority, he argued. It had become a competition now with the thousands of Afghans and other nationalities, like Moroccans, Iranians, Algerians, and Eritreans, which, along with the Syrians and Iraqis, have made up the bulk of the exodus.
The sentiment that Europe and the west have betrayed Syrians echoes throughout the camps. It is not just that Abdel Rahman seeks the basic essentials that Europe touts—a safe space with schools, a house, and a future—but that his own fate has also long been intertwined with the repercussions of the west's championed wars, markets, rulers, and rights. After two months in Idomeni, and just borders ways from brothers in Germany and Sweden, the shock still burns: "Where is Europe? Making treaties with ISIS and Assad? This isn't Europe… Where is Europe? Europe is finished." Abdel Rahman keeps trying to Skype the United Nations as instructed, but now he thinks, "It's a lie just like the other things the UN has said."
The longer he stays in Idomeni, the more he distrusts the new system. He does not want to go to the new military camps: a neighbor already went and promptly came back, telling everyone in the tent how there were bugs but no doctors and not enough food for the children. That morning in Idomeni, Greek military jets buzzed over the camp, terrifying those who have only known planes like that to drop bombs. The Greek people, Abdel Rahman concluded, have been kind, but what he craves is information. "What can we do?"
Miriam Berger is a journalist and researcher with a Middle-East focus.