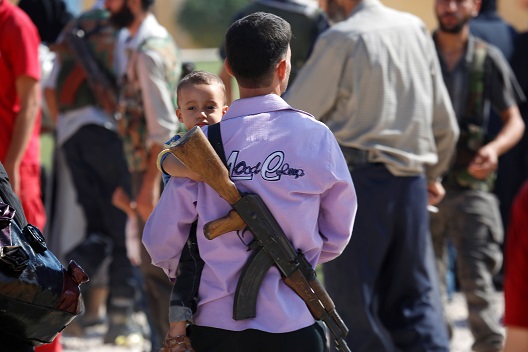 The southern fronts in Syria have come to near standstill: the opposition's dream to topple Damascus is unachievable, while factions in Daraa and Damascus fight amongst themselves. How did this happen when there were such high hopes of victory for factions in the south, especially after they united under an umbrella group called the Southern Front? The Military Operations Center (MOC), which supports the Southern Front, played a significant role in this collapse. The MOC operates under the supervision of several regional and international powers active in Syria. It is headquartered in Amman, and has a sister operations center in Turkey, known by its Turkish initials MOM.

The MOC was founded in the second half of 2013, but only began to develop in 2014. Prior to that, most countries that are now party to the MOC were providing aid to the opposition in southern Syria independently, operating from neighboring countries since the last quarter of 2011. Within Syria, most opposition factions in southern Syria had been working under a semi-organized framework, through loose military councils in cities and provinces. On February 14, 2014 the Southern Front was created, and putting factions under a new name and organizational structure. Regions nearby were the more organized and controlled than many others in Syria. Most factions in the Southern Front were from the Free Syrian Army, or what was left of it. While estimates of the Southern Front's numbers differ, it likely contained about 30,000 fighters. According to local sources, the MOC's role and influence have grown since the Southern Front was established.
The Southern Front rebel groups have gone from fighting the regime to in-fighting and battles to eliminate one another. The shift came after Russia directly intervened in the Syrian war. "Russia and Jordan's armies agreed to coordinate military operations in Syria through working mechanisms in Amman," Sergey Lavrov was quoted as saying to Jordanian Minister of Foreign Affairs, Nasser Judeh, in October 2015. Judeh confirmed this, saying, "There are deep channels of coordination between Jordan and Russia on Syria."
After these amicable meetings and statements, a series of terrorist operations were carried out in Jordan, the last of which was an attack on a border checkpoint near al-Rukban camp near the Syrian border. Jordan started to close its border with Syria to prevent the wounded from entering Jordan, reduce the amount of domestic humanitarian aid being sent to Syria, and restrict the continued imports of weapons and ammunition to the Tell Shihab border crossing alone. Meanwhile, some military factions in Daraa have begun to protect the Jordanian-Syrian border and attack leaders and factions not acting in accordance to the agreement with Russia.
The MOC's, and in particular Jordan's, decisions are being driven by an absence of US leadership. In move of realpolitik, Jordan is coordinating with Russia, one of the main backers of the Syrian regime, even as it houses the MOC in Amman. It fears the possibility that Damascus could fall and the United States will not ensure that forces hostile to Jordan do not take over the capital, or at least protect Jordan from such hostile forces. There have been recent reports in mainstream media that the MOC imposed a red line on certain cities like al-Shaykh Maskin, preventing the opposition from advancing and hindering their success; news of other red lines has been common amongst fighters in the south for over a year. In sum, Jordan is containing the crisis at its doorstep in the only way it can, but in doing so it has settled the fate of the south.
The effects of the MOC's decisions are not limited to the front in Daraa; they also extend to regions in the countryside around Damascus. Russia has focused mainly on the north and central regions of the country since last August, when its intelligence services learned of a plan that Saudi Arabia and Jordan were preparing (through the MOC) to launch a sudden attack through Daraa and Quneitra to bring down Damascus, accompanied by a huge mobilization from Jaysh al-Islam, led by Saudi's man Zahran Alloush. This would have been Saudi's first foothold in Syria, and it would have taken Eastern Ghouta as its primary headquarters. Russia verified their intelligence with information from the field from Hezbollah, which had noted unusual movements around Jobar and Qura al-Asad outside Damascus. Russian planes changed their usual routes from the north to the south, and launched air strikes on several sites in Jobar and Eastern Ghouta. They hit the two towns of Marj al-Sultan and Deir al-Asafeer especially hard, as well as other villages that make up the opposition's supply lines. The leaders' positions were destroyed, a large number of opposition fighters were killed, and thus the opposition's attack was thwarted before beginning.
The collapse of southern rebel factions has led to infighting. Several months after Zahran Alloush was killed in a Russian airstrike, fighting broke out between the two of the strongest factions in Eastern Ghouta: Jaysh al-Islam, a Salafi Islamist faction, and al-Rahman Legion, which primarily relies on the MOC for support. Meanwhile, the Syrian regime's army, backed by the Fatimid Brigade, invaded the Marj district in Eastern Ghouta (the primary food store for the nearly 350,000 civilians in Eastern Ghouta) and displaced nearly 1,500 families to other regions in central Ghouta.
According to local sources, Jaysh al-Islam's ranks include nearly 15,000 fighters, and the group possesses ammunition, 65 tanks, an Osa missile system, and anti-aircraft guns, but lately has focused more on fighting other opposition groups. Jaysh al-Islam began a new round of negotiations with the regime about the timing of a ceasefire for the regions they control in Daraa and the surrounding area. They hosted several important figures from the area, as well as a Russian negotiations delegation in Douma. On April 5, 2015, the National Security Bureau of the Syrian government issued an order (No. 1167/8) to follow up on reconciliation negotiations between representatives from the state and Douma in Russia's presence.
To prevent public opinion in Eastern Ghouta from turning against it, Jaysh al-Islam initiated a few minor battles in the area around Douma and the surrounding countryside, areas it had previously lost.
Throughout last year, the al-Rahman Legion worked to solidify the front near Damascus, orient itself inwards, and control any movement in areas it has military control over. According to an al-Rahman Legion leader, the group formed a huge security structure, composed of nearly 2,800 security troops and 10,000 fighters, after it was joined by Ajnad al-Sham.
The past year's events in Eastern Ghouta, ending with the displacement of residents from Darayya, an iconic city for the Syrian revolution, and talk of a similar situation in Moadamiya, wore heavily on the residents of Eastern Ghouta. They directed a lot of their anger at the armed groups that did nothing.
Some fighters who did not belong to any of these factions managed to band together and form new brigades, to rekindle the revolution in the south, and have more independence from the MOC. Their primary goal is to take back regions under regime control and enable displaced persons to return home. The fighters, who numbered only around 2,500, reached out to local councils in Eastern Ghouta to act as a secure base for them, and provide a social and political cover for the fighters.
On August 30, 2016, Arbin Council released a statement that they agreed to restructure the rebel group Saraya al-Sham and create a new faction under the auspices of Arbin's local council. It stated that the council would not undertake any financial burden related to the faction, that the faction would not be allowed to intervene in civilians' affairs, and that it is required to defend public freedoms and respect human rights under the law and within reason. Four other councils also adopted the same idea around the same time, but their role was limited to administrative coordination, and they did not release statements of their decision or publicize it in the media.
Some activists in the region have worked with military and civil leaders in an attempt to amass a greater number of fighters under bigger civil umbrella entities, like the provincial council. Their offer was well received by several leaders, who ultimately agreed to ensure food support and salaries, at a minimum.
These changes are probably too little and late. The older armed groups are not pleased with these developments. Al-Rahman Legion tried to detain Mufid Abdul Hadi, one of the three men primarily responsible for creating the new factions, an attempt that was met with popular anger. Meanwhile, the regime is tightening its sieges in the south and trying to negotiate the piecemeal surrender of the opposition.
Youssef Sadaki is a research assistant at the Orient Research Center. He previously worked in international and Syrian development organizations in Syria and southern Turkey.