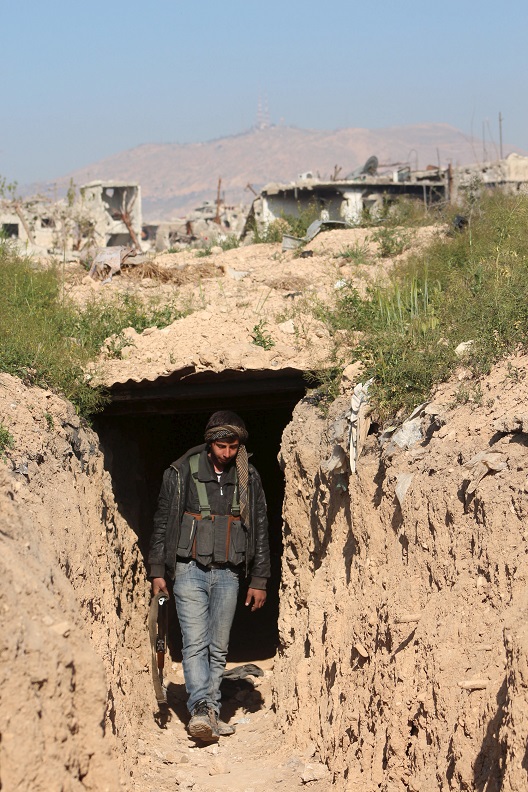 Two and a half years of blockades and at times complete siege on areas Eastern Ghouta have left the local population without essential food, water, electricity, and fuel. As prices rise, merchants and military opposition factions have exploited the situation to profit from the siege, seizing the best and most crucial supplies for battalion members while NGOs and local councils struggle to meet civilians' basic needs.

Eastern Ghouta occupies a large area outside Damascus and, according to Siege Watch, many areas of it remain under siege. Eastern Ghouta is an agricultural area that has historically been the main supplier of vegetables and animal products for the city's population. The vast majority of Eastern Ghouta residents are farmers with considerable experience in the agricultural business.
Yet Eastern Ghouta's fertile land and labor supply are not enough for agricultural production; farmers also need fuel for the irrigation systems that support their crops. By placing Ghouta under siege, the Syrian regime has prevented all types of fuel from reaching the area, limiting residents to fuel that merchants who collaborate with the regime smuggle from Damascus or divert on its way to Damascus. These supplies are sold at exorbitant prices, reaching $16 per liter in 2014, before recently dropping to four dollars, compared to $0.50 in Damascus because the regime subsidizes it.
Muhy al-Din al-Manfush (known as Abu Ayman) is one of the most prominent of merchant smugglers who collaborate with the regime and who play a large role in procuring food and fuel. Abu Ayman is a trader from the city of Mesraba near Douma and continues to run a dairy there. He supplies Eastern Ghouta with food and fuel, relying on personal relations with regime officials to get his supplies checkpoints through the Harasta checkpoint (northeast of Damascus city). He then delivers the products to customers in the city, charging prices up to 20 times higher than in Damascus. He uses some of funds to curry favor with the locals, for instance by paying salaries for teachers and administrators in several areas of Ghouta. Al-Manfush protects his facility with a private militia. Around 1,500 people work in his factory, which also supplies Damascus with cheese and dairy products. Al-Manfush was able to develop his facilities to produce canned and baked goods sold in Ghouta and Damascus.
Military battalions of the Free Syrian Army also played a role in the siege, having dug tunnels from Eastern Ghouta to the Barzeh and Qaboun neighborhoods. Merchants send and receive supply orders on opposite ends of the tunnel. The battalions allow goods to pass through the tunnels in exchange for a percentage of the sale value, which varies by type of good.
Some residents devised a way to produce fuel from recycled scrap plastic extracted from rubble left by shelling and battle (heedless of the dangerous environmental impacts on the animals on which they depend for food and livelihood). This fuel was sold at competitive prices to the fuel smuggled via the tunnels or road checkpoint. However, recycling plastic is no longer necessary because the price of fuel has dropped to only slightly above the Damascus average, and residents say that this is thanks to merchants like Muhy al-Din al-Manqosh.
There is only one way out of Eastern Ghouta: through the Qaboun and Barzeh tunnels. As of this writing, it costs $1,500 per person to leave through the tunnels. The battalions do not permit any medical personnel—doctors, nurses, and pharmacists—to leave Ghouta, even if they sign a pledge to return within a specified period, because the battalions severe need for medical support.
Comparing food prices between Damascus and Ghouta, the differences are no longer as large as they were in 2013 and 2014. However, the lack of real work opportunities creates difficult circumstances for most Ghouta residents who have lost their homes due to continuous regime air strikes and must pay rent for new housing. The medical supplies required by hospitals and ambulances are scarce. For example, a dialysis center was shut down in Eastern Ghouta at the beginning of February 2016, and the first death due to kidney failure was documented on February 6, 2016.
All of these reasons led local councils elected in Eastern Ghouta to seek solutions. Beginning in early 2013, local councils began communicating with international institutions and Arab and international charities, to implement several projects related to agriculture as well as supporting civil society groups to initiate several development projects to help residents become self-sufficient while under siege. For example, agricultural projects have been developed in most areas, benefitting from grants from international institutions.
Local councils experience many difficulties in obtaining the resources needed to carry out activities. I asked the head of a local council relief office, who requested that neither him nor the office be named for security reasons, about the situation. He said: "We live on what the tunnel lords are kind enough to give us and what al-Manfush brings in through the crossing. The prices always vary and this harms us in our dealings with donor organizations who ask for financial studies for any project we want to carry out. Often, prices increase after the project is approved or the grant is delivered. We are working with civil society to provide farmers' with needed tools and fuel so they can return to work and produce food, including vegetables and grains, which could help feed people. But not all Ghouta residents own land they can cultivate, and a lack of youth and no guarantees for labor compensation within most grants reduces workers' productivity to minimal levels."
Ghouta's land has more than enough water, but this represents one of the most dangerous problems facing the area because the water contains germs, bacteria, and viruses. Groundwater in Ghouta is contaminated by sewage, leading to intestinal inflammation, diarrhea, and kidney problems that have caused a number of deaths among children and infants. Projects initiated by the Free Rural Damascus Preservation Council and the USAID Syria Regional Program have been implemented to meet some of the needs for clean water. The project has been able to ensure clean drinking water for 200,000 people at a low cost.
Despite the truce currently in place, the regime continues to prevent food and medical aid from entering some areas, meaning that the conflict to guarantee basic needs will continue. Local councils and the Provincial Council have focused their efforts on institutional and political methods to fight the regime's authority and attempts by military forces in Ghouta to interfere in city affairs and control the supplies, a phenomenon reflected in recent election results in the Douma city council. Through this, the local councils have gained popularity, as the demonstrations against Jaysh al-Islam held in Mesraba to protest the group's arrest of Mesraba local council members evince.
Youssef Sadaki worked in international and Syrian development organizations in Syria and southern Turkey.