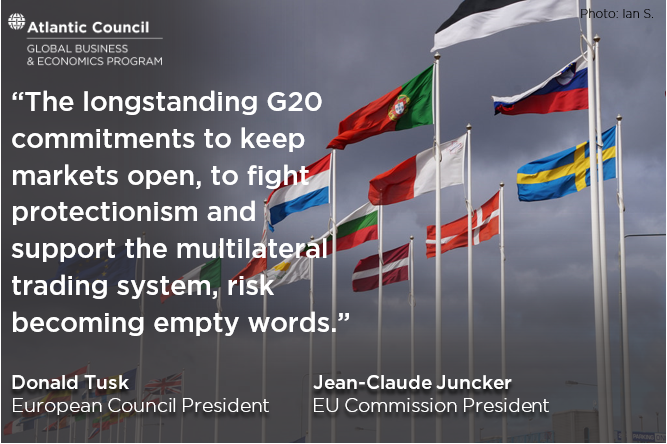 HEADLINES:
G20 Summit: This weekend, world leaders meet in Argentina to develop global policies to address today's most pressing challenges. The agenda focuses on development, fairness and sustainability. For live coverage, click here.
USMCA: President Trump, Canadian Prime Minister Justin Trudeau and Mexican President Enrique Peña Nieto signed USMCA on November 30 at the G20 Summit in Buenos Aires.
GM: GM announced on November 26, that it would cut nearly 14,000 jobs from North America, including closing as many as five U.S. plants in states like Ohio and Maryland that currently assemble poorly selling models. GM directly cited the steel tariffs as a reason in its announcement.
Trade War: President Donald Trump says the administration is likely to go ahead with plans to increase tariffs on China, even as he readies to meet with its leader. Trump also stated if his meeting with Xi Jinping in Buenos Aires does not result in a deal, then he will place tariffs between 10 percent and 25 percent on all remaining imported goods from Beijing, encompassing all of the more than $520 billion worth of goods that the U.S. imports from China. A growing consensus of Wall Street economists suggest that the administration's tariffs could cut US GDP in 2019.
Brexit: President Trump on November 26 said British Prime Minister Theresa May's Brexit plan could limit the UK's ability to trade with the US after it exits the EU on March 29, 2019.
WTO: The World Trade Organization projects that global trade growth will continue to contract, fueled by the consistent decline in export orders. The most recent WTO World Trade Outlook Indicator released on November 26 is at the lowest since October 2016. On November 27, The European Union Trade Chief Cecilia Malmstrom called on Washington to start talking over ways of reforming the World Trade Organization to prevent a paralysis of the international body.
SPOTLIGHT
Will There Be Trade Breakthroughs in Argentina? What To Watch at the G20
By David Wemer
On November 30, global leaders will convene in Buenos Aires, Argentina, to discuss areas of economic cooperation and the world trading system. The tenth Group of Twenty (G20) summit, which convenes the leaders of twenty of the largest economies in the world, will focus on fair and sustainable development, but the numerous side meetings between allies and adversaries alike could provide some of the most significant diplomatic action. For more insights on what the meetings might mean for the WTO, the US-China trade war, and transatlantic relations, read the piece here.

Brexit: The Road Ahead
By Bart Oosterveld and Alvaro Morales Salto-Weis
Bart Oosterveld and Alvaro Morales Salto-Weis of the Global Business and Economics Program provide their insight on the future of Brexit following the extraordinary summit on November 25 wherein European Union leaders approved a draft agreement with British Prime Minister Theresa May. Yet for all recent progress, the turbulence is anything but over. Indeed, the EU summit's mood was rather gloomy, signaling the many hurdles ahead that could still derail an orderly exit. Read more here.

TRADE:
Official Statement: USTR Statement on China's Auto Tariffs, Office of the United States Trade Representative
Official Statement: Treasury Secretary Mnuchin Statement on the Signing of the USMCA, US Department of the Treasury
Analysis: Trump, Trudeau, and Peña Nieto Sign New Trade Agreement: Here's What You Need to Know About the USMCA, Patricia Thomas, New Atlanticist
Analysis: House Democrats Won't Accept USMCA In Its Present Form, John Brinkley, Forbes
Report: Consequences of US Trade Policy on EU-US Trade Relations and the Global Trading System, Peter Chase, Peter Sparding and Yuki Mukai, European Parliament
Report: Estimated Impacts of US Sections 232 and 301 Trade Actions on the US and Global Economies: A Supply Chain Prospective 2018-2030, Terrie Walmsley and Peter Minor, ImpactECON
News: China Pledges to Open up Economy more ahead of G20 Summit, James Kynge, Financial Times
Report: Will Trump Hit Pause on the Trade War With China? Keith Johnson, Foreign Policy
Analysis: Trump-Xi Meeting at the G20: An Opportunity to Calm a Trade War, Ashish Kumar Sen, New Atlanticist
Analysis: Trump's Trade War Collides With Economic Reality, Ben White, Politico
News: Kudlow Says China Must 'Do More' to End Trade War, David J. Lynch, Washington Post
Analysis: The American Casualties of Trump's Trade War, Guy Lawson, New York Times
Opinion: Xi and Trump Should Swallow Their Pride and Join the TPP, James McGregor, Foreign Policy
Analysis: Trump is Correct, May's Brexit Deal Would Make a US-UK Trade Agreement Highly Unlikely, Alvaro Morales Salto-Weis, New Atlanticist
News: Trump Says Brexit Deal May Damage US-UK Trade Sam Fleming and Jim Pickard, Financial Times
News: A First: Leaders of US, Japan, India to Meet on 2018 G20 Sidelines for Trilateral, Ankit Panda, The Diplomat
News: EU to Push for G20 Summit to Support WTO Reform, Jan Strupczewski, Reuters


FACTOID OF THE WEEK:
Atlantic Council Quiz: Talking Trade in Buenos Aires
World leaders descend on Argentina this week for the Group of Twenty (G20) annual summit. While most of the action will happen on the sidelines, can you answer seven questions about the main event? Let's see if you have what it takes to scale the (G20) summit! Click here for the quiz.


GLOBALIZATION:
Blog: The G20 Tango: What to Expect From the Buenos Aires Summit, Stewart M. Patrick, Council on Foreign Relations
Analysis: UN Migration Agreement Leads to Splits in the European Union, Miranda S. Prosdotti, New Atlanticist
Blog: Chart of the Week: Grading the G-20 on its Growth Goals, Helge Berger and Margaux MacDonald, IMF Blog
Press Release: Gender Action Plan: Council Adopts Conclusion, European Council
Blog: Women, Technology, and the Future of Work, Era Dabla-Norris and Kalpana Kochhar, IMF Blog
Blog: Innovative Research Has an Impact Against Gender-Based Violence, Diana J. Arango and Elizabeth Dartnall, World Bank
Analysis: Refuge, Reformed, Alexander Betts, Foreign Policy
Analysis: Emerging Markets' Currencies Have Staged a Comeback, Port Moresby, The Economist
Analysis: The Challenges of Japan's Demography, The Economist

WHAT WE ARE READING:
Opinion: Six Reasons Why 'Norway Plus' is an Unlikely Brexit Outcome, Alex Barker, Financial Times
Opinion: Riots, Low Ratings … Where Did it All Go Wrong for Emmanuel Macron? Marion Van Renterghem, The Guardian
Analysis: Key Global Views About Issues and Leaders in the Spotlight at the G20 Summit, Richard Wike and Moira Fagan, Pew Research Center
Analysis: China's Economy Became No.2 by Defying No.1, Keith Bradsher and Li Yuan, New York Times
Analysis: There Is No Grand Bargain with China, Ely Ratner, Foreign Affairs
Opinion: Why the Trade Deficit Is Getting Bigger-Despite All of Trump's Promises, David J. Lynch, Washington Post

UPCOMING EVENTS:
December 3: China-Latin America Trade at a Moment of Uncertainty: What Lies Ahead in 2019? Atlantic Council
December 3: C. Peter McColough Series on International Economics with Randal Quarles,Council on Foreign Relations
December 4: Future Calling: Infrastructure Development in Central Asia, Atlantic Council
December 5: Stabilizing Syria: Toward a Human Security Framework, Atlantic Council
December 5: Stopping Kremlin Aggression in the Sea of Azov, Atlantic Council
December 6: Turkey's Energy Sector Dynamics, Atlantic Council


Your Newsletter Team:
Marie Kasperek, Associate Director, Global Business & Economics, Atlantic Council
Christina Gay, Intern, Global Business & Economics, Atlantic Council
Raina Hasan, Intern, Global Business & Economics, Atlantic Council
Please send us suggested news stories, opinion pieces, publications, and upcoming events that you would like us to highlight! Email mkasperek@AtlanticCouncil.org with your ideas and suggestions.
The views expressed in this newsletter and linked external articles and content do not necessarily reflect the opinions of the Atlantic Council, its staff, or its sponsors.
© 2018 Atlantic Council
Atlantic Council
1030 15th St. NW
Washington, DC 20005
Subscribe to the New Atlanticist | Unsubscribe from our emails