HEADLINES:
CPTPP: Both New Zealand and Canada moved ahead with ratifying the Comprehensive and Progressive Agreement for Trans-Pacific Partnership this week. The agreement will enter into force 60 days after six countries have ratified the deal. The deal has also been ratified by Mexico, Japan and Singapore, making it five countries to date.
EU: Italy's government has decided to maintain its budget, despite EU calls for it to lower its budget deficit. As a result, the EU this week rejected Italy's coalition government's budget. Meanwhile, a team led by the European Commission's Director-General for Trade Jean-Luc Demarty arrived in Washington DC on Oct. 23 to continue talks with their US counterparts on regulatory issues that could be part of a transatlantic trade deal.
WTO: This week Canada is hosting a two-day meeting with 12 other WTO members to discuss challenges facing the organization and ways how to resolve them. Neither the US nor China was invited.
US: Officials from the U.S. and Ukraine met on Tuesday to discuss steps toward expanding trade of agricultural and industrial goods between the two countries.


UPCOMING:
US-China: President Trump and Chinese leader Xi Jinping agree to talks at G-20 summit to be held on November 29 in Buenos Aires.


SPOTLIGHT
Countering the New Chemical Weapons Norm?
By Samantha Sultoon
The blatant, increased use of chemical weapons, most notably by Syria, Russia, and North Korea, is slowly shifting global norms with regard to chemical weapons. Strategic international engagement, led primarily by the British and French governments with support from the U.S. and like-minded allies, is slowly mounting an effort to halt this shift and reset global norms.
Already, these allies have successfully facilitated the establishment of a trifecta of response mechanisms, to include sanctions, an attribution mechanism, and an information sharing structure. The outstanding questions now are: if and how these new tools will be deployed, and whether they will be effective. Read the full analysis by Atlantic Council fellow Samantha Sultoon here.

TRADE:
USTR Statement: Joint Statement by US Trade Representative Robert E. Lighthizer and Philippine Secretary of Trade and Industry Ramon M. Lopez, Office of the United States Trade Representative
Press Release: Joint Communiqué of the Ottawa Ministerial on WTO Reform, Global Affairs Canada
Report: Crisis in the WTO: Restoring the Dispute Settlement Function, Robert McDougall, Centre for International Governance Innovation
Opinion: How to save the WTO from Washington and Beijing, Editorial Board, Financial Times
Opinion: Trump's Threat to Leave the WTO Could Be a Saving Grace,Shawn Donnan and Bryce Baschuk, Bloomberg
Analysis: The Trade War Has Claimed Its First Victim, Arvind Panagariya, Foreign Policy
News: US Goods Trade Deficit Widens to Largest Level on Record, Federica Cocco, Financial Times
Analysis: Trump's Bailout for Farmers Hit by Trade War Will Also Benefit Chinese Companies, Alexia Fernandez Campbell, Vox
News: In Win for Trump, Merkel Changes Course on US Gas Imports, Bojan Pancevsk, The Wall Street Journal
Analysis: Crossed Wires: Why the US and China Are Struggling to Reach a Trade Deal, David J. Lynch and Gerry Shih, Washington Post
News: Larry Kudlow Accuses China of Refusing to Engage on Trade, James Politi,Gillian Tett and Sam Fleming, Financial Times
News: Mnuchin Open to Change in Currency Test as U.S. Spars With China, Mohsin Saleha, Bloomberg
News: Mnuchin Dismisses Risk of Contagion from China's Economic Slowdown, Lesley Wroughton, Reuters
Opinion: Whether its NAFTA or USMCA, Americans Are Better Off When Trade Barriers Are Lifted, Alison Acosta Winters, The Hill
News: India Plans Trade Deal Talks to Boost Exports to China, Shruti Srivastava, Bloomberg
Opinion: Vietnam Was Set for Reform Until Trump Cancelled a Trade Deal, Editorial Board, Washington Post
Analysis: If Nothing Is Achieved Who Pays for the Brexit, Michael Huther, Matthias Diermeier, Markos Jung and Andrew Bassilakis, German Economic Institute
News: CPTPP Ratification Process Advances, With Possibility of Taking Effect in Early 2019, International Centre for Trade and Sustainable Development


FACTOID OF THE WEEK: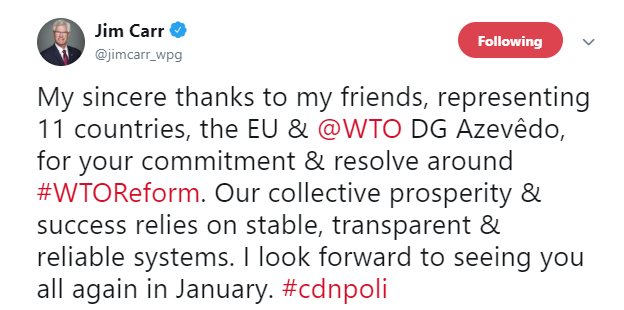 Did you know… that developing countries' share in global trade could grow from 46 per cent in 2015 to 57 per cent by 2030?? Find out more in the WTO's World Trade Report 2018.

GLOBALIZATION:
Report: Young Women in Peace and Security: At the Intersection of the YPS and WPS Agendas, UN Women
News: U.S. GDP Grows Above-Forecast 3.5% on Consumers, Inventories, Katia Dmitrieva and Sho Chandra, Bloomberg
Opinion: Populists Are Globalists, Too, Quinn Slobodian, New York Times
Analysis: Platform Economy – How Companies Can Drive Inclusive Growth, Henriette Kolb, Council on Foreign Relations
Opinion: The World's System for Resettling Refugees Benefits the United States, Denis McDonough and Ryan Crocker, Foreign Policy
Blog: 5 Ways to Do Better Post-Disaster Assessments, Joe Leitmann, The World Bank
Blog: The United Nations by the Numbers, Chandler Green, United Nations Foundation
WHAT WE ARE READING:
Report: Which US Communities are Most Affected by Chinese, EU, and NAFTA Retaliatory Tariffs? Joseph Parilla and Max Bouchet, Brookings Institute
Analysis: Strong Economy Draws Women into US Labor Force, Harriet Torry, Wall Street Journal
Poll: Midterms Mindset: What Do Voters Care About, Politico Pro
Analysis: What is the Magnitsky Act? How Does it Apply to Khashoggi's Case? Ola Salem, Al-Jazeera
News: State Department Considering Public Diplomacy Overhaul, Robbie Gramer, Foreign Policy
Report:Delivering the Goods: E-Commerce Logistics Transformation, World Economic Forum
Chart: Chart of the Week: Government Debt Is Not the Whole Story: Look at the Assets, IMF Blog, International Monetary Fund

UPCOMING EVENTS:
November 1: A New Brazilian Economic Order? The Post-Election Outlook, Atlantic Council
November 7: How Iran Will Cope with US Sanctions, Atlantic Council
November 8: Sanctions Discussion with Former Treasury Secretary Jacob J. Lew, Atlantic Council
October 31: Panel Discussion: The State of Transatlantic Relations and the European Union – Past, Present and Future, The Embassy of Austria, Delegation of the European Union to the United States, Austrian Marshall Plan Foundation and Foreign Policy Institute at Johns Hopkins SAIS
November 5-8: DC Fintech Week, Georgetown University's Institute of International Economic Law
​​November 6: IMF World Economic Outlook, George Washington University


Your Newsletter Team:
Marie Kasperek, Associate Director, Global Business & Economics, Atlantic Council
Christina Gay, Intern, Global Business & Economics, Atlantic Council
Raina Hasan, Intern, Global Business & Economics, Atlantic Council
Please send us suggested news stories, opinion pieces, publications, and upcoming events that you would like us to highlight! Email mkasperek@AtlanticCouncil.org with your ideas and suggestions.
The views expressed in this newsletter and linked external articles and content do not necessarily reflect the opinions of the Atlantic Council, its staff, or its sponsors.
© 2018 Atlantic Council
Atlantic Council
1030 15th St. NW
Washington, DC 20005
Subscribe to the New Atlanticist | Unsubscribe from our emails