In the decades that Ukraine has lurched through its chaotic post-Soviet years, Mykhaylo Veselskyy has quietly—and apparently legitimately—built two successful multi-million-dollar businesses. By the time he was 34, his first enterprise had become one of Ukraine's biggest sunflower-oil producers. He sold the venture for a more-than-tidy profit and plowed the proceeds into a retail grocery chain. He steered that company, Evrotek, through the 2008 financial crisis and has added real estate to the portfolio.
But Veselskyy is now taking on what undoubtedly will be the most challenging endeavor of his career: building a society in rural Ukraine. Veselskyy is funding and guiding a top-to-bottom overhaul of the public services—education, health care, business development, and water and sewer infrastructure—in his home village in the Olevsk district of Zhytomyr Oblast in northern Ukraine. The goal is to dramatically improve the quality of life for Radowell's 1,250 residents and to remake the concept of philanthropy in Ukraine.
Veselskyy, a father of two children, wants to help develop a country that Ukrainians don't feel compelled to leave in search of an education, a good job or a better standard of living.
"I want Ukraine to become a country that will be comfortable for people to live in and to be a rich country," Veselskyy said in an interview. "I'm absolutely confident that Ukraine has everything that is needed to achieve that, but there are several things that prevent it from becoming such a state."
The major elements lacking for communities to succeed, he said, are modern schools that teach critical thinking and flexibility in an era when entire industries and professions are disappearing in favor of new ones; good health care to keep people strong enough to thrive; successful local businesses that can provide the jobs and support the services that communities need; and modern infrastructure to support all of the above.
Veselskyy has never lived outside Ukraine. But he has traveled enough to see what was possible—farmers in Austria, for example, wielding modern tools and techniques to earn a good living and enjoy prosperous lives so different from the earth-scraping existence of many Ukrainian farmers.
So in September 2016, Veselskyy went to the Radowell village council with his pitch—a new school building with a new curriculum.
He encountered more than a little skepticism. "The only question they had was, 'Why are you here? The election is over.' Because in Ukraine, people only do something like this before an election," he recalls.
But Veselskyy was determined, and he was taking the same approach that he had with his businesses: starting from scratch, gathering the necessary elements piece by piece, and sweating the details. By the time he'd gone to the village council, he already had a design that he could present for the new school.
By spring 2017, he had won approval to start work, and in September 2018, a new school campus opened for 1st through 11th grades. The classrooms are bright, colorful, and fully equipped, the grounds include a modern playground, a track and a football pitch. He's even building homes to lure the best teachers to give up their city lives and move to the countryside.
The school, reconstituted from a traditional secondary school into the Bio-Technological Lyceum Radowell (BTL Radowell), will welcome its second year of students on September 1. Because it remains a state school, it costs nothing for students to attend. Veselskyy supplements the state funding with his own.
Attendance more than doubled for the new school's first year, to 340 students. This year, it will be up to capacity at 397 students, with 68 on a waiting list from other communities.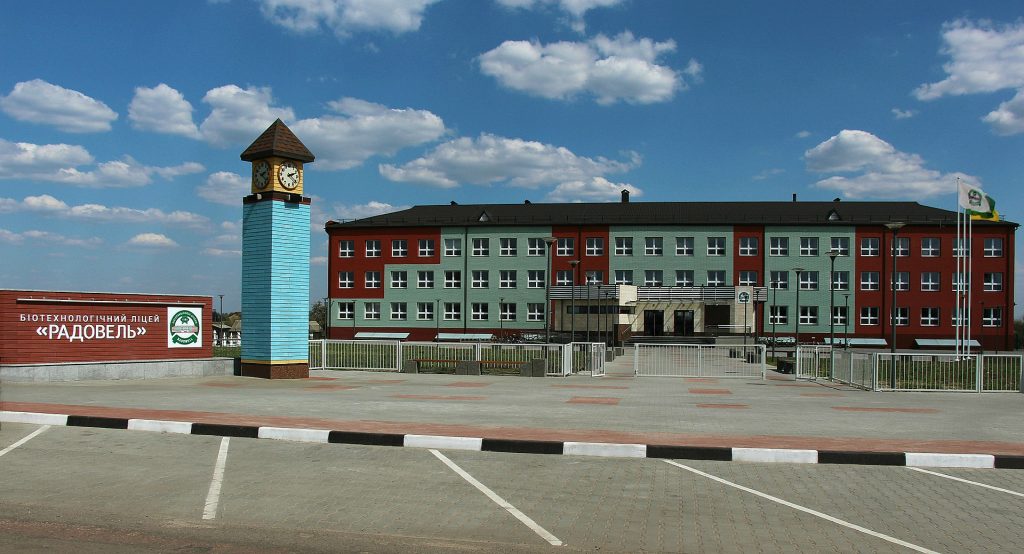 By the end of 2019, a new health-care facility for the village will open, complete with an ambulance. The center will not only treat simple ailments and provide basic urgent care and referrals for more complex cases, but will include a heavy emphasis on public education, prevention, and diagnostics.
Local farmers are expanding and modernizing their cultivation of berries, a leading crop in the area's fertile soil, with seedlings and expertise funded by Veselskyy. And the village is getting new water treatment and sewage systems and a recycling program with public education campaigns on environmental issues. New guest housing will open next month to provide temporary accommodations for experts brought in to advise, teach, and train at the school, the health-care center, and wherever else it's needed.
Veselskyy says he has poured about $10 million into the Radowell project so far—$8 million spent and an additional $2 million budgeted.
"Even now there are certain people who are skeptical about this," Veselskyy said. "But their opinions have started to change as they have seen…that it's not just words, but things are happening."
The project has gained attention from Ukrainian media, including a segment on the popular Fakty news-feature program on ICTV. The school has its own YouTube channel.
The village overhaul has not been without controversy. Veselskyy and his supporters pressed for—and won—a reorganization of the village council to ensure support for the necessary changes and to oust a longtime leader he says was suspected of corruption.
Elected leaders and officials in Ukraine are accustomed to extracting what they can for themselves from their government budgets rather than serving the population, said Mark Iwashko, an American-born private equity investor in Kyiv who moved to his Ukrainian immigrant parents' homeland 23 years ago and hasn't left. He invested in Veselskyy's grocery business at the beginning and they've since become friends. Iwashko recently joined the board of the school.
"The largest struggle [in Radowell] was to change that mentality," Iwashko said. "And it took years of effort."
Veselskyy wasn't the typical philanthropist donating money to a cause, said Iwashko.
"It was being involved every step of the way, convincing people to take the berries, doing the plans of the school, overseeing the construction with a hawk's eye the way he did in his own business, because he knows how money is stolen off the side," Iwashko said.
Ukraine has an "inherent culture" of generous giving and sharing among individuals—family, friends and neighbors, but it has little tradition of genuine philanthropy by major businesses or their owners, beyond what too often are self-serving efforts by oligarchs, Iwashko said.
Veselskyy is anything but self-serving and may represent a radical shift in philanthropy, Rob Monyak said in an interview.
Monyak, executive vice president and chief lending officer for Eurasia and Africa at WorldBusiness Capital, Inc. in Hartford, Connecticut, got to know Veselskyy when the Ukrainian bought the grocery chain, which had been failing, and assumed responsibility for a large US-government backed loan from WorldBusiness Capital. Veselskyy's rescue of the company and his on-time payments of the loan ever since "saved our company and the US government from a significant loss," Monyak said.
Ukraine now has many successful entrepreneurs who are staying put and investing their know-how and money in the future of Ukraine, Monyak said.
"They are not the billionaire oligarchs," though they are well off and "could decide in a moment's notice to sell their assets, pack up, and move to the Europe or the US and live quite comfortably," Monyak says. "But they've chosen to do otherwise. The reforms and general improvement in political and economic conditions in Ukraine since 2015 have convinced them that a better future awaits them if they stay put, and they want to be a part of building that future."
Thus the deep dive into the school's curriculum and governance by Veselskyy, whose mother once served as director of the then-secondary school and whose father was an instructor in a Soviet-era professional training school. Veselskyy's planned revamp includes the innovative—read controversial—idea of giving students a say in crafting school rules and deciding which classes to attend. The point, Veselskyy says, is to help students understand from a young age what democracy really means.
Even his own mother, who is now 80, "is not a fan of the new ideas," he admits.
Veselskyy plans to complete the project within three years. He hopes for a visit from the new president of Ukraine, Volodymyr Zelenskyy, who in his inaugural address appealed to the diaspora to support Ukraine's development. Veselskyy says he hopes it will become "fashionable among wealthy people" to undertake projects like building schools and hospitals, and a visit from the president could be a powerful signal for the entrepreneurial class to "put emphasis on actions rather than words in the phrase `social responsibility in business.'"
"This path has been full of obstacles," Veselskyy said. Many call him "crazy" for his far-reaching philanthropic efforts, but he is steadfast in his optimism. "I hope this project will be an example for other entrepreneurs and for other communities in Ukraine."
Viola Gienger has covered foreign affairs, defense, and international security for Bloomberg News, led programs and training for independent media in the former Soviet Union and the Balkans, and was senior editor/writer at the US Institute of Peace. She is Washington Editor for the online forum Just Security at New York University School of Law.
The views expressed in UkraineAlert are solely those of the authors and do not necessarily reflect the views of the Atlantic Council, its staff, or its supporters.


The Eurasia Center's mission is to enhance transatlantic cooperation in promoting stability, democratic values and prosperity in Eurasia, from Eastern Europe and Turkey in the West to the Caucasus, Russia and Central Asia in the East.
Follow us on social media
and support our work