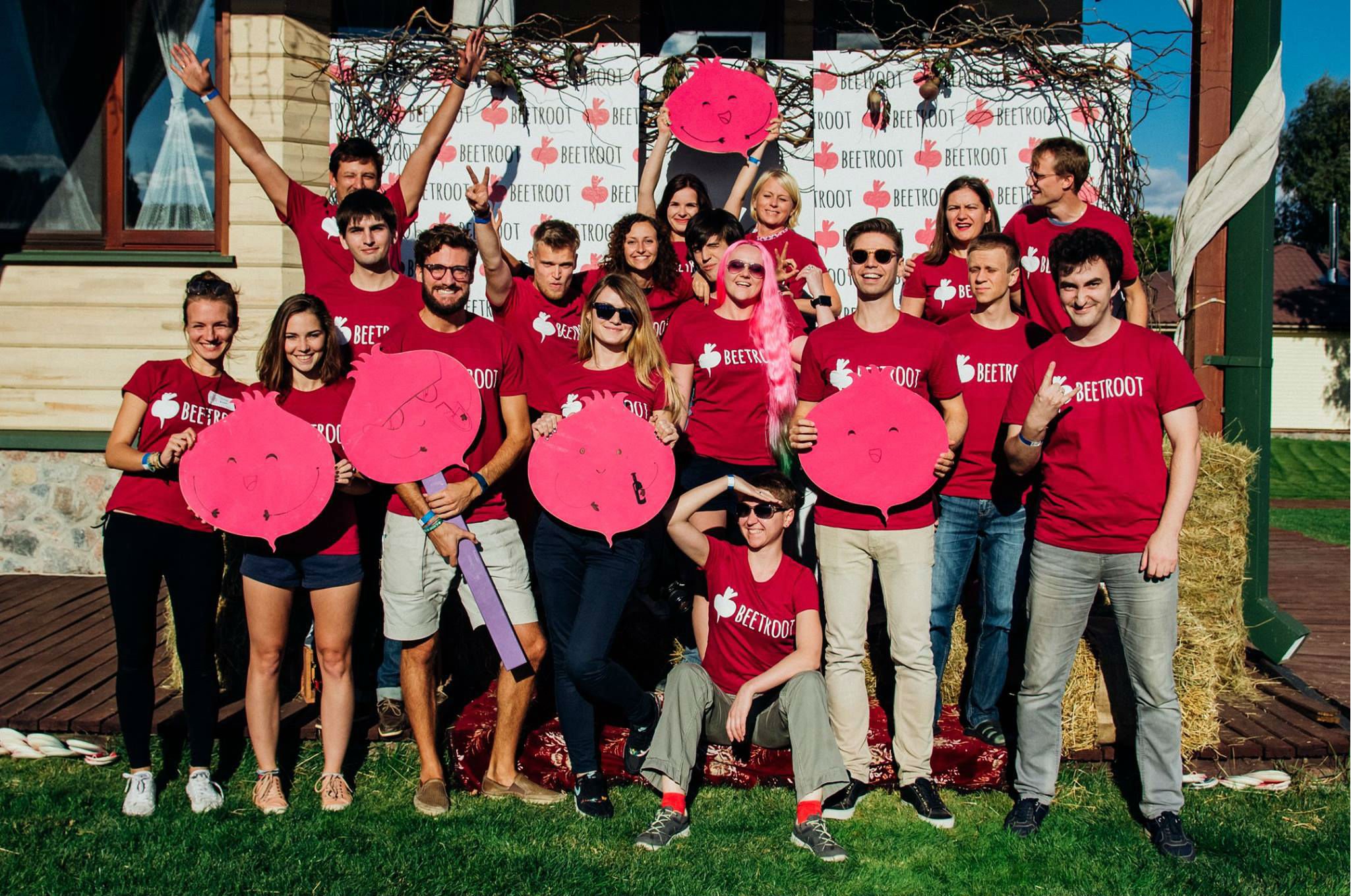 Gustav Henman describes his time at Moscow State University as a "Russian cold shower." But he was no stranger to cold weather as a Swede, and has ended up in Ukraine, where the weather is slightly more moderate and the engineering talent plentiful.
He and his business partner, Andreas Flodström, went to Ukraine in 2012 and now own an IT development company called Beetroot and a nonprofit IT school called the Beetroot Academy. Their website reads, "Beetroot. The home of great teams. Based in Ukraine, with a uniquely Swedish signature."
"We did two tech start-ups in Sweden and had trouble finding enough good engineers there, so we expanded by working with Ukrainians," said Henman in a recent interview in Kyiv. "It was a supply-demand situation and there were issues regarding working remotely with teams."
The two entrepreneurs saw two opportunities: tapping Ukraine's technological excellence, and training more Ukrainians to work in the IT field with clients outside the country.
They had initially scouted Russia, Moldova, and Belarus, but settled on Ukraine. "The country was based on good engineering tradition, it felt more welcoming, and it was a lower threshold to get started," said Henman. "Ukraine's mindset was different and you could get a sense of that back then in 2012."

Even then, the country was moving away from being a traditionally Soviet state to becoming European in its attitudes and practices, he added. Then along came the pivot point, the Revolution of Dignity in 2014, that wrested the country away from Moscow and onto a European trajectory.
"In IT for sure there is a different culture, but now also other parts of the population have started to look at things from a new angle. The fundamentals are shaking," he said.
IT outsourcing is booming across the country and teams must acquire the necessary skills to assure success. They include the ability to work with clients remotely, English language excellence, and software development expertise.
Corruption continues to dog the country, but the IT sector is sheltered from this because its deals are based on contracts enforceable in corruption-free jurisdictions. By 2020, forecasts released at the Lviv IT Arena conference this fall projected:
IT sector revenues will grow from $10 billion to $27 billion.
Jobs created, both direct and indirect, will grow from 429,000 to 660,000.
Exported services will increase from $2.5 billion to $5.1 billion.
IT's share of total exports from Ukraine will growth from 5.2 percent to 7.5 percent.
Its growth to date is why the industry is gaining momentum, attention, and traction among foreign investors as well as in the burgeoning local venture capitalist industry.
Ukrainians have begun the transition from IT outsourcing to value-added activities such as the development of product companies, game studios, and technology startups.
Concern about the entrenchment of corrupt vested interests continues, and reforms to the judiciary are stalled. "But we're very optimistic," said Henman, "based on the mindset of the young. There will be short term turbulence that may last up to ten or twenty years. But another turn or forceful event will take Ukraine even more away from the old grip."
Since 2012, the two have achieved significant success with very little capital. Beetroot started in Odesa, developing its IT outsourcing operation by building and tailoring remote teams to plug into clients' operations in Sweden and elsewhere.
The company has grown, thanks to investments by Swedish investors, and now Beetroot employs 140 people in three cities, serving clients in Sweden, the United States, Israel, and Europe. Its "Swedish signature" became the creation of flat organizational structures with a liberalized bent and a sense of social responsibility.
By the time the Euromaidan upheaval occurred, they were rooted in the country and "emotionally attached" to the people in their struggle for democracy and justice, Henman said. "In 2013-14, we started to think about education and to help people gain the most basic knowledge as to how to become part of an IT team," he said.
IT salaries in Ukraine are ten times higher than the national average and benefit the economy and society by providing links to the rest of the world.
The two approached the Swedish embassy and obtained a $40,000 grant to design a "small education program for Ukraine with optimal social impact," he said.
They decided the biggest impact would be in small cities where clusters of IT companies could be created. Their first pilot academy was Poltava, three hours by train from Kyiv, with a population of 300,000 and several universities. That was successful, and two more small cities opened branches.
In fall 2015, the United Nations Development Project and Japan donated enough funds to train sixty Ukrainians who had been internally displaced as a result of the Russian occupation in the Donbas and Crimea.
Students must have a rudimentary knowledge of English to qualify; they are then offered a four-month course that consists of online lectures and practical workshops on site. Upon completion, Beetroot Academy provides English support, resume writing training, and interview coaching to maximize students' employment prospects.
To date, 117 have graduated and eighty students are studying at any given time. Many have a non-tech background but learn how to work in teams in administrative, marketing, sales, or other capacities.
The pair's next goal is to raise up to $1 million over two years from foundations or government grants to expand Beetroot Academy to at least fifteen more mid-sized cities, in addition to the current five locations.
"Our goal is to train at least 2,000 students a year sustainably—with fees covering costs by 2020," said Henmen.
Current fees are around $500 for the four-month program, equivalent to a year's tuition at a university. But the payoff, in future employment opportunities, is enormous. About 70 percent of students find IT employment after graduation.
"We want to bring about the highest social impact, and these cities are where that can happen," he said. "We want to help. Ukraine is on the right path. It may take long, but change is underway."
Diane Francis is a Senior Fellow at the Atlantic Council's Dinu Patriciu Eurasia Center, Editor at Large with the National Post in Canada, a Distinguished Professor at Ryerson University's Ted Rogers School of Management, and author of ten books.