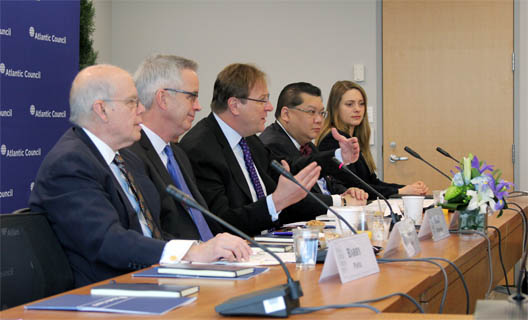 The relationship between food, water, and energy resources are shaping our world and its future, and managing the "nexus" of the interdependencies among these goods is arguably one of the most critical challenges facing policymakers in the transatlantic area. A draft report discussed at an Atlantic Council event today argues that Africa plays an especially important role: the consequences of failure to address the challenges are catastrophic, but the potential upside of doing so successfully is also enormous.
A high-level group of policymakers, scholars, business and civil society representatives, and other key stakeholders convened for the day-long event on "Addressing the Food, Water, and Energy Nexus," organized by the Council's Africa Center, Energy and Environment Program, and Brent Scowcroft Center on International Security.
The day opened with welcome remarks by Council President and CEO Frederick Kempe and Africa Center Director J. Peter Pham.
A draft document, prepared by Peter Engelke, senior fellow in the Strategic Foresight Initiative, and Mihaela Carstei, acting director of the Energy and Environment Program, constituted a framework for the discussions throughout the day, which began with an introduction to global trends in food, water, and energy by Carstei and Howard Passell, ecologist in the Earth Systems Analysis for Sustainability Program at the Sandia National Laboratories.
A first panel, moderated by Engelke, then discussed core nexus principles and included contributions from Morgan Bazilian, deputy executive director of the Joint Institute for Strategic Energy Analysis at the National Renewable Energy Laboratory, and Marina Moses, director of the Science and Technology for Sustainability Program at the National Academies. This was followed by a second panel on transatlantic perspectives, moderated by Barry Pavel, Council vice president and director of the Scowcroft Center, and featuring interventions by Sherri Goodman, Council board director and vice president and general counsel of CNA, and AaronSalzberg, special coordinator for water resources at the US State Department. A final panel, moderated by Pham, focused on the case of Africa and included presentations by Robert Thompson, visiting scholar at the Johns Hopkins School of Advanced International Studies; Lawrence Jones, co-founder of the Center for Sustainable Development in Africa and vice president of Alstom Grid Inc.; and Jeremy Foster, energy advisor in the Bureau for Economic Growth, Education, and Environment of the US Agency for International Development.
The conference and the Council's initiative on the food, water, and energy nexus were made possible by generous support from the OCP Group S.A.