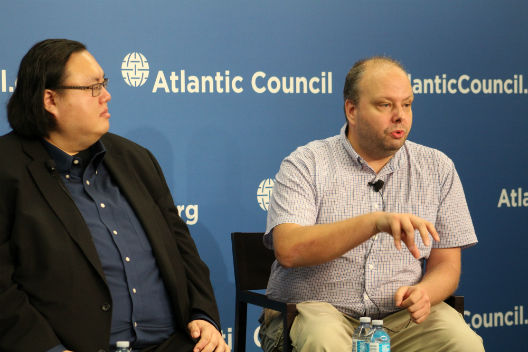 On Thursday, November 10, in cooperation with Hate Speech International (HSI), the Atlantic Council's Africa Center hosted a panel discussion on HSI's newest report, Continuity and Change: The Evolution and Resilience of Al-Shabaab's Media Insurgency, 2006-2016. Africa Center Deputy Director Bronwyn Bruton welcomed attendees to the event, and Kjetil Stormarck, director of HSI, gave an overview of his organization.

Christopher Anzalone, the report's author, explained his findings, detailing al-Shabaab's use of media in recruiting, messaging, and internal communications. Increasingly, al-Shabaab has focused on promoting lone wolf attacks by its followers, harnessing the power of communications in Arabic, Swahili, English, and Somali to reach the broadest possible audience.
Anzalone's overview was followed by a response from Stig Jarle Hansen, author of Al-Shabaab in Somalia. He detailed al-Shabaab's ability to put its own "twist" on real-world events, often capitalizing on regional governments' sometimes-brutal counterterrorism campaigns, to successfully attract new followers.
Bruton moderated the ensuing question and answer session, which focused on the influence of the Islamic State in Somalia, al-Shabaab's increasingly sophisticated use of social media and its attempt to export its ideology to Somalia's neighbors.