On Tuesday, September 1, the Africa Center hosted a private roundtable with newly-arrived Sudanese Ambassador to the United States H.E. Noureldin Satti. Appointed to his position in May, Satti is the first Sudanese ambassador formally accredited to Washington in twenty years.
The event served as an opportunity to introduce Ambassador Satti to Washington's core community of Sudan watchers and to update him on the various ongoing efforts in Washington in support of a stronger bilateral relationship. The event was opened by veteran US diplomat and Atlantic Council Board Director Amb. Mary Carlin Yates and moderated by Africa Center Senior Fellow Mr. Cameron Hudson.
Participants, representing Congressional offices, think tanks, and not-for-profits, shared questions and insights on topics including US Secretary of State Pompeo's visit to Khartoum, expectations surrounding normalization efforts with Israel, developments on the Sudanese peace process, and the status of settlements to compensate US victims of terrorism. Participants pledged continued support to the Ambassador and to maintain regular discussions under the auspices of the Atlantic Council.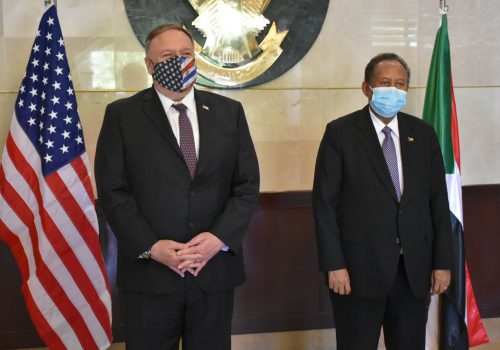 Mon, Aug 31, 2020
Secretary Pompeo's stopover in Sudan last week marked another momentous step forward in the rapidly warming bilateral relationship between Sudan and the United States—the first visit to Sudan's capital, Khartoum, by a US Secretary of State in fifteen years. Unlike Condoleezza Rice's stopover in 2005, aimed at heaping pressure and opprobrium on the country's then-autocratic […]
AfricaSource by Cameron Hudson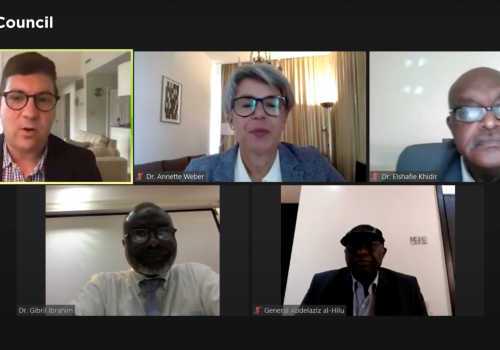 Tue, Aug 25, 2020
On Tuesday, August 25, the Africa Center hosted a panel discussion on the status of and challenges to the peace process in Sudan. The panel featured General Abdelaziz al-Hilu, Chairman of the Sudan People's Liberation Movement-North (SPLM-N); Dr. Gibril Ibrahim, Chairman of the Justice and Equality Movement; Dr. Elshafie Khidir, Sudanese political advisor and commentator; and Dr. Annette Weber, Senior Fellow at the German Institute for International and Security Affairs.
Event Recap by Africa Center

Mon, Mar 16, 2020
No aspect of US policy towards Sudan has garnered more scrutiny, from both inside and outside the country, than Sudan's continued designation on the US State Sponsors of Terrorism list. But the issue itself—whether Sudan should remain on the list and what would be required to remove it—is vastly complicated.
AfricaSource by Cameron Hudson