On December 11, 2018, the Atlantic Council Northern Europe Office and the Konrad-Adenauer-Stiftung, in collaboration with the Latvian Embassy in Sweden, organized a high-level, public international conference on 'The European Defence and Security Dimension in Northern Europe'. The conference brought together policy experts, academic researchers, representatives of government and organizations and media from a significant number of countries.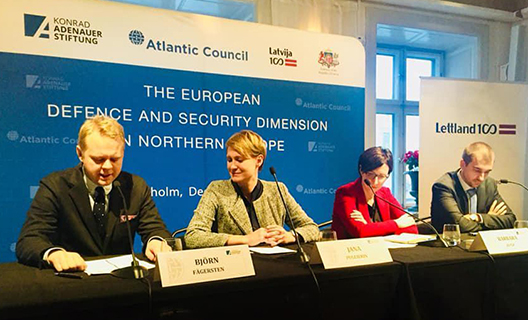 Keynote addresses were given by H.E Peter Hultqvist, Defence Minister of Sweden; and H.E Jānis Garisons, State Secretary, The Ministry of Defence of the Republic of Latvia. Minister Hultqvist highlighted the importance of transatlantic link as well as a unified Europe in improving defence cooperation in Northern Europe. In his speech, Secretary Garisons pointed to the importance of building proactive resilience not only in the military domain but also areas such as cyber, economy and infrastructure.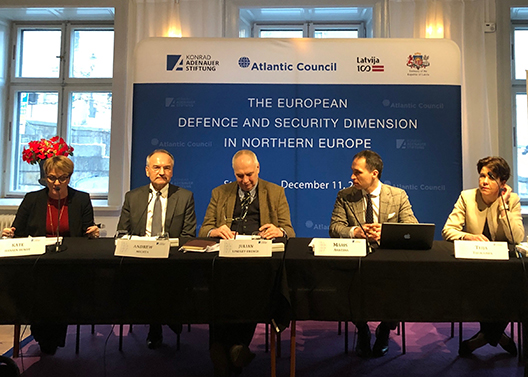 The first panel discussed the Franco-German visions and ambitions for EU and European Defence. Representing different national perspectives, the panelists offered their views on recent developments on defence cooperation within and outside of the EU, and how concepts such as 'European Strategic Autonomy'and 'European Army'arebeing discussed in Paris, Berlin, and Brussels. The panelists were Dr. Barbara Kunz, Research Fellow, Institut Français des relations internationales (IFIRI); Dr. Jana Puglierin, Head of the Alfred von Oppenheim Center for European Policy Studies, German Council on Foreign Relations (DGAP); Mr. Martin Quencez, Fellow and Senior Program Officer, Security and Defense, German Marshall Fund (GMF) Paris Office. The panel was moderated by Dr. Björn Fägersten, Head of the EU Program and Senior Fellowat the Swedish Institute of International Affairs (UI).
The second panel focused on the internal and external challenges to Northern European Security. The panel highlighted issues such a resurgence in state competition, cyber attacks, the role of the United Kingdom post-Brexit and a weakened transatlantic link. The speakers included Dr. Andrew Michta, Dean, George C. Marshall European Center for Security Studies; Professor Dr. Julian Lindley-French, Senior Fellow, Institute for Statecraft; Dr. Māris Andžāns, Researcher, Latvian Institute of International Affairs (LIIA); and Dr. Teija Tiilikainen, Director, Finnish Institute of International Affairs (FIIA). The moderator was Ms. Kate Hansen Bundt, Secretary General, Norwegian Atlantic Committee.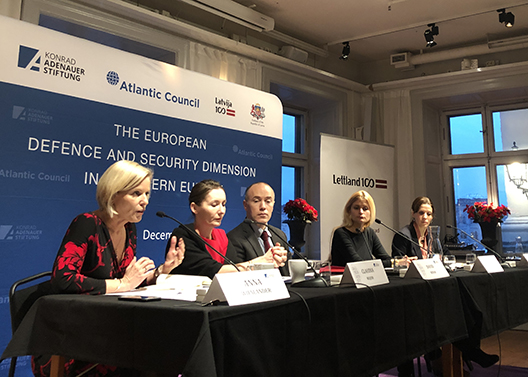 The third panel discussed a Northern European approach to European Defence cooperation. The panelists discussed the need for a more active Nordic and Nordic-Baltic voice on European defence and the emergence of artificial intelligence (AI)and other new technologies. The panel underlined the importance of a pragmatic approach to building defence capabilities along the entire hybrid spectrum, while also highlighting the crucial role institutional frameworks have for the security of the region.This panel was moderated by Ms. Anna Wieslander, Director for Northern Europe, Atlantic Council and included Dr. Claudia Major, Senior Associate in the International Security Division, German Institute for International and Security Affairs (SWP); Dr. Ulrike Franke, Policy Fellow, European Council on Foreign Relations (ECFR); Dr. David Behar, Deputy Chief of Mission, Embassy of France; and Ms. Elisabeth Braw, Associate Fellow and Director of Modern Deterrence Programme, Royal United Services Institute (RUSI).