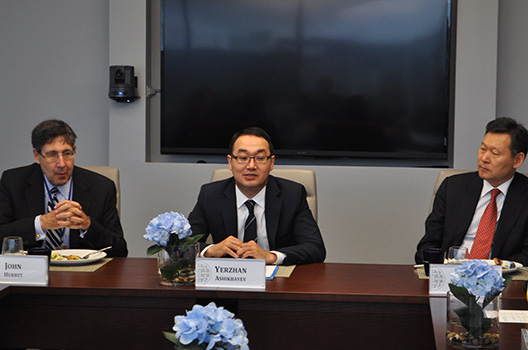 On the morning of June 12th, the Atlantic Council held a private breakfast conversation with Yerzhan Ashikbayev, Deputy Foreign Minister of Kazakhstan. Minister Yerzhan was introduced by Ambassador John Herbst, director of the Atlantic Council's Dinu Patriciu Eurasia Center.

This breakfast discussion provided an opportunity to engage with Minister Ashikbayev on his and his country's foreign policy priorities, approach toward Afghanistan, and on challenges and opportunities in Kazakhstan's development. Ashikbayev emphasized the importance of economic cooperation between Kazakhstan and the United States.
Deputy Foreign Minister Ashikbayev was appointed in 2013. Previously, he served as Deputy Head of the Prime Minister's office, Head of Foreign Policy at the office of the President, and Head of the Foreign Minister's Chancellery.