Côte d'Ivoire's first lady objects to proposed US ban on Ivorian cocoa
Event Recap by Africa Center
Related Experts: J. Peter Pham,
On Wednesday, September 18, the Atlantic Council's Africa Center hosted H.E. Dominique Ouattara, first lady of the Republic of Côte d'Ivoire, for a private discussion on Ivorian efforts to eradicate child trafficking, exploitation, and labor from the cocoa supply chain. Côte d'Ivoire is the world's largest cocoa producer, with an annual production output of approximately 2,200,000 tons, which represents 46 percent of the global supply.
Atlantic Council Vice President and Africa Center Director Dr. J. Peter Pham provided opening remarks and welcomed Madame Ouattara back to the Atlantic Council for her second visit since 2015.
In her remarks, Madame Ouattara discussed progress and obstacles to eliminating child labor in Côte d'Ivoire, addressing recent calls from Senators Ron Wyden (D-OR) and Sherrod Brown (D-OH) to put an embargo on imports of Ivorian cocoa to the US market due to the prevalence of child labor on cocoa farms. Child labor has long been an issue in the industry, and chocolate and confectionery companies have failed to meet decades-old promises to solve the problem.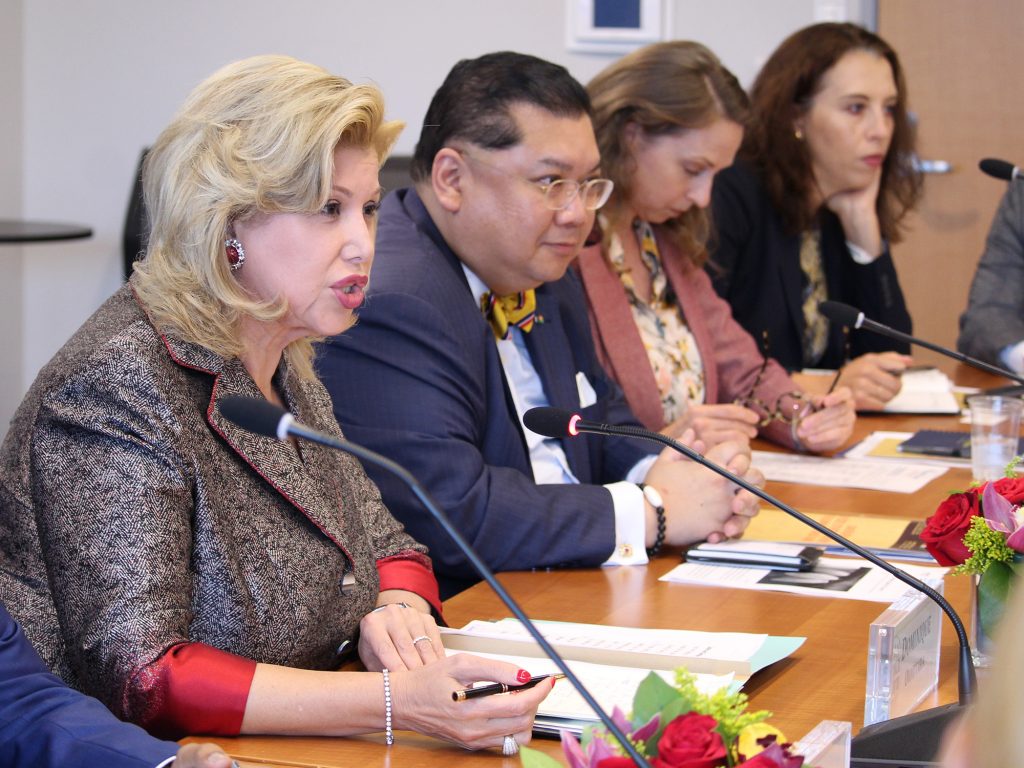 Although intolerable, the First Lady specified that "recent studies undertaken by the US-based non-governmental organization (NGO) Verité and the Walk Free Foundation estimate the number of children victims of forced labor in cocoa production at 0.17 percent of the total population of children working in cocoa farming." 85 percent of children involved in cocoa farming attend school and "occasionally accompany their parents to the fields after school hours and on weekends," she said. The remaining 15 percent do not attend school and "need all our attention."
Madame Ouattara is Chair of Côte d'Ivoire's National Oversight Committee of Actions in the Fight against Child Trafficking, Exploitation, and Labor. In an effort to root out abusive labor practices in the cocoa supply chain, the Committee has implemented three National Action Plans to combat child labor in Côte d'Ivoire since 2012. The current Action Plan (2019-2021) has a budget of US $127 million to fight the root causes of child labor, of which poverty is a key concern. Efforts to date include the construction of 30,000 classrooms, a micro-credit program that has reached 200,000 women, and the imprisonment of 220 human traffickers, who have targeted children from neighboring countries.
Madame Ouattara also underscored that the health of Côte d'Ivoire's economy is critical for the West Africa region. The cocoa industry is responsible for approximately two thirds of the country's trade revenue, and the proposed ban would be severely damaging for the Ivorian market. Thus, she closed by calling on attendees to support the prevention of the embargo and opened the floor to questions.
In attendance and participating in the ensuing discussion were H.E. Patrick Achi, Secretary General to the President of the Republic of Côte d'Ivoire; H.E. Mamadou Haïdara, Ambassador to the United States; The Honorable Dwight Evans, Congressman (D-PA); and senior representatives from several US government agencies, chocolate and confectionery companies, and relevant NGOs.