On June 7th, the Energy Diplomacy Initiative within the Atlantic Council's Global Energy Center held a half-day conference on Energy Security in Central & Eastern Europe: New Challenges and Opportunities, which brought together government officials, business leaders, and experts to discuss the implications of the changing global LNG market, progression of the European Energy Union concept, and the priorities of the new US administration for Central and Eastern European energy security.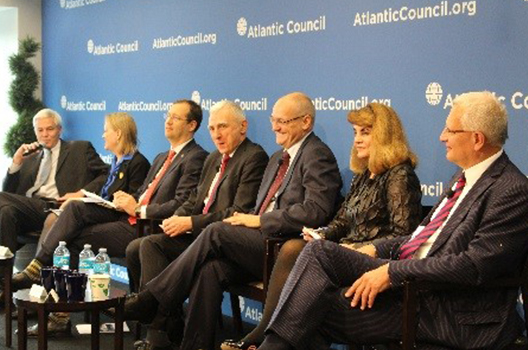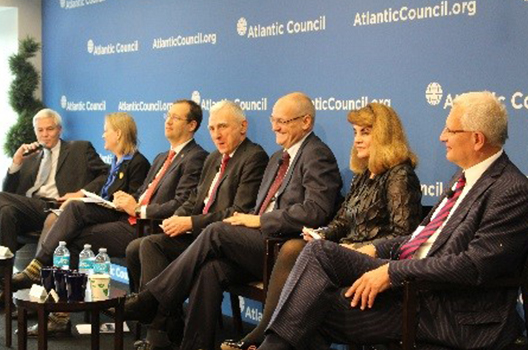 From left to right: Keith Johnson, Mary Warlick, Simonas Satunas, Piotr Naimski, Vaclav Bartuska, Melanie Kenderdine, Jan Kuderjavy.
During the first session "A New Chapter in Transatlantic Energy Cooperation," Ambassador Mary Warlick, Acting Special Envoy and Coordinator for International Energy Affairs at the US Department of State, affirmed the US administration's support for a diversified European energy market and the further development of energy infrastructure in the Central and Eastern European region. Representatives of Slovakia, Lithuania, Poland, and the Czech Republic were encouraged by the US show of support for the region's energy security, especially as the specter of the Nord Stream 2 pipeline looms greatest, a project none of these nations support. The panelists spoke on the benefits of US LNG exports to Europe and it could contribute significantly to the diversification to the European gas market as many seek alternative suppliers, decreasing their dependence on Russia. Other panelists at this session were: Vaclav Bartuska, Ambassador-at-Large for Energy Security, Czech Republic, Melanie Kenderdine, Nonresident Senior Fellow, Global Energy Center, Atlantic Council, Jan Kuderjavy, Director of the Department of Economic Diplomacy, Ministry of Foreign and European Affairs, Slovak Republic, Piotr Naimski, Secretary of State in the Chancellery of the Prime Minister and Plenipotentiary of the Government for Strategy Energy Infrastructure, Republic of Poland, and Simonas Satunas, Deputy Minister of Energy, Republic of Lithuania. The session was moderated by Foreign Policy's acting managing editor of news, Keith Johnson.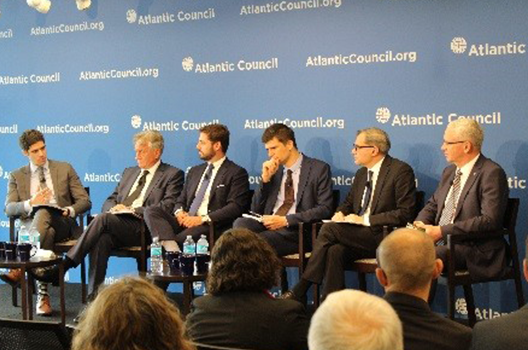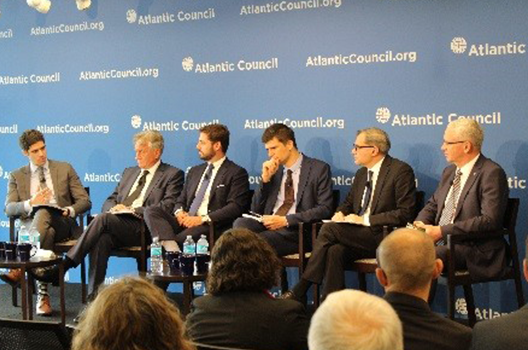 From left to right: David Koranyi, Piotr Wozniak, Robert Fee, Pal Sagvari, Mihnea Constantinescu, Gintaras Bagdonas
Atlantic Council's director of the Energy Diplomacy Initiative, David Koranyi moderated as panel on the "Resilience of the Global Gas System – Medium- and Long-term Challenges and Implications for Central and Eastern Europe." Mihnea Constantinescu and Pal Sagvari, both ambassador-at-large for energy security representing Romania and Hungary respectively, along with Piotr Wozniak, President of the Board of the Polish state-controlled company PGNiG, stressed the importance of diversifying their respective energy portfolios. Ambassador Constantinescu also urged Central and Eastern Europe to not just think about diversification but also about how innovation and new energy technologies can lead to a sustainable future for the region. Robert Fee of Cheniere Energy Inc. acknowledged the US role as a leading supplier of natural gas, and Col. Gintaras Bagdonas of NATO's Energy Security Centre of Excellence reaffirmed the strategy of protecting European critical energy infrastructure.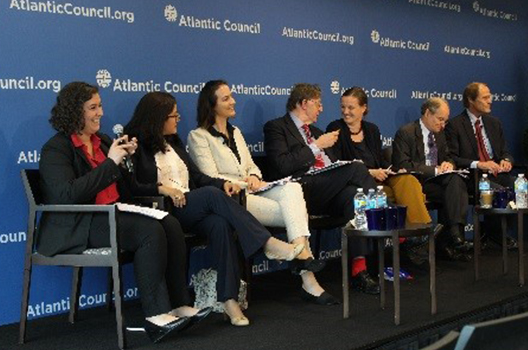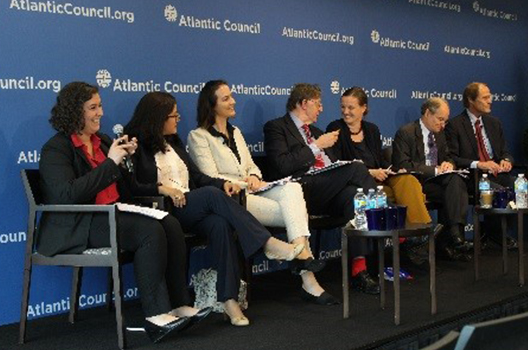 From left to right: Bina Hussein, Sara Vakhshouri, Anke Schmidt-Felzmann, John Roberts, Agata Loskot-Strachota, Daniel Fried, Bud Coote.
The final session of the conference was on "Oil and Gas Import Dependence and Diversification," moderated by Bina Hussein, Associate Director with the Atlantic Council's Global Energy Center's Energy Diplomacy Initiative. The panelists stressed the tough road ahead for Europe as it looks to consolidate its assorted perspectives on Nord Stream 2. Nevertheless, perennial optimist Ambassador Daniel Fried, a distinguished fellow with the Atlantic Council's Future Europe Initiative, reiterated the "good news" that US LNG would be a significant factor in undermining Russian leverage, even if Nord Stream 2 is realized. The panelists explored the viability of other alternative suppliers besides US LNG, such as Iran, Qatar, the Turk Stream pipeline, and the Southern Gas Corridor, as well as a path towards renewables. Researcher Anke Schmidt-Felzmann of the Swedish Institute of International Affairs advocated for a "forward-thinking, innovative" set of goals for European energy security. In her view, a transition to clean energy would achieve the greatest degree of energy resilience for the European market. Bud Coote, a resident senior fellow with the Global Energy Center, launched his issue brief US Liquefied Natural Gas Exports Outlook during the session, arguing that "the greatest contribution US LNG will provide to global energy security is an increase in global gas supply" and that it has the potential to shift the global LNG market. Other panelists were: Agata Loskot-Strachota, Senior Fellow, Energy Policy, Center for Eastern Studies, and John Roberts and Sara Vakhshouri, both nonresident senior fellows with the Atlantic Council's Global Energy Center.