On Tuesday, March 28, the Atlantic Council's Africa Center hosted a luncheon for African ambassadors with an Israeli delegation, including Ambassador Jeremy Issacharoff, vice director general and head of multilateral affairs directorate for the Israeli Ministry of Foreign Affairs, and Ambassador Gil Haskel, deputy director general of the foreign ministry and head of Israel's international development agency, MASHAV.
In his opening remarks, Issacharoff detailed Israel's deep and expanding commitment to Africa, which spans diplomatic, security, and economic interests. In 2016, Israeli Prime Minister Benjamin Netanyahu embarked on a four-country tour of Africa, the first such trip for an Israeli head of state in some three decades. In 2017, Togo will host the inaugural Israel-Africa Summit in Lomé.
Haskel detailed four specific areas of concern to MASHAV in Africa: water, food, and border security, as well as human security. Israel's own experience with each challenge has led to home-grown, innovative, and sustainable solutions—and Haskel noted Israel's interest in sharing that technology with its African partners. As Haskel noted, Africa's prosperity is very much tied to the rest of the world.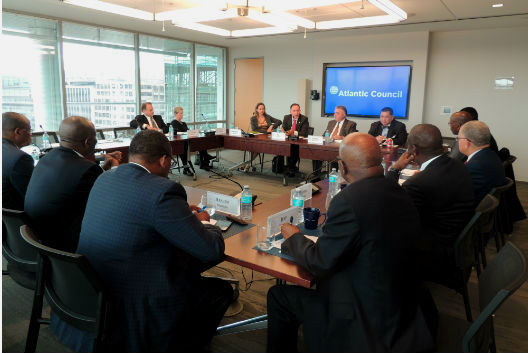 Participants at the roundtable included His Excellency Miguel Ntutumu Evuna Andeme, ambassador of the Republic of Equatorial Guinea; His Excellency Daouda Diabaté, ambassador of the Republic of Côte d'Ivoire; His Excellency Seydou Kaboré, ambassador of Burkina Faso; His Excellency Ammon Mutembwa, ambassador of the Republic of Zimbabwe; His Excellency Hector Posset, ambassador of the Republic of Benin; His Excellency Carlos Wahnon Veiga, ambassador of the Republic of Cabo Verde; Mr. Hakeem Balogun, chargé d'affaires of the Embassy of the Federal Republic of Nigeria; and Mr. Jeff Dowana, deputy chief of mission of the Embassy of the Republic of Liberia.