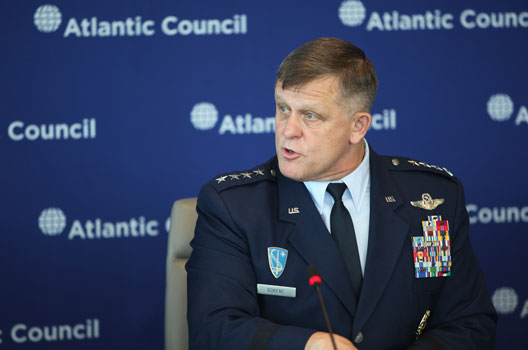 On July 26, 2016 the Atlantic Council hosted a private roundtable on "NATO Air Power in a Contested Air Domain." The session featured a keynote address by General Frank Gorenc, Commander of US Air Forces in Europe and Africa, and a moderated discussion led by Jorge Benitez, director of NATOSource and senior fellow in the Brent Scowcroft Center on International Security.

A radically changed security environment has pushed US force posture in Europe back into the spotlight. The Air Force's presence in particular is a core component of the US military posture in Europe, and fitting air power into the transatlantic community's broader military strategy will be imperative as it faces the most dangerous threat environment in the post-Cold War era. General Gorenc discussed these issues with a group of current and former US military officials and senior experts during this private luncheon.
General Gorenc is a command pilot with more than 4,500 flight hours. He has commanded a fighter squadron, an operations group, two wings, the Air Force District Washington, and a component Numbered Air Force. He has served in numerous positions at Air Combat Command, the Air Staff, the Joint Staff, and at US European Command/Supreme Headquarters Allied Powers Europe. Prior to assuming his current position, he was the Assistant Vice Chief of Staff and Director, Air Staff, Headquarters US Air Force, Washington, DC.