Recent global and regional developments driving changes in regional natural gas markets as well as future trends have been discussed at the Atlantic Council IN TURKEY Program's conference held in Istanbul on "New Regional Gas Market Dynamics under LNG Expansion and Shale Gas Revolution".
The conference gathered high-level representatives of the public and private sectors as well as several international experts. Atlantic Council Turkey Representative Defne Sadıklar Arslan's remarks were followed with a special keynote address by Alparslan Bayraktar, Turkish Deputy Minister of Energy and Natural Resources. The event was heavily covered in Turkish media in Turkish and English.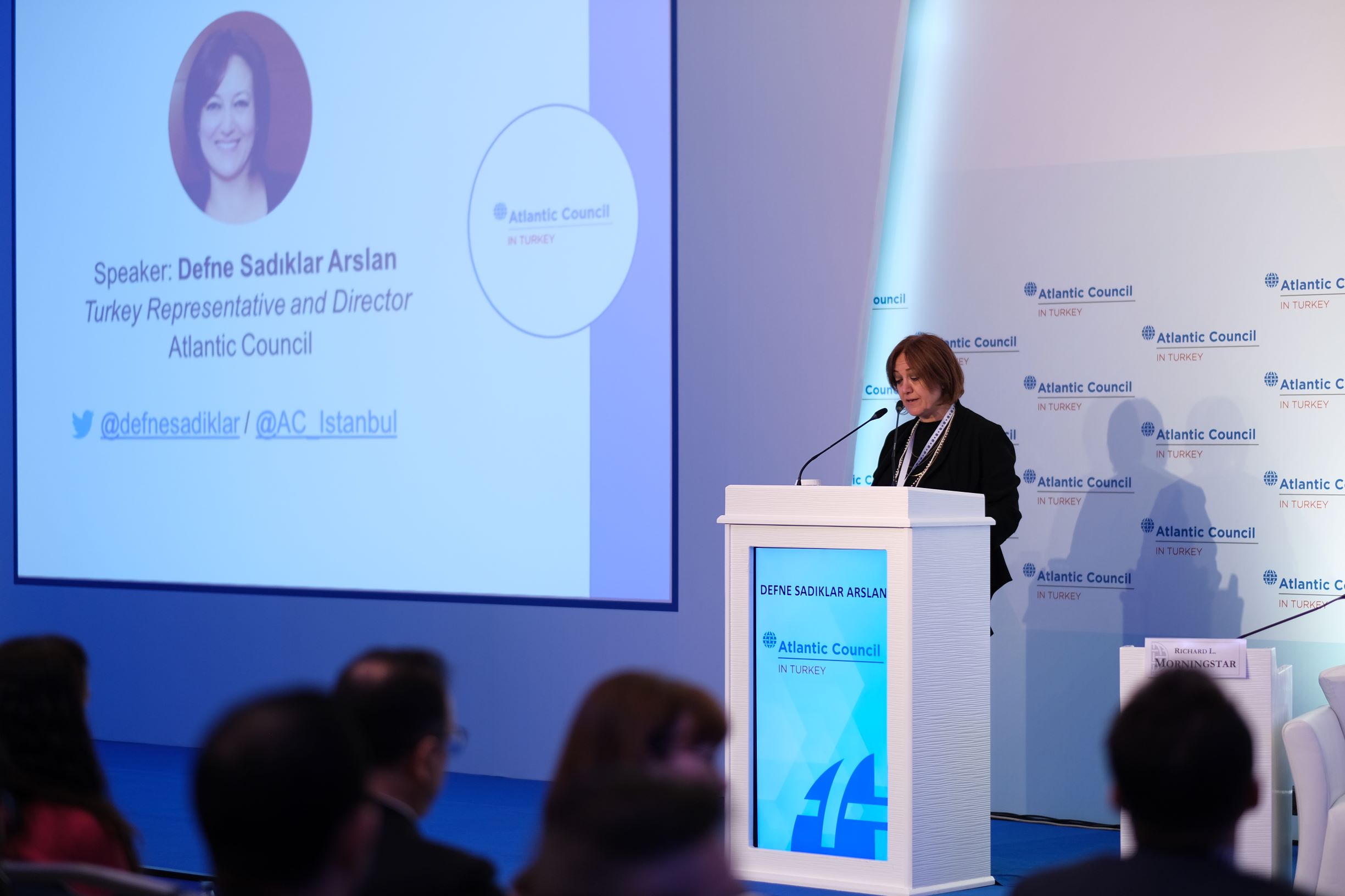 In her opening remarks Defne Sadıklar Arslan emphasized the important role Turkey plays as an energy bridge between producers and consumers, highlighting the newly built Trans Anatolian Pipeline (TANAP): "As you know, TANAP will provide 6 billion cubic meters to Turkey. 10 billion cubic meters is expected to go to Europe. Turkey's role as an energy bridge to Europe will continue. Together especially with fossil fuel exports from the US, this is important for Turkey's gas markets. In the years 2016-2018, Turkey was supplied with 1.6 bcm of gas from the United States, making it the 10th largest importer of US LNG. In particular, we see the benefits of LNG to Turkey's energy diversification."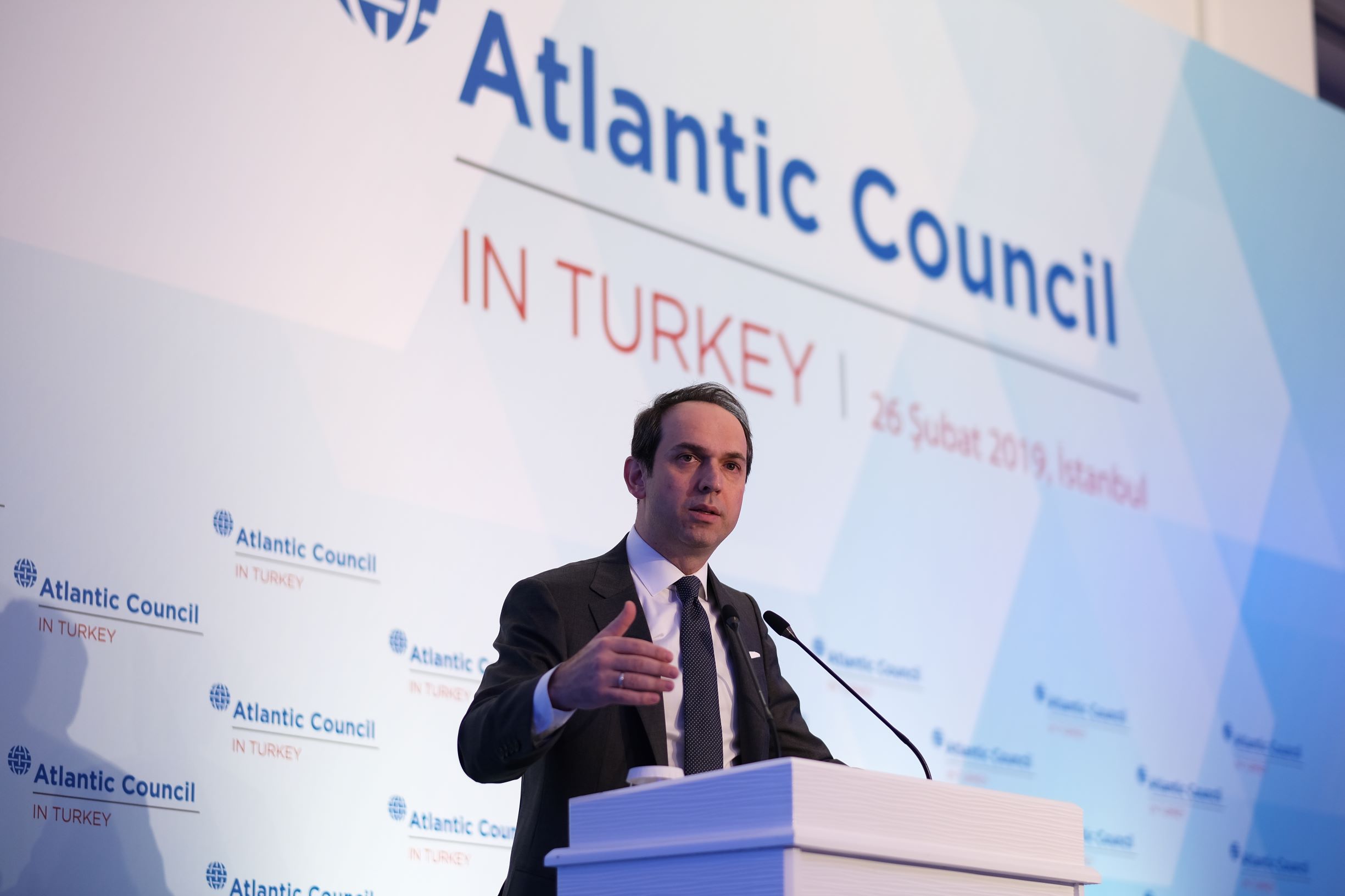 The Deputy Minister Alparslan Bayraktar underlined Turkey's increasing natural gas demand and the Ministry's strategy and accomplishments to respond to this trend: "Since 2002, electricity demand increased every year between 5-6 percent, while the average annual natural gas demand increase was around 6.3 percent. Facing such an increase in demand had its difficulties resulting in an increase of imported natural gas, which posed a serious challenge. In the past 10 years we paid an average of around 44 billion dollars on energy imports." Mr. Bayraktar further continued explaining how these issues were dealt with: "The changing trends in the global energy supply have led Turkey to improve and reinforce its infrastructure to expand storage and regasification capabilities. When the ongoing expansion projects are completed by 2023, the country will have a storage capacity of 11 billion cubic meters – around 20 percent of its total annual gas consumption. The rapid changes and transformations on the supply side of the natural gas markets compel all local and global stakeholders in Turkey to comprehend the evolving market conditions and global dynamics. Some of Turkey's long-term gas contracts will expire in 2021 and the number of gas imports stipulated in those contracts total 16 billion cubic meters, corresponding to nearly 30 percent of Turkeys gas imports. Today, we are on the brink of a new period during which Turkey will make significant decisions. As policymakers in energy, we are expecting more flexible contract terms with more competitive gas prices, given the copious amount of liquefied natural gas (LNG). The conventional pipeline suppliers must adapt to the changing world. Now, the market is profoundly sensitive to pricing dynamics and the suppliers should realize this."
The first panel, moderated by Amb. Richard L. Morningstar, founding chairman of the Atlantic Council's Global Energy Center, on "Geopolitics of Gas: Regional Natural Gas Resources and Pipelines" focused on the transition gas markets have undergone in recent years due to global and regional developments.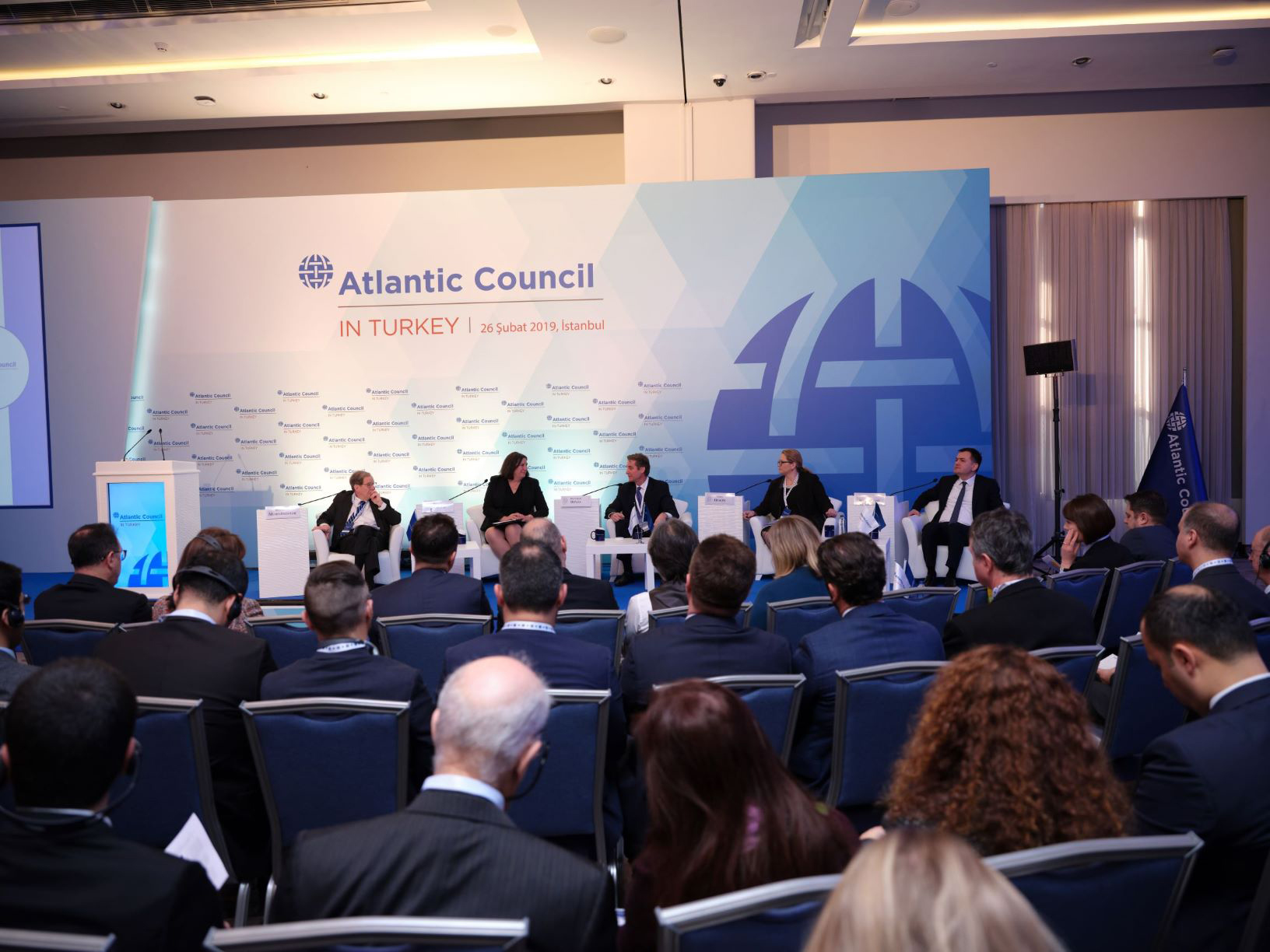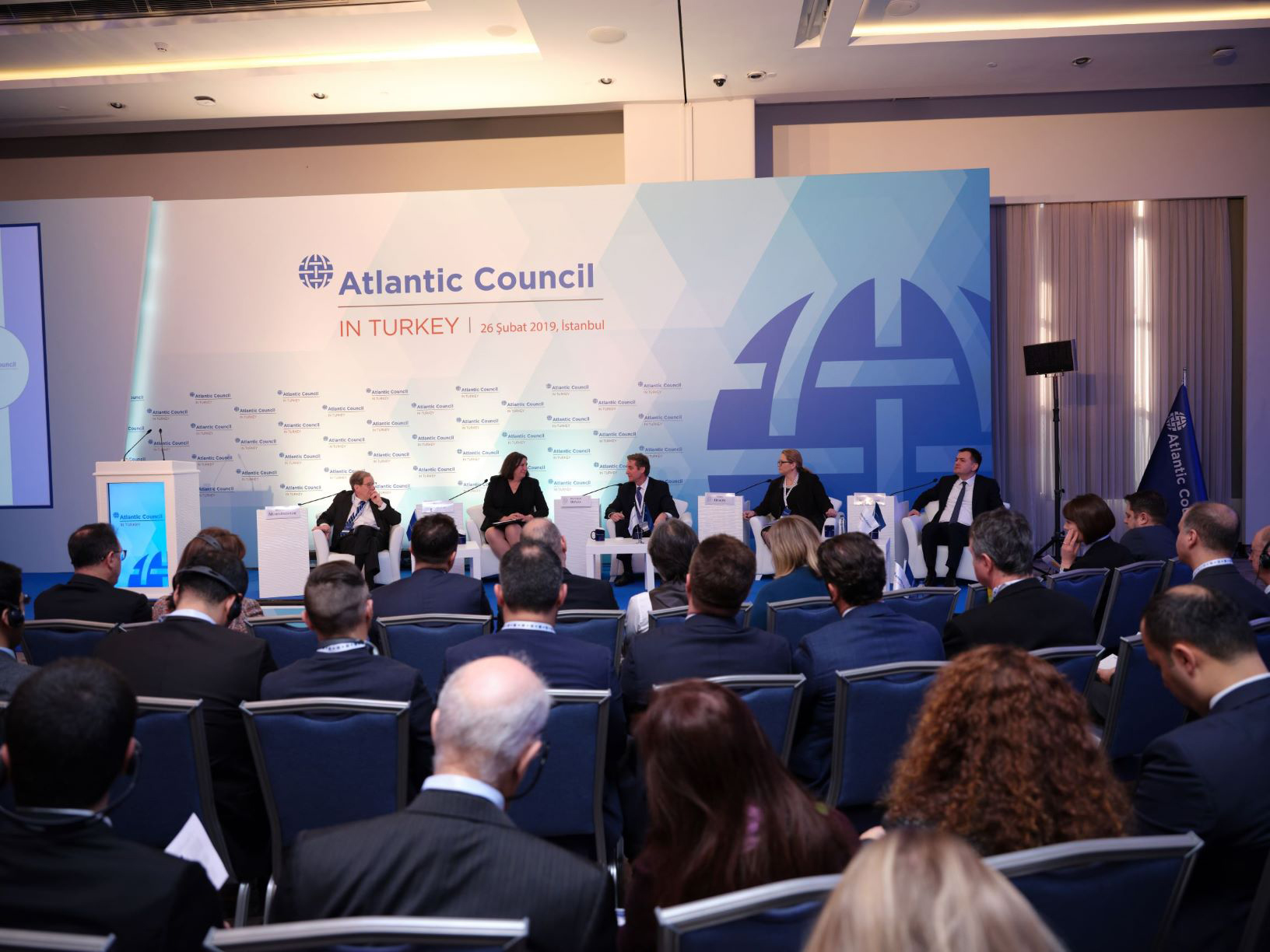 In 2018, the Trans-Anatolian Pipeline (TANAP) began operations and will soon be connected to Europe through the Trans Adriatic Pipeline (TAP), opening the door for Caspian gas exports to Southeastern Europe.
Speaking on the future of the Southern Gas Corridor, Ali Shahbazov, Head of Overseas Offices Section at the State Oil Company of Azerbaijan Republic (SOCAR), argued that Azerbaijani resources could serve as the next stage of development of the marquee project through the next phase of development of the Shah Deniz gas field and other Azerbaijani gas fields. The Southern Gas Corridor is expected to deliver 16 billion cubic meters per year by 2021, with 6 billion cubic meters per year (bcma) earmarked for Turkey and the rest to Europe. Shahbazov underlined that under current agreements, TANAP is expandable up to 32 bcma by the decision of the pipeline owners, and further expansion requires an agreement with the Turkish Government. TAP, in accordance with terms agreed in the TAP exemption, is expandable up to 20 billion cubic meters of the annual capacity. In principle, the pipelines could be expanded further subject to the will of the owners of the resource.
Discussing the potential inclusion of non-Azerbaijani gas sources to the Southern Gas Corridor, Shahbazov reminded the panel that SOCAR's contracts with European gas consumers will run for 25 years and that when the second stage of development comes, it can consider the intentions of third parties to export through the SGC infrastructure.
Shahbazov pointed out that with European gas production falling in tandem with decreasing consumption of coal and nuclear energy, the European gas market will have room for many sources of supply.
Prof. Brenda Shaffer, Nonresident Senior Fellow at the Atlantic Council's Global Energy Center agreed with Ali Shahbazov that Europe is going to need more gas in the future. Shaffer argued that while there is a lot of rhetoric about competition between projects, there is room for much more gas in Europe, so it isn't really a zero-sum game. In this context, Shaffer argued that Turkey plays an important role as a transit country for gas, but not as a gas hub. She said gas hubs also carry risk with them, while being a transit country brings the same geopolitical and economic clout.
Speaking on gas resources in the Eastern Mediterranean, Shaffer highlighted that most see the resources as a factor in engendering regional cooperation. At the same time, she cautioned that there is an equally important potential of these resources to spark conflict, as seen by recent moves by Turkey to protect its maritime borders. Shaffer also touched on the recent Eastern Mediterranean Gas Forum (EMGF) which took place in January 2019, calling it a good first step, but one that needs to include Turkey. Shaffer stated that "energy diplomacy" between Turkey and Israel could be a very useful and important signal to the peoples in both countries. She also stated that the Southern Gas Corridor investors would welcome gas from the East Med into the project, either directly connecting to TANAP, or through swaps by supplying south east Turkey. Shaffer cautioned that instability in Algeria could affect its gas supplies to Europe and thus make East Med gas more attractive.
Erika Olson, Economic Counselor at the US Embassy in Ankara echoed Brenda Shaffer's comments on East Med gas, saying that it is important that all parties be engaged in the ongoing discussions about the future of East Med resources. Olson said the US would like to see dialogue expanded to other players who should also be involved in the discussions.
Discussing US energy policy, Olson underlined that energy has been and remains a very consistent and bipartisan area of US foreign policy, particularly in the region and Turkey. Olson highlighted that the US will continue to support free, fair and transparent energy markets while opposing those who seek to turn them into tools of political and economic coercion based on two of the pillars of US international energy policy, namely energy access and energy security.
Weighing in on East Med gas export options, Amb. Matthew J. Bryza, Nonresident Senior Fellow at the Atlantic Council's Global Energy Center and Eurasia Center, argued that Turkey, with its growing energy market, is the most logical commercial market for the third phase of development of Israeli gas. The first phase will go to Jordan and the Palestinian territories while phase two will go to Egypt to be exported as LNG. The main obstacle to exporting to Turkey, Bryza contended, is the intractable Cyprus question. Settlement talks between the two administrations on the divided island broke down in the summer of 2017.
Bryza also commented on the steps Turkey has taken to bolster its energy security. Bryza maintained that Turkey has positioned itself well to counter Russia's monopolistic ambitions through market liberalization and the development of floating storage and regasification units (FSRUs). He argued that the multiplicity of suppliers and potential suppliers will give Turkey important leverage in negotiations when gas contracts expire in 2021. Bryza noted this as a successful outcome of US strategy predicated on preventing monopolies from capturing energy markets.
The second panel, moderated by Amb. Matthew J. Bryza, nonresident Senior Fellow at the Atlantic Council's Global Energy Center and Eurasia Center explored the question "How Will Global LNG Market Expansion and Shale Gas Revolution Change the Market Dynamics?"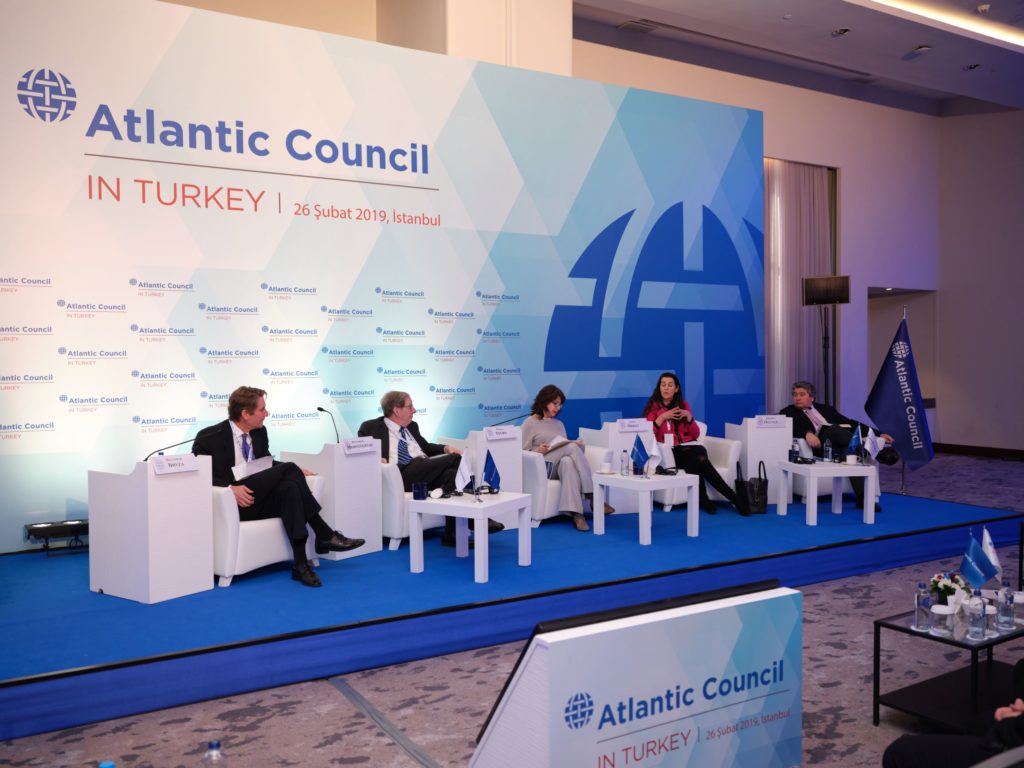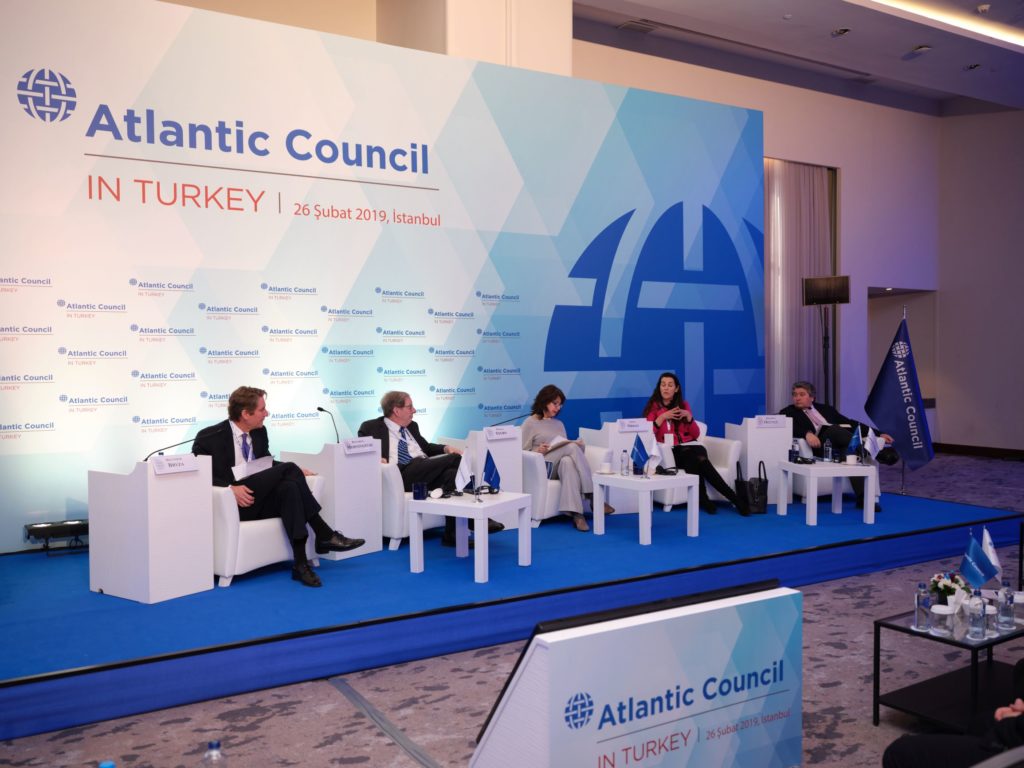 Liquid natural gas (LNG) has the potential to alter regional markets by offering flexibility and supply diversification to gas-importing countries. This could also have major impacts on isolated markets heavily dependent on a single supplier. As export and import infrastructure grows and costs fall, LNG has the potential to offer an attractive substitute to pipeline gas or to contribute to keeping gas prices down.
The panel focused largely on US shale gas production and the US policy of promoting US LNG exports. Dr. Anita Orban, Vice President of International Affairs at Tellurian explained the shale gas revolution in the US by the numbers. After becoming the top producer of natural gas in 2009, the US production has continued to grow steadily. In 2018, US natural gas production reached 851 bcm and according to the US Energy Information Administration (EIA) in 2019, a 7 percent increase in the dry gas production is expected. Between 2019 and 2025 natural gas production in the US is expected to increase a further 200 bcm. The first wave of US LNG resulted in 105 bcm per year and Orban emphasized that the second wave of US LNG is expected to be even bigger with more gas coming from the US.
In regard to future LNG demand, if the LNG market continues to grow by 10% until 2025, as was the case for the last couple of years, the market will need 250 million tons of extra supply. While most of the new demand is coming from Asia, China, India and the Southeast Asia, there are record figures of regasification in Europe. Dr. Orban pointed out that this year by February 19, 2019 all the regasification in Europe surpassed that of the first quarter of 2018.
A main focus of the panel was on the use of energy as a political tool and particularly President Trump's statements about the use of US LNG exports as an instrument to compete with Russian piped gas.
On this issue, Amb. Richard L. Morningstar reminded that this policy was conceived before the election of President Trump and that from a geopolitical standpoint US LNG can help create a more competitive commercial market. Morningstar said that even if the US exports no LNG to Europe at all, LNG can still be seen as an insurance policy which will help keep natural gas prices lower, while at the same time helping prevent piped gas from creating monopolistic prices and ensuring a second source of supply. He also added that ultimately it is the market which will determine the destination of LNG exports but its availability alone helps to create a competitive and transparent market.
On the issue of political intervention in the energy sector to impact an energy project, Matthew Bryza gave two examples, first the EU Commission's decision in 2014 to oppose the South Stream pipeline to punish Russia for its political and military intervention in Ukraine and annexing Crimea, and which then became the TurkStream pipeline, and second the strong criticism by the US government against Nord Stream II politically. Bryza rhetorically asked whether, with its long history of promoting free trade, does the US contradict itself by taking sides against one project for political reasons, or is it appropriate for the US to oppose Nord Stream 2 to bolster competition with Russia and Gazprom, which seek to reduce competition in European gas markets for economic and political gain. Hon. Paula Stern, Former Chairwoman of the US International Trade Commission and President of The Stern Group, pointed out that while hydrocarbons are the most traded commodities in the world, de facto they have not been subject to multilateral trade obligations and regulations. She discussed the geostrategic implications of the US's becoming the world's largest producer of oil and natural gas with vast reserves. The shale boom and fracking technology enables the US to reemerge as a leader in the energy economy and provides potential for it to regain geopolitical leverage. She cautioned that this may be a transition period to a renewables era where China seeks a leapfrog advantage. With regard to NordStream II, Stern said that the US should continue to play an important role in ensuring competitiveness, including by offering alternative sources of energy.
On the subject of whether LNG imports can play a commercially viable role in helping Turkey diversify its natural gas supply and whether US LNG can compete with piped gas Mehmet Öğütçü, Executive Chairman of the Bosphorus Energy Club, underlined that Turkey is the second largest LNG purchasing country in Europe after Spain. Öğütçü pointed out that the issue for Turkey is not to secure its natural gas supplies, well served by pipeline gas coming from Russia, Iran and Azerbaijan (with further prospects from Iraq's KRG and East Mediterranean) but rather to ensure supply diversification and flexibility for its price and volume negotiations with traditional suppliers. In that respect, he pointed out that LNG is seen in this context as a good precaution and leverage. With its storage facilities and FSRUs, Turkey is now well supplied with LNG but the future of its role will be determined depending on prices, financing and on political strategy regarding the future of natural gas in Turkey's energy mix. One particular advantage of the US and other LNG will be to push Russia into greater transparency and flexible price and contract deals, he said.
The 3rd panel, moderated by Prof. Brenda Shaffer, Nonresident Senior Fellow at the Atlantic Council's Global Energy Center, focused on "Opportunities and Challenges for the Future of the Gas/LNG Markets in Turkey and in the Region".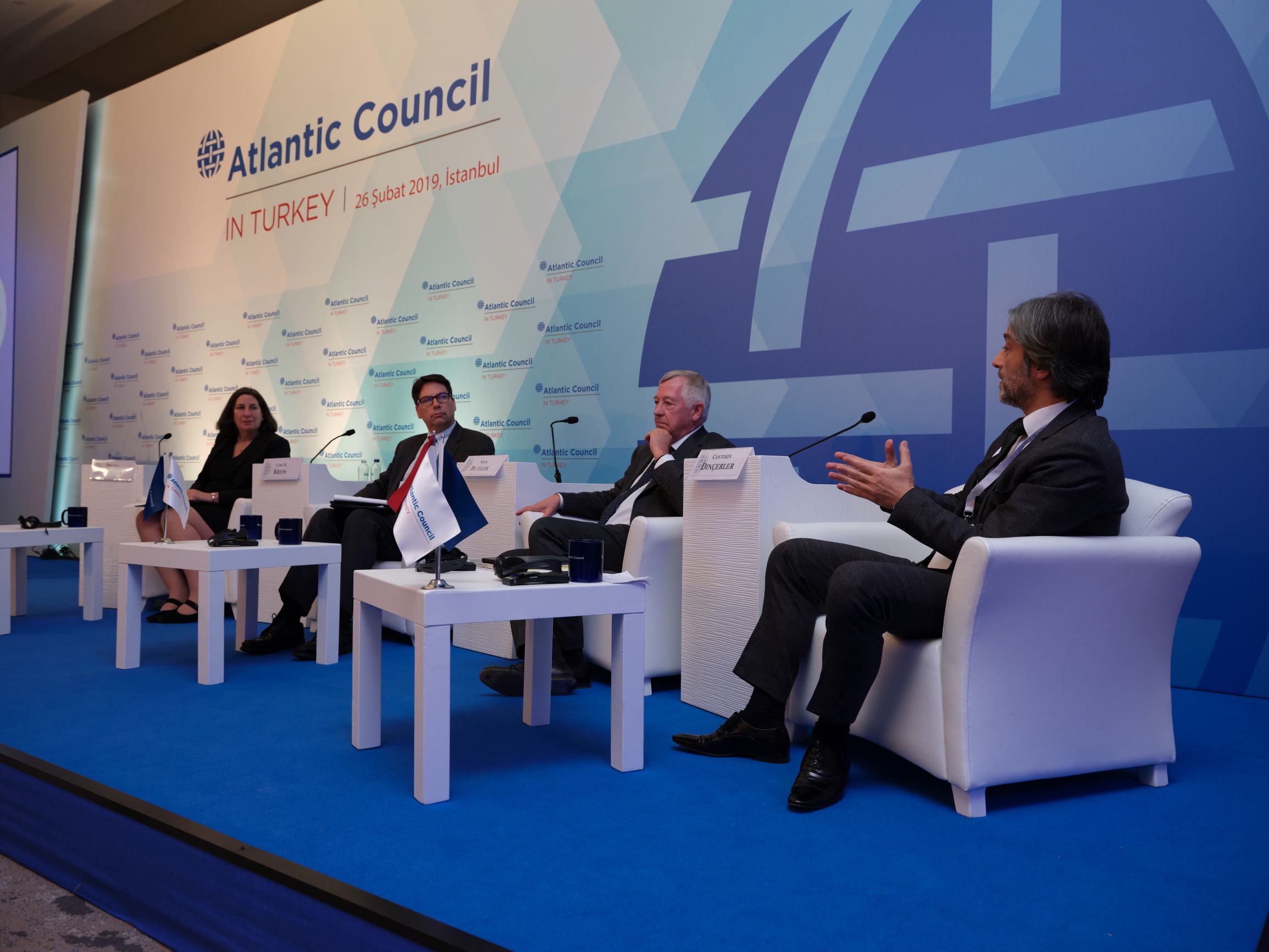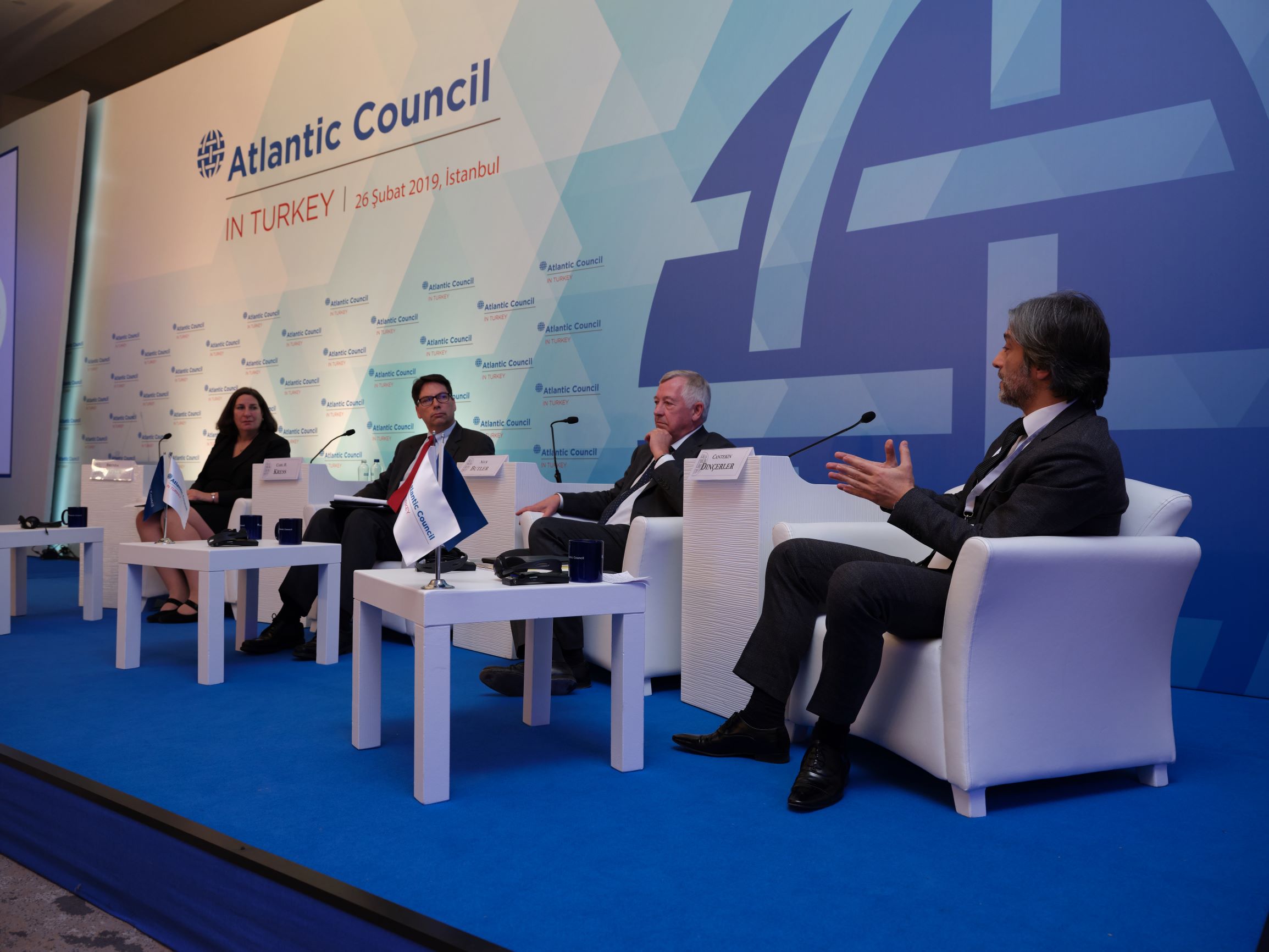 Carl B. Kress, Regional Director, East Asia/Middle East, North Africa, Europe and Eurasia at the US Trade and Development Agency (USTDA) stressed the importance of infrastructure on the question of diversification and energy security. Development of infrastructure, including import terminals, distribution networks and storage capacity provides flexibility and options to meet energy needs and respond to demand fluctuations. Kress said that the USTDA is looking at how it can continue to support Turkey, as well as other countries in the region, develop that key infrastructure.
Cantekin Dinçerler, CEO of Koloğlu Holding, touched on Turkey's recent achievements in energy diversity. Turkey's regasification capacity has increased substantially over the past two years. Turkey's total import capacity, which had stood at 185 million cubic meters per day has now been increased to 285 million cubic meters today, which allowed Turkey to supply an historic record high of natural gas demand in January 2019. At the same time, he noted the steps the government has taken to increase storage capacity, which is targeted to reach 10 bcm by 2023, corresponding to 20% of Turkey's annual consumption.
Dinçerler agreed with Carl B. Kress that infrastructure is key to providing flexibility in the system, saying that it allows system operators to optimize their supply portfolio. Dinçerler said that he believes the steps Turkey has taken put it in a much better position to manage supply and demand and strengthen its leverage vis-à-vis Russia.
Commenting on Turkey's energy policy, Prof. Nick Butler, Chair of King's Policy Institute at King's College London and Energy Commentator at Financial Times noted that Turkey is in a very advantageous position as it determines its future energy policy. Every energy policy, Butler argued, needs to balance energy security, competitiveness and environmental concerns. If Turkey is able to diversify its gas supply away from Russia, that solves the question of security. Russia currently supplies over 50% of Turkey's total gas imports. Secondly, Butler emphasized that this is a particularly timely moment to move further into natural gas, as in his view, the market is not just in a temporary surplus but a glut which will continue for the foreseeable future, creating a very buyer-friendly market.
Butler disagreed with comments on the first panel about the future potential of Europe's gas market, arguing that there may not be "room for all". Citing a recent McKinsey report, he noted that renewables are growing very quickly in Europe and will especially squeeze the power sector. Butler said that as Russia is unlikely to cede market share, he doesn't anticipate a gap in the market for all potential suppliers.
For press coverage of the conference please see below the following links.
In English:
Daily Sabah: Energy could enable Turkey, US to reach $75 billion target with LNG trade
In Turkish:
PetroTürk: "Türkiye'nin doğal gaz kontratlarıyla ilgili önemli bir döneme giriyoruz"
Hürriyet: Türkiye doğal gazda önemli döneme giriyor
Habertürk: Alparslan Bayraktar: Doğal gaz kontratlarında önemli bir döneme giriyoruz
Para Analiz: Bayraktar: Doğalgazın esnek şekilde Türkiye'ye gelmesi gerek
Milliyet: Doğal gaz kontratlarında önemli bir döneme giriyoruz
Dünya: Doğal gazda esneklik talebi
Haber7: Doğal gazda yeni dönem başlıyor
Ekonomi Haber: Bakan Yardımcısı Bayraktar, Doğal Gaz Tedarikçilerine Esnek Olmaları Yönünde Talepte Bulundu
Also read Alalntic Council Global Energy Center Founding Chairman Richard L. Morningstar's interviews while in Turkey to participate in our gas conference.
In English:
Anadolu Agency: Turkey to benefit from many gas supplies & best prices
Daily Sabah: Supply diversity, optimal prices lucrative for Turkey's energy demand
In Turkish:
Anadolu Ajansı: Türkiye yeni gaz kontratlarında avantajlı