#AlertaVenezuela is leading the way in identifying, exposing, and explaining disinformation within the context of one of the Western Hemisphere's largest crises in recent history, where the fight for control of the information space will continue to pose a challenge for the region.
Top Story
Pro-Maduro accounts tried to influence the Twitter conversation on Leopoldo López's escape to Spain
After Venezuelan opposition party Voluntad Popular announced that its National Coordinator Leopoldo López had abandoned the Spanish ambassador's residence in Caracas to flee the country on October 24, 2020, pro-Maduro Twitter accounts appeared among the most retweeted accounts and promoted hashtags to influence Twitter's conversation and to attack López.
The Maduro regime sentenced López to almost 14 years of prison in September 2015 for allegedly inciting violence in protests against Nicolás Maduro. Police repression and violence during the protests left 43 dead and some 3,000 injured between February and May 2014. In August 2017, he was put under house arrest, which he subsequently fled to take part – alongside Juan Guaidó, who is recognized as interim president by over 50 countries – in an attempted coup against Maduro on April 30, 2019, which ultimately failed. López sought shelter at the Spanish ambassador's residence following the failed operation. Most recently, Voluntad Popular, Guaidó, and López's relatives all confirmed that the opposition leader left the Spanish ambassador's residence between October 23 and October 24, 2020 and arrived in Madrid on October 25, where he was reunited with his wife and children. Today, October 27, López addressed the media in his first public appearance since arriving in Spain.
Humberto Prado, Guaidó's presidential commissioner for human rights, said that Maduro regime forces had detained four Spanish embassy workers for 20 hours on October 25. However, Jorge Rodríguez, chief of the Dario Vivas National Campaign Command that is supporting Maduro's preferred candidates for the National Assembly, denied Prado's allegations on October 26, declaring that there had been no such detentions but that they had been interviewing Spanish embassy workers who had revealed "interesting things" about López's relationship with Jesús Silva, the Spanish ambassador.
Rodríguez also revealed that López had fled Venezuela bearing responsibility for the 2015 charges the Maduro regime imposed. Amplifying Rodríguez's claim against López, high-ranking Maduro officials and Maduro-backed media outlets appeared among the most retweeted accounts.
According to a query using social media listening tool Meltwater's Explore, there were 227,075 mentions of "Leopoldo López" between October 24 and October 26, and Maduro's Ministry of Foreign Affairs Jorge Arreaza was the second most retweeted account with over 2,900 retweets. Arreaza's most popular tweet using López's name shared a press release that described the Spanish government's actions as in support of "a dangerous criminal." A post by pro-Maduro media outlet VTV also appeared among the 25 most retweeted accounts with 807 retweets. VTV shared a video of Diosdado Cabello, president of Maduro's Constituent National Assembly and Maduro's second in command, in which he claimed that López and Guaidó had stolen public funds. The most retweeted account was Guaidó's, with over 5,700 retweets.


The hashtags #SimulacroAN2020 ("Simulation of the National Assembly in 2020") and #SimulacroGarantíaDePaz ("Simulation is a guarantee of peace") were among the 10 most used hashtags posted alongside the keyword "Leopoldo López." On October 25, pro-Maduro accounts used both hashtags to promote a simulation of the new parliamentary elections for the National Assembly that Maduro has scheduled to be held on December 6, 2020.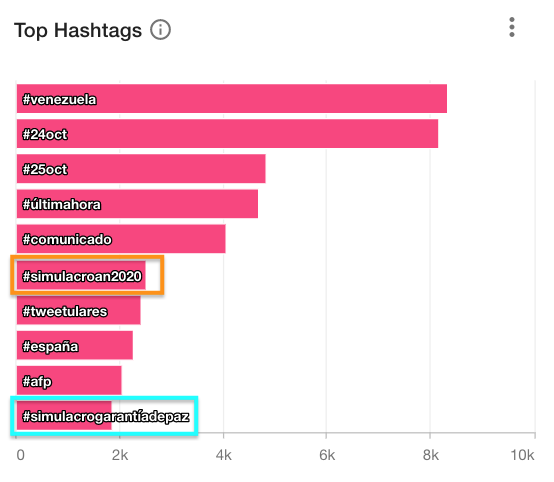 VTV's post sharing Cabello's video appeared as the most retweeted using #SimulacroGarantíaDePaz. Moreover, the Twitter accounts forVTVand Maduro's party Partido Socialista Unido de Venezuela ("United Socialist Party of Venezuela," known in Spanish by its acronym PSUV) were the most retweeted using #SimulacroAN2020 attacking López and his allies, with 124 and 102 retweets, respectively.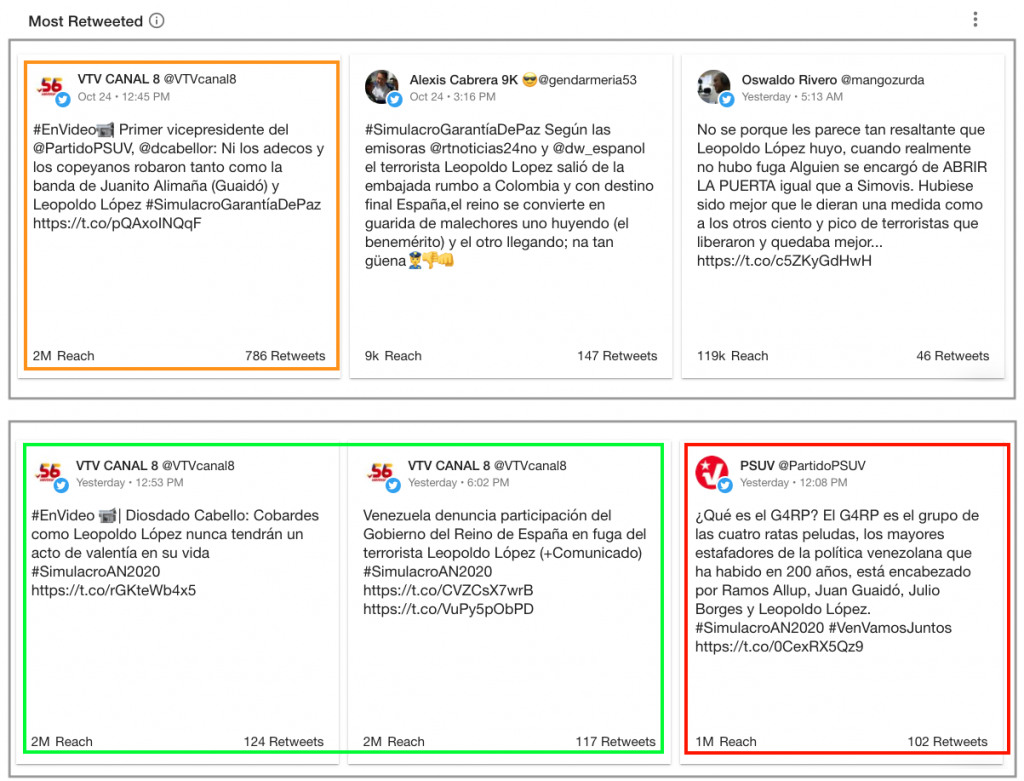 Talk of the Country
In the Media
On October 21, financial media outlet Bloomberg published "Trump Envoy Grenell Tried to Secretly Negotiate Maduro Exit." Bloomberg revealed that Rodríguez and Richard Grenell, the former Acting U.S. director of national intelligence and former ambassador to Germany, met in Mexico City "to try to negotiate the Venezuelan leader's peaceful exit from power" in September. Bloomberg described how Rodríguez arrived in Mexico on September 16 using a Venezuelan presidential plane "disguised on the flight log as a trip by the [Venezuelan] national airline Conviasa." Bloomberg found that Francisco Arias Cardenas, Maduro's ambassador to Mexico, helped Rodríguez after coordinating with Mexico's Foreign Ministry on last minute flight changes. Two anonymous sources told Bloomberg that "the talks were not successful" and that it was not clear if Rodríguez or Maduro were ever open to Grenell's proposal. According to Bloomberg, Grenell and Rodríguez's meeting was a part of U.S. President Donald Trump's plan to achieve foreign policy victories before the U.S. presidential election on November 3. Bloomberg tried to contact the Maduro regime as well as the White House, but the spokespeople for both declined to comment. On October 22, Maduro did not confirm nor deny Bloomberg's article during a VTV broadcast but jokingly said that "they say that Jorge Rodríguez was negotiating my trip to the beach with [my wife] Cilita."
In Venezuela on October 26, independent website Efecto Cocuyo published "Promesas sobre recuperación económica y más poder para el pueblo se reciclan con las parlamentarias" ("Promises on economic recovery and more power for the people are recycled with parliamentary elections"). The article outlined the pledges Maduro and his candidates have made during the election campaign for the National Assembly elections on December 6. According to Efecto Cocuyo, the Maduro regime has used the same plans it announced during National Assembly sessions in December 2015 and the irregular presidential elections campaign in May 2018, when Maduro claimed victory for a new term in a disputed election. Efecto Cocuyo found that amid the current protests for improved access to public services, Maduro said his candidates would approve 10 "urgent laws" that would, among other things, bring the supposed sabotage – as alleged by Maduro without evidence – that has affected the provision of domestic gas under control. Efecto Cocuyo interviewed Rodrigo Cabezas, Hugo Chavez's former minister of finance, who said that the Anti-blockade Law approved by Maduro's National Constituent Assembly on October 9, 2020, was a "demagogic" move before elections. Efecto Cocuyo implied that Maduro has used the Anti-blockade Law to make an impossible promise that the economy and national production would recover and that the regime would have a budget to improve access to the public services.
What's Trending
On Social Media


The hashtag #RumboALasParlamentarias ("On the way to the parliamentary elections") trended on Twitter on October 23, pushed by accounts belonging to the Maduro regime or supporting Maduro. The Twitter account for Maduro's Ministry of Communications was the first account that used #RumboALasParlamentarias to promote the voting simulation on October 25. Maduro and Cabello posted #RumboALasParlamentarias to invite Venezuelans to vote on December 6, while Maduro-funded TV broadcaster VTV used #RumboALasParlamentarias to report on the number of coronavirus cases in the country on October 23 and to amplify Maduro's dubious allegations of military incursions from Colombia.
Official Statements
The transfer of long-range missiles from Iran to Venezuela is not acceptable to the United States and will not be tolerated or permitted. We will make every effort to stop shipments of long-range missiles, and, if somehow, they get to Venezuela, they will be eliminated there. Iran has announced its intention to engage in arms sales, and Venezuela is an obvious target because those two pariah regimes already have a relationship."
– Elliott Abrams, U.S. Special Representative for Iran and Venezuela at the Department of State, on Fox News on October 26.
Vamos todos juntos! Para expulsar a los crueles que promovieron sanciones que no sufren, ellos que viven como ricos en Bogotá, Miami, Madrid. Con cada voto detendremos las sanciones, los bloqueos, los sabotajes, las agresiones."
"We all go together to expel the cruel who promoted sanctions that they do not suffer from, those who live rich in Bogotá, Miami, Madrid. With each vote, we will stop the sanctions, blockades, sabotage, and aggressions."
– Jorge Rodríguez on Twitter on October 24, 2020.
Our Team In The News
Additional media outlets, including Voice of America, EVTV Miami, La Gran Epoca, and Venezuela's Analitica, reported on the Maduro-Hezbollah policy brief released by the Atlantic Council's Adrienne Arsht Latin America Center on October 7.
Upcoming Events
The Adrienne Arsht Latin America Center will be hosting "2020 road to the White House: Why Latin America and the Latino vote matter" on Wednesday, October 28 from 3:00 to 4:00 pm (EDT). The discussion will cover the impact of the US Latino vote in this year's election and the future of the US-Latin America relationship. This event is part of Elections 2020: America's Role in the World, a series of conversations on the top foreign policy priorities for the next four years, featuring the most prominent voices shaping the national dialogue.
Subscribe to the #AlertaVenezuela newsletter
To receive future editions of the #AlertaVenezuela newsletter each week, sign up below!